Flickr photo-printing service could bring more revenue to Yahoo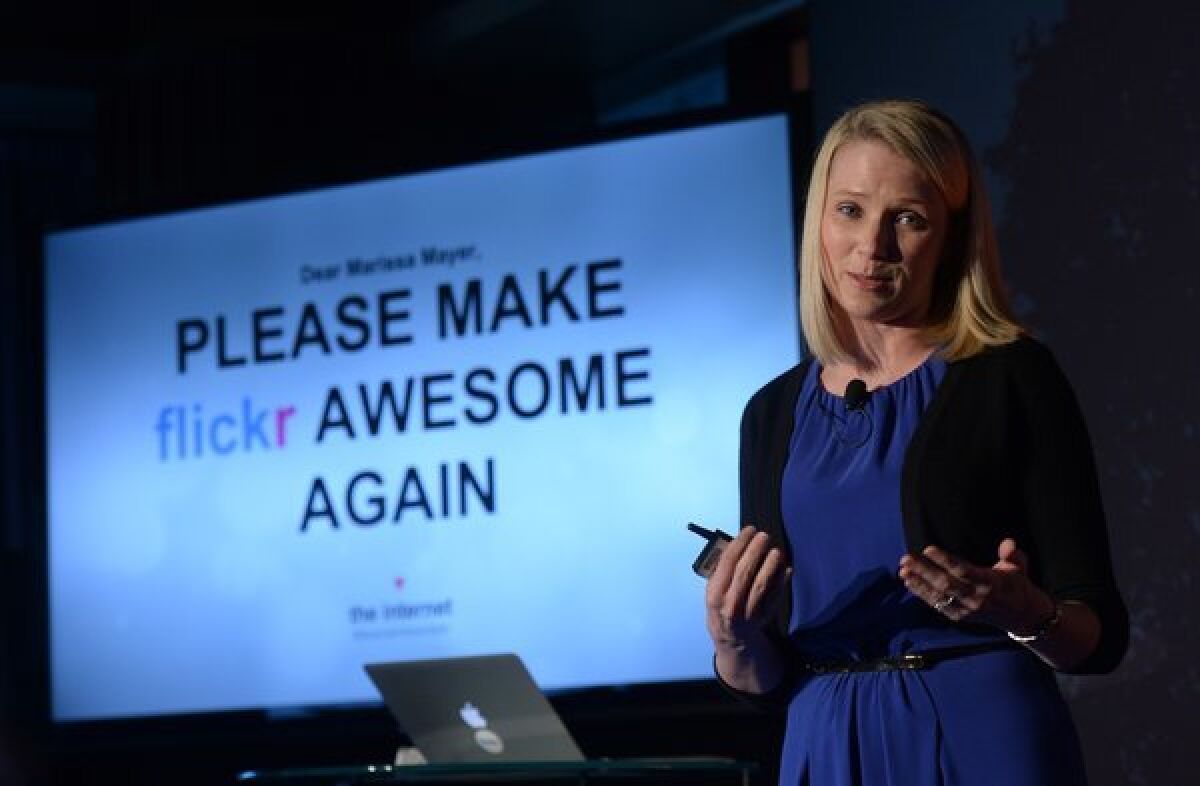 This week's flashy redesign of Flickr shifts the Yahoo-owned photo-sharing website away from subscription revenue and more toward ad revenue. But Yahoo also could look to monetize another Flickr feature: printing hard copies of photos.
Flickr reached a deal with printing service Snapfish in 2009 that made it easy for users to order photos on paper and other items such as mugs and clothing. Several other services use Flickr's data stream for free to make prints, though only Snapfish is integrated into the website.
But with Yahoo Inc. Chief Executive Marissa Mayer seeking to put her stamp on Flickr, one possibility would be launching its own printing feature and taking aim at a growing number of mobile apps that allow users to buy prints through their phones. A Yahoo spokesperson said in a statement that Snapfish remains on board.
"Yahoo strives to be partner friendly, and we enjoy working with Snapfish as our printing partner for Flickr," the statement said.
PHOTOS: The top smartphones of 2013
Snapfish, owned by Hewlett-Packard, has a 6% share of the $2-billion-a-year online photo printing market, according to research firm IBISWorld. Industry leader Shutterfly controls about a quarter of the market. That's allowed Shutterfly to keep its prices relatively low, at about 15 cents for the smallest prints. Apps such as Printic, Postal Pix, Mpix and Print Studio also allow printing with special features, such as making prints look like Polaroids.
Flickr's redesign acknowledges the need to attract people who mostly take pictures with their cellphones. In continuing that push, the next version of Apple's iOS operating system might have Flickr built into it, 9to5Mac reported Tuesday.
The redesign and improved mobile features could help Flickr stand out in a suddenly fast-changing market. But many Flickr users have complained about the new look, saying it ignores the needs of professional photographers. They have threatened to abandon the website, and there's no shortage of alternatives.
Last month, Facebook Inc. launched the new Home feature that turns photos uploaded by a user's Facebook friends into a "live wallpaper." Last week, Google Inc. released updates to its Google+ app that sorts through multiple pictures of the same subject and picks the best one automatically.
ALSO:
Yahoo's Flickr to offer massive 1 terabyte of storage for free
Vimeo, Flickr reportedly to be built into Apple's upcoming iOS 7
Twitter: @peard33 | Facebook | Google+
---