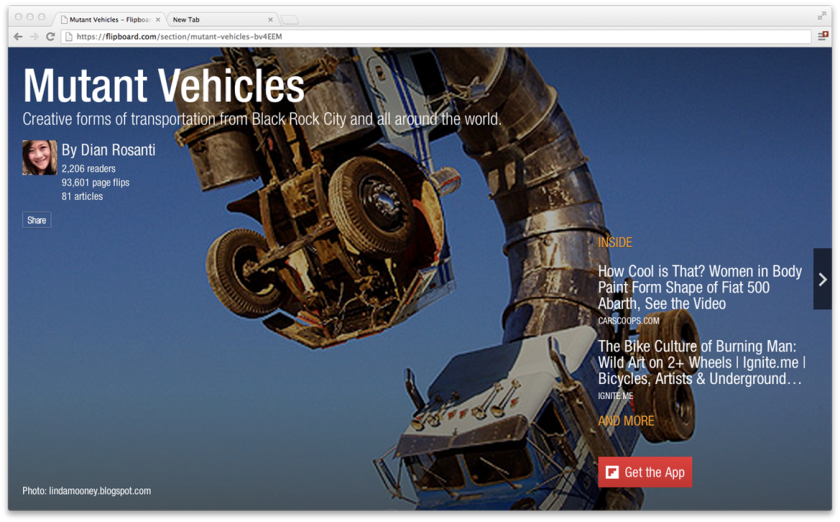 Flipboard, the mobile app that presents news stories in a magazine format, is making a move to expand its reach by letting people see user-curated magazines via their Web browsers.
The magazine app has been a staple of the mobile world since it launched for the iPad in 2010. It reinvented itself this year when it added a feature that lets users put together their own magazines.
That feature was rolled out in late March, and since then, Flipboard said more than 2 million magazines have been created. These magazines cover all sorts of niche topics, ranging from camping to immigration reform. I curate a magazine for news about the Houston Texans NFL team.
PHOTOS: Top 5 free apps to welcome the royal baby
By making user magazines viewable on the Web, Flipboard is opening parts of its service to people who don't have its app or don't have a smartphone or tablet.
"With the Web experience, Flipboard curators can share their magazines with friends, family and followers who may not have Flipboard," the Palo Alto, Calif., company said in a statement.
Flipboard was originally envisioned for the Web, but the company decided to instead make the service for tablets when rumors of an Apple iPad began circulating in late 2009, Flipboard CEO Mike McCue told The Times this year.
The new Web feature will work with the latest versions of Internet Explorer, Safari, Firefox and Chrome.
Flipboard also said it is adding a "Big Ideas" section to its app. There, Flipboard will highlight content from nonprofit groups focusing on causes such as eradicating poverty and fighting for human rights. Flipboard app users can find that section by tapping the red ribbon in the app and then tapping the "Big Ideas" category.
ALSO:
Top 5 ways to use Flipboard's 'create a magazine' feature
Cybercrime costs U.S. economy up to $140 billion a year, report says
Samsung's own developers conference: A move to to rely less on Google?
---