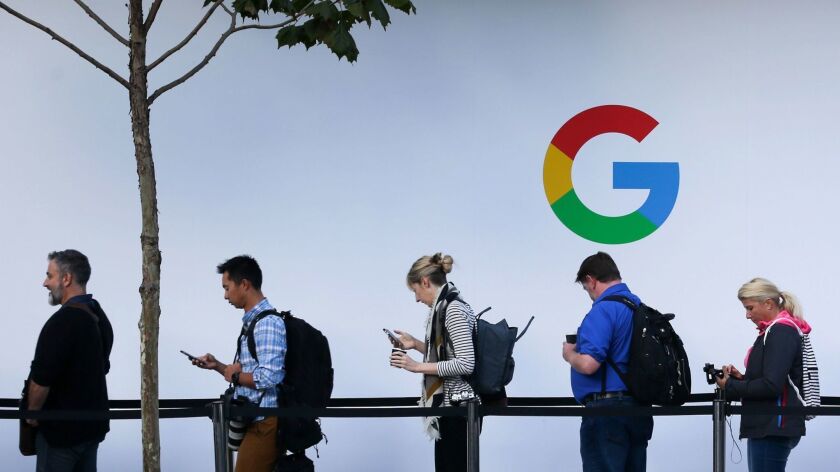 Google is still raking in marketing dollars from advertisers, propelling the online search giant to another strong quarter in the face of costly regulatory trouble in Europe.
Parent company Alphabet Inc. reported second-quarter sales, minus partner payouts, of $26.24 billion. Analysts were expecting revenue of $25.55 billion, according to data compiled by Bloomberg. Google's advertising business grew 24%. Chief Financial Officer Ruth Porat said most of that came from mobile and automated ads.
Alphabet shares jumped as much as 6.1% in after-hours trading.
Google has continued to give search ads more prominent space on mobile phones, fueling the strong sales growth. Spending on Google Shopping search ads, with which marketers can promote consumer products, jumped 31% in the second quarter compared with ta year earlier, according to data from digital marketing firm Merkle. Those gains came even as Amazon.com Inc. revs up its own ads business.
Alphabet reported two different profit figures to account for a $5-billion fine the European Union imposed last week for violating competition law with Google's Android mobile software. Excluding that, Alphabet said profit was $11.75 a share. Google plans to contest the ruling. Even including the record fine, the company generated $3.2 billion in net income during the second quarter.
Google didn't seem to take a hit from the General Data Protection Regulation, or GDPR, a European privacy law that started in May and limits targeted advertising. Similarly, analysts don't expect EU antitrust investigations to force changes that significantly dent Google's earnings. "The Android fine may suggest that peak regulatory risk is now in the rear view mirror," Mark Mahaney of RBC Capital Markets wrote in a note before Monday's results.
A larger share of ad dollars went to Google's own digital properties, including the search engine and video service YouTube, rather than to outside websites that run its ads. Google properties revenue jumped 26% to $23.3 billion. That leap reflects a recent push by Google to get marketers buying across more of its advertising channels. "They're using the packaged deal, with all their properties, with a much stronger sell," said Marco Rimini, chief development officer at WPP's Mindshare media agency.
Some in the industry also cite GDPR, which led more advertisers to funnel ad spending to Google and its main rival, Facebook Inc. "One of the unintentional consequences of GDPR is the strengthening of the duopoly," said Gil Elbaz, a former Google executive who now runs the marketing firm Factual. "If Google continues to go unchecked, their dominance will be extreme."
While second-quarter sales jumped, so did costs. Google capital spending climbed to $5.3 billion, up 87% from the same quarter last year. On a call with analysts, CFO Porat highlighted spending on sales and marketing for Google's cloud division.
The sums Google pays out to websites and mobile partners to distribute its search engine and ads — called traffic acquisition costs — rose to $6.4 billion for the quarter. Still, that was 23% of ad revenue, down from 24% in the first quarter of 2018.
Traffic acquisition costs "came in lower than expectations which is a clear positive takeaway," Dan Ives, head of technology research at GBH Insights, wrote in a note to investors.
Investors are also looking for signs of growth beyond advertising, such as Google's cloud-computing business. The company's other revenue bucket, which includes cloud, hardware and app sales, grew 37% last quarter to $4.4 billion.
During the call with analysts, Google Chief Executive Sundar Pichai mentioned new cloud customers including Domino's Pizza Inc., SoundCloud Ltd. and PricewaterhouseCoopers.
Other Bets, the home of Alphabet's riskier, experimental businesses, lost $732 million in the quarter, versus a loss of $633 million in the same period a year earlier.
---
UPDATES:
3:30 p.m.: This article was updated with additional information about Alphabet's results and with comments from Alphabet Chief Financial Officer Ruth Porat, Google CEO Sundar Pichai, Mindshare's Marco Rimini, former Google executive Gil Elbaz and GBH Insights' Dan Ives.
This article was originally published at 1:45 p.m.
---