Google's Niantic lab debuts augmented reality app Field Trip on Glass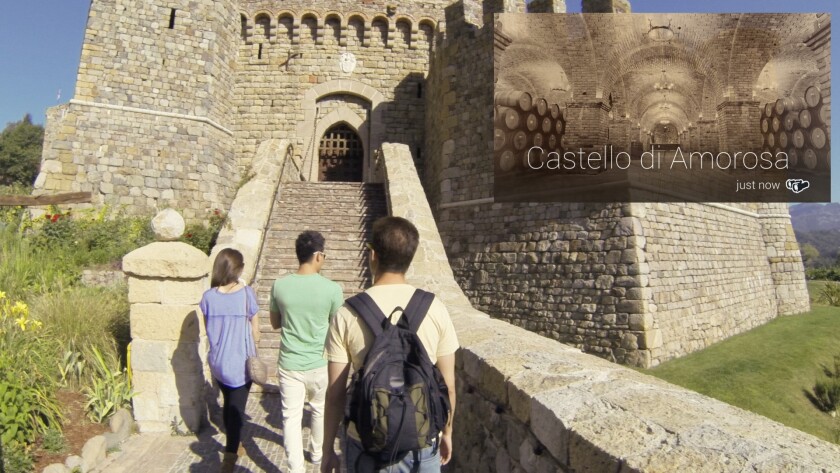 SAN FRANCISCO -- He's the brains behind Google Earth, Maps and Street View.
Now John Hanke is searching for new ways to connect people to the world around them.
He runs Niantic Labs, essentially a tiny startup inside Google.
Google Chief Executive Larry Page greenlighted Niantic's mission to re-imagine the physical world with augmented reality.
So far it has produced two mobile apps. Field Trip is like a real-time guide book that digitally annotates the world. Your phone buzzes to deliver helpful information about your surroundings, pointing you to a cool new restaurant or a city landmark. Ingress is a multiplayer augmented reality game in which people embark on neighborhood missions to unlock virtual portals and fight for control of the minds of everyone on Earth.
The apps were created to take advantage of ubiquitous computing -- that computers will fade into the background and what you will be left with is the information you want anywhere and everywhere. Google is testing this concept with Glass, its wearable computing device.
Now Niantic Labs is rolling out a long-awaited Glass app for Field Trip. Hanke says having Field Trip on Glass makes it even easier to get relevant information when you are in a new place. On mobile devices, Field Trip buzzes your phone and pops up a short message. On Glass, it will appear in the tiny translucent screen above your right eye.
Field Trip is one of the first Glass apps and becomes available Wednesday to the 10,000 Google Glass explorers. (Glass is expected to go on sale in 2014.)
Hanke says Field Trip was tailor-made for Glass. Viewing information through it is less distracting than on a mobile phone, which takes you out of the physical environment, he said.
And that information serves as a personal tour guide. Niantic has a team of researchers that roam the Web in search of interesting local information written with local expertise and some attitude. It draws from 130 sources of information including local history publisher Arcadia Publishing, history site Historvius and lifestyle site Thrillist.
"The big idea, or really the simple idea, is really to use computing to connect people with the physical world," Hanke said. "There is a tendency of mobile to isolate people. When you are using mobile devices you often are not interacting with the people in the room or the things around you. The concept is to use Google … to allow people to have a richer experience with the real physical world."
Stay tuned for Ingress to come to Glass, too. Ingress is still in beta but will become more widely available this fall. It has developed a rabid following among players who divide themselves into teams that work together to connect virtual portals to take control of the land within a triangle and thereby control the hearts and minds of the people inside that triangle. Right now Ingress players roam with their mobile phones to search for clues at public art installations or historical markers or watch Ingress news reports on YouTube to find secret codes.
"The idea is to get people off the couch and into the world, exposing them to cool new stuff," Hanke said. "That's the secret plan for adults and kids. It's a game that you have to go places to play. You come back having learned interesting stuff."
Both Niantic apps could hold some potential to deliver useful and relevant ads and offers to people as they make their way around in the world either on mobile devices or Glass.
Danny Sullivan, who follows Google for SearchEngineLand.com, says it's unclear how Niantic Labs fits into Google's broader mission.
"I don't think Google itself knows how it fits in. To me it feels more like a random side project. Maybe something will come from it or maybe it won't," he said. "But at the very least it keeps John Hanke entertained and from going off to another company."
ALSO:
Ask.fm, new social site, same bullying
San Francisco split by Silicon Valley's wealth
---