GymFlow helps users beat the crowd at gyms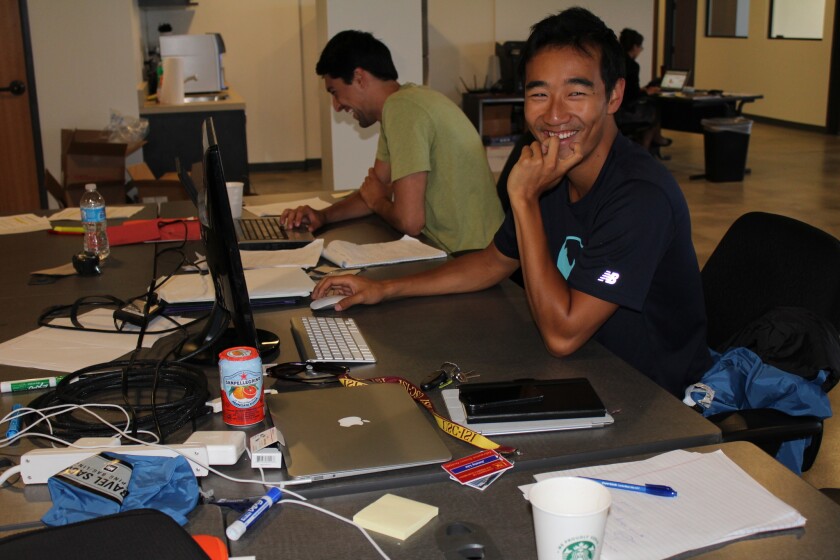 If you go to a gym to work out, you know the sinking feeling when you arrive only to find that it seems everyone who has a membership has decided to muscle up at the same time.
But now there's an app for figuring out the times when the gym is going to be mega-crowded.
GymFlow this week launched an early tester program for its Apple and Android app, which promises to give users a real-time measure of how crowded local gyms are. A group of USC students created the app last fall and tested it out at the school's Lyon Recreation Center. Chief Executive Jimmy Liu said peak hour traffic at the gym had decreased by 20% within a month of launching.
"The idea came from a problem that we ourselves had," he said. "As we kept building out, we saw this was a problem for other universities and other gyms."
PHOTOS: Top smartphones of 2013
GymFlow gathers data directly from the turnstile system at USC's gym. It's doing the same at Cal State Los Angeles and plans to start at UCLA this fall. The data is graphed and tracked, so users can see crowd predictions for specific times.
Liu said he's working to reach deals with major chains such as Gold's Gym, 24 Hour Fitness and L.A. Fitness to tap into their systems. The chains did not respond to requests for comment.
In the meantime, GymFlow is giving gym users incentives to check in through the app so that it can crowdsource data and pressure gyms to adopt the service.
It's offering early testers giveaways such as gym bags, T-shirts and reimbursements for a month of gym membership.
The app is free to users. GymFlow's income comes from charging gyms a fee for the analytics. Liu said he's pitching the app as a way to retain members, noting that as many as 40% of members cancel yearly.
"Our app helps members find the least crowded time to work out," Liu said. "That makes members happier and they are less likely to cancel their membership."
At a monthly cost of about $150, he said a gym would be making money if even four members chose not to cancel. The crowd feature could be integrated into a gym's official app.
"If a few people use this, the whole membership benefits," he said.
Though gyms are the primary focus, Liu sees promise in the concept of documenting real-time traffic at any venue. Waze, an app that documents real-time traffic on roadways, recently sold to Google for $1.1 billion.
GymFlow was one of 10 USC start-ups, out of 100 applicants, accepted this year into the school's first incubator, the Viterbi Startup Garage. Working in a Marina del Rey office space made to look like a garage, Liu and his team of three have been working 12-hour days lately. They've been tinkering with the app, meeting with investors and mentors and bouncing ideas off of fellow start-ups.
Los Angeles angel investor Paige Craig is among the company's advisors.
By late August, Liu wants to hit 100,000 downloads. USC's gym has about 3,000 daily users. GymFlow reached 2,000 downloads within the first couple of weeks.
Post-summer plans are unclear, though Liu said he wants to keep GymFlow in California.
"Our company has already shown traction in a very few months," Liu said. "We want to be the platform where consumers can go to know how crowded it is at any place they want to go."
ALSO:
Twitter CEO Dick Costolo wants to disclose more on data requests
Verizon Wireless brings 4G LTE to more cities, looks to LTE-A next
GRP Partners becomes Upfront Ventures, announces $200-million fund
---
Your guide to our new economic reality.
Get our free business newsletter for insights and tips for getting by.
You may occasionally receive promotional content from the Los Angeles Times.