There's money to be made in returning e-commerce orders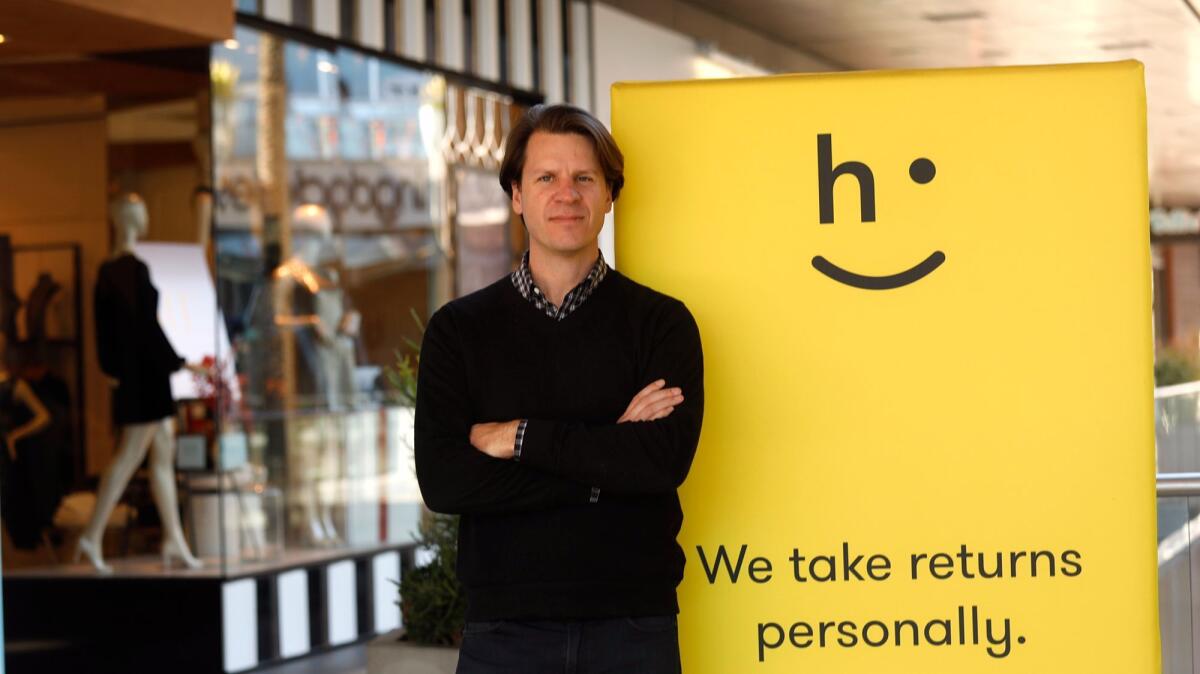 Reporting from San Francisco —
Every week, dozens of people walk into Petals N Wax, a Marina del Rey gift store, to return items they bought from online retailers.
They bring in blouses from Eloquii, shorts from Chubbies and bags from Everlane.
Instead of telling them to buzz off, Evelyn Taplin, who runs Petals N Wax, gladly takes their items and issues refunds to their credit cards.
The practice would be totally bizarre were it not for the fact that Petals N Wax is partnered with Happy Returns, a Santa Monica start-up trying to make money by making it easier for people to send back e-commerce purchases.
The company sits at a unique intersection of frustrations: Customers who buy things online don't like the arts-and-crafts experience (packing tape, shipping labels, boxes) of online returns. Online-only retailers, feeling pressure from the likes of Zappos and Amazon to offer free returns, are bleeding cash to do the same. And bricks-and-mortar stores losing foot traffic to online competitors are struggling to entice people back.
Happy Returns frames itself as a solution to each of those problems.
"If you give consumers a choice of returning something via mail or in person, they overwhelmingly prefer to return in person," said David Sobie, who co-founded Happy Returns with Mark Geller.
About 8% of items bought in the U.S. end up being returned, according to the National Retail Federation. In 2015, this translated to $260.5 billion in goods returned, not including the cost of processing and shipping. In online retail, the retail federation estimates that the figure for returns is 15% to 30%. For some online clothing retailers, it can be as high as 40%.
Despite the considerable number of e-commerce returns, online retailers have struggled to make returning items as easy as buying them.
Happy Returns is among the first to build a business off returns. The start-up has so far partnered with 20 online retailers and has 50 "return bars" across the country that include the concierge desks at malls operated by Westfield, Simon and Macerich, Taplin's Petals N Wax store in Marina del Rey, and three Eloquii stores in Ohio, Chicago and Washington, D.C.
Under the Happy Returns system, customers can take items they've bought from partner online retailers (such as Everlane or Chubbies) to a partnering mall or bricks-and-mortar store. The refund is processed on the spot. The partnering mall or store then bundles together returned items and ships them to Happy Returns' warehouse in Santa Monica, where the company's 25 employees sort and ship the goods back to the e-commerce seller. Online retailers pay Happy Returns a fee per item returned. Sobie and Geller declined to reveal how much the company charges, but said it's cheaper than if online retailers were to handle returns themselves.
Happy Returns doesn't pay the bricks-and-mortar stores and malls it works with, but store owners like Petals N Wax's Taplin aren't complaining: Since partnering with Happy Returns in August, she said, she's seen a 10% increase in her own store's sales. She estimates that of the 20 to 50 people who come to her store each week to return goods via Happy Returns, nearly 50% end up buying something from her store.
"The whole transaction takes us two to three minutes," Taplin said of the returns. Happy Returns provided her store with an iPad, training and tech support. The company also provides return bags and shipping labels. UPS visits her store once a day to pick up the returns.
Happy Returns doesn't yet have direct competitors, but Amazon's recent acquisition of Whole Foods signals that online retailers are increasingly interested in obtaining a bricks-and-mortar presence to handle both pickups and returns, according to venture capital investors. And whereas start-ups such as Shyp pick up, package and ship items — removing some of the hassle of online returns — customers have to pay to use the service. Happy Returns is free for customers.
"Returns are the next battleground for the next generation of commerce," said Greg Bettinelli, a partner at Los Angeles venture capital firm Upfront Ventures, which along with Lowercase Capital, Maveron, Brilliant Ventures, U.S. Venture Partners and other private investors has helped Happy Returns raise $14 million.
"These returns are driving foot traffic, and the foot traffic is converting into sales," he said. "Most retailers are killing to get more traffic into their stores."
They're also proving popular with shoppers.
Fashion retailer Eloquii, which has three bricks-and-mortar stores and does most of its sales online, partnered with Happy Returns when the service launched in early 2016. In that time, its volume of returns has remained steady, but the number of customers returning items through Happy Returns has increased twentyfold.
More than a third of all of the calls and emails Eloquii used to get were about returns, according to Chief Executive Mariah Chase.
"People would ask, 'Where's my return? When am I going to get my refund? How do I track my return package?'" Chase said. "It's a pain point for us, and working with Happy Returns eliminated that pain point."
Happy Returns declined to discuss its revenue, but Geller and Sobie said the volume of returns handled by the company has doubled every two months this year, and it plans to expand into more locations with more partners in 2018.
"Free shipping is now table stakes," Sobie said. "We see the same things happening with in-person returns. This will become the expectation everyone has, whether you have a store or not."
Twitter: @traceylien
---
UPDATES:
6:21 a.m.: This story was updated to say Happy Returns now has 50 "return bars" nationwide.
This story was originally published at 3 a.m.