Holiday shoppers break spending records; sales up 4.9%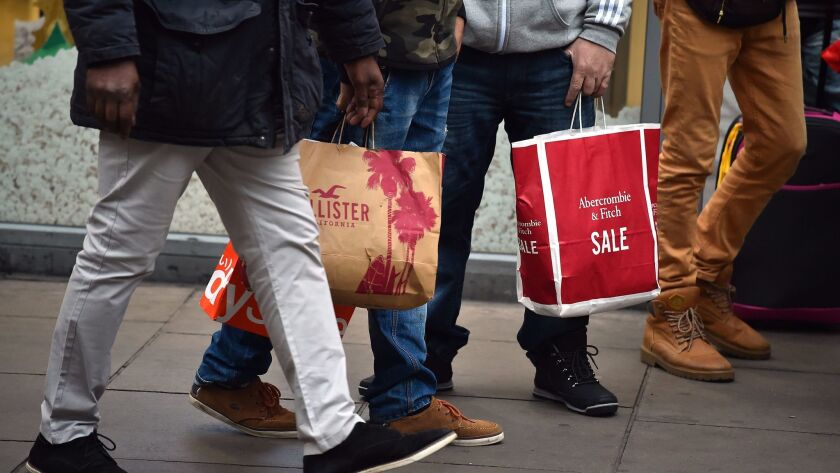 After another year of bankruptcies and gloomy reports of dying malls, retailers are at least ending 2017 on a high note — and their prospects are looking up for 2018.
Retail sales were up 4.9% this holiday season, the largest year-over-year gain since 2011, according to Mastercard's SpendingPulse Report, which tracked sales activity across all payment types from Nov. 1 to Dec. 24.
The report said the increase represents a "new record for dollars spent" but did not give a dollar amount. Another research firm, Customer Growth Partners, said that from the start of the holiday season to Christmas Eve, shoppers spent $598 billion, up from $565 billion for the same period last year.
Counting retail's "second season" (the week from Christmas to New Year's), total sales for the holiday shopping season are on track to reach $671 billion, firm President Craig Johnson said.
Shoppers in the U.S. were also spending big well before the Republican tax bill promising tax cuts was passed, according to reports analyzing holiday spending.
Economists say the healthy retail sales numbers are undergirded by strong national employment figures. The jobless rate of 4.1% in November was the lowest since December 2000. That trend has given the Federal Reserve, which recently described the U.S. economy as "rising at a solid rate," the confidence to raise interest rates three times this year. The most recent increase Dec. 13 lifted the benchmark interest rate a quarter point to a range of 1.25% to 1.5%.
"People feel much more secure in their jobs, and they're willing to spend," Johnson said.
There are indications, however, that Americans are stretching their finances for their holiday shopping splurge. Personal spending rose 0.6% in November, but the savings rate dropped to 2.9% from 3.2% in October.
"It looks like consumers went to the bank and drew on their savings to fund this year's holiday spending, betting those tax cuts from Washington will refill their coffers early in the new year," Chris Rupkey, chief financial economist at MUFG Union Bank in New York, said last week.
Much of those savings were spent online this year, with online retail sales up 18.1% compared with 2016. This year's Cyber Monday was the largest online sales day in history, with Adobe, which also collects retail data, reporting $6.59 billion in sales in a single day, a 16.8% increase from last year.
From Nov. 1 to Nov. 27 alone, U.S. shoppers spent $50 billion online. Adobe predicted that online shopping would exceed $100 billion by Christmas.
Overall, sales of electronics and home appliances were up 7.5%, home furniture and furnishings were up 5.1%, and jewelry sales were up 5.9%.
Across every category, whether it was discount stores, big box or specialty department stores, everybody was doing better, or at least "less worse," Johnson said.
Strong sales were reported across the retail industry, with the S&P 500 Retail Index hitting a record of 1,740.74 on Tuesday. Retailers also received a bump in stock price: Wal-Mart's shares reached an all-time high of $98.06 on Thursday, up from $87.94 at the start of the holiday season. Nordstrom shares closed at $ 47.50 on Thursday, up from $39.94 on Nov. 1. Apple shares rose to $175.01 on Thursday, up from $166.89.
Amazon, the largest online retailer in the U.S., did not report how much consumers spent on its e-commerce platform but said in a statement that it had a "record holiday shopping session."
In one week during the holiday season, more than 4 million people around the world started either the trial or paid version of Prime, Amazon's subscription membership. Globally, more than 1 billion items were ordered from the e-commerce giant this holiday season. From Thanksgiving to Cyber Monday, shoppers bought more than 140 million items.
Amazon's stock was $1,174.76 on Thursday, up from $1,103.68 at the start of the holiday season.
Pete Madden, a director at consulting firm AlixPartners, said the across-the-board 4.9% growth in sales was above expectations and a much-needed boost for a retail industry that had struggled the last holiday season.
"For retailers, the holiday makes or breaks their year," Madden said. "A good holiday can carry you through quite a few months. For companies on the edge, a bad holiday is where you see the Chapter 11s."
Madden said large investments in online shopping by major retailers were probably starting to pay off — especially in the face of growing competition from Amazon. The first hint that the holiday season was going to be good for retailers was after Black Friday, Madden said.
"Sometimes big sales are followed by a lull," he said. "All indications are strong sales are continuing. Retailers should have confidence going into 2018."
Twitter: @traceylien
---
Your guide to our new economic reality.
Get our free business newsletter for insights and tips for getting by.
You may occasionally receive promotional content from the Los Angeles Times.