Hyperloop One settles with Brogan BamBrogan and 3 other former employees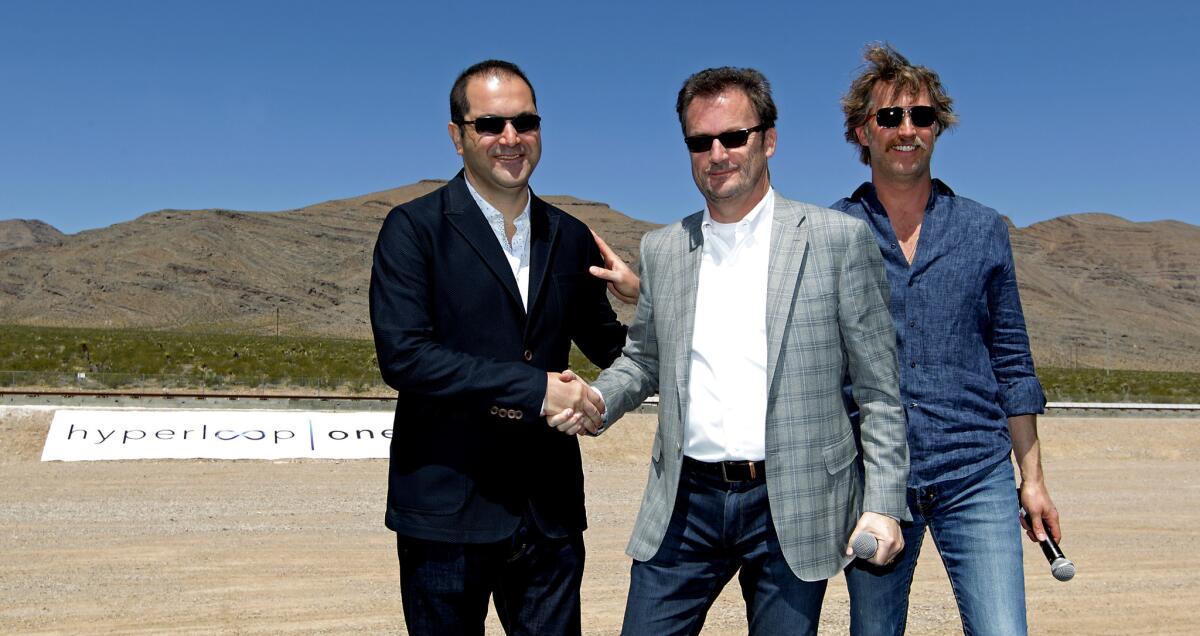 Transportation technology start-up Hyperloop One announced Friday an end to a months-long saga with four former employees who alleged wrongdoing by management and investors.
Terms of the confidential settlement to a wrongful termination lawsuit weren't disclosed. The ex-employees had been seeking a public apology, reinstatement at the Los Angeles company and lost pay and stock options, among other damages.
Justin Berger, the attorney for the former employees, said his clients were pleased with the resolution. And the group of four said in their own statement emailed by a spokesman that they plan to develop their own "take on hyperloop" and that more details would be announced soon.
In a brief statement, Hyperloop One said it "looks forward to continuing to execute on its business plan."
Brogan BamBrogan, who was chief technology officer; William Mulholland, who was finance vice president; Knut Sauer, who was business development vice president; and David Pendergast, who was assistant general counsel, sued the company in July. They're expected to formally drop the case next week in Los Angeles County Superior Court.
In their lawsuit, the plaintiffs said they were concerned by what they called their superiors' financial mismanagement, including the appearance that family or friends were favored over more qualified candidates in hiring and partnership decisions. Three of them quit, and one was fired.
The lawsuit named among the defendants co-founder and Executive Chairman Shervin Pishevar and fellow investor Joe Lonsdale. The company's attorney described the accusations against them as nonsense. Still, the company eventually heeded calls first raised by BamBrogan and the others for Pishevar and Lonsdale to cede more control over corporate decisions to employees and other stakeholders.
Hyperloop One countersued, seeking $250 million in damages. The countersuit described the plaintiffs as a "Gang of Four" who tried to rouse co-workers into joining a rival company. Plaintiffs said the claim about their alleged attempt to poach trade secrets, colleagues and investors for a competing venture were not specific enough to merit consideration.
Hyperloops are envisioned as low-pressure tubes through which carriers holding people and cargo can zip at hundreds of miles an hour. Propelled by electricity and passive magnets, hyperloops could be cheaper, faster and more energy-efficient than alternatives such as trains, cars and buses.
The legal battle drew questions from investors and business partners about how the company allowed an insurrection to take root. But the firm, backed by more than $150 million in venture capital, has continued to draw funding from new partners, and recently struck agreements to research developing a hyperloop system in the United Arab Emirates within the next five years.
"The resilience we have shown as a company since June has been nothing short of remarkable," Chief Executive Rob Lloyd told employees Friday afternoon.
Twitter: @peard33
MORE FROM TECHNOLOGY
---
UPDATES:
3:35 p.m.: This article was updated with additional details about the lawsuits.
This article was originally published at 3:10 p.m.