Trump pardons ex-Google engineer who stole trade secrets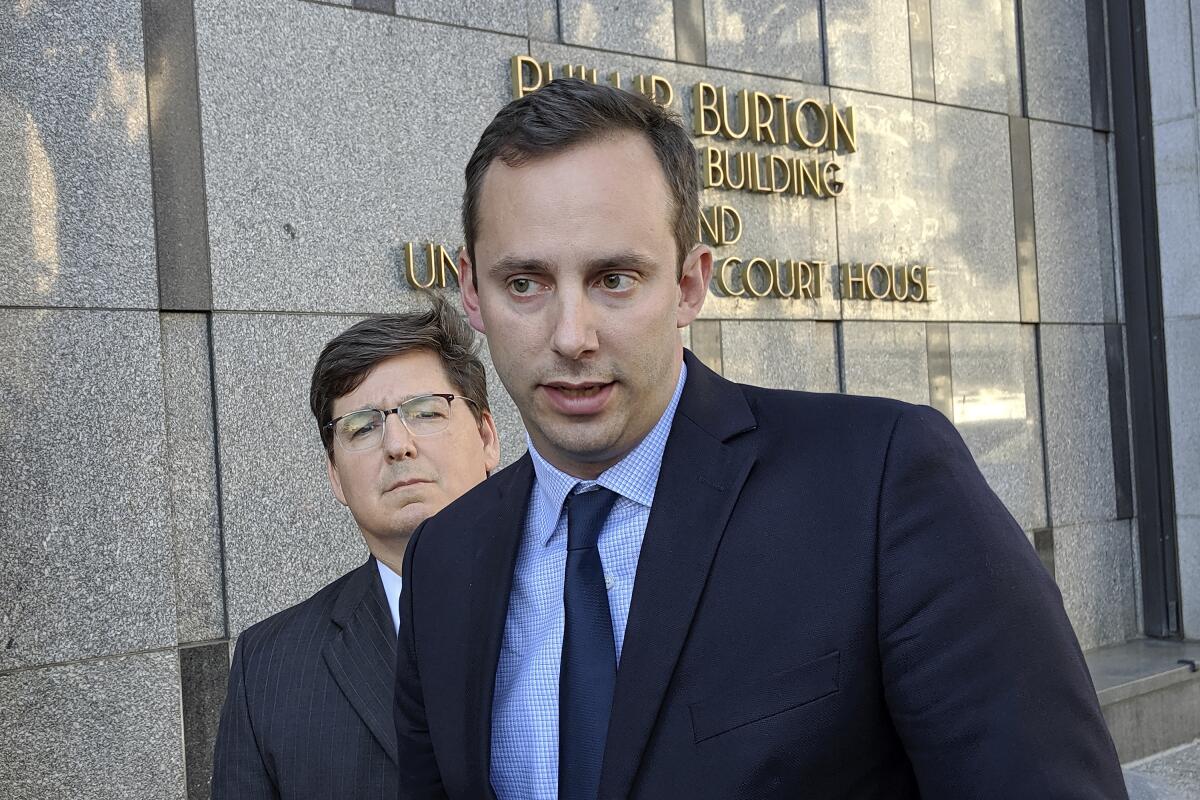 President Trump pardoned a long list of individuals with criminal convictions before he left office Wednesday. Among them: a high-profile engineer at the center of Silicon Valley's self-driving-car wars.
Anthony Levandowski stole driverless vehicle technology secrets from Google, where he helped spearhead research into autonomous vehicles, and smuggled them to Uber via his autonomous-truck start-up, Otto. Arrested in 2019 and facing 33 counts of intellectual property theft, he pleaded guilty to one count and last summer was sentenced to 18 months in prison.
In a White House statement, the administration said the pardon was supported by onetime Trump supporter and tech billionaire Peter Thiel, former Disney executive Michael Ovitz and Palmer Luckey, founder of the virtual reality company Oculus VR.
Thiel is a PayPal co-founder and early Facebook investor, a vocal libertarian and fierce Google critic. He founded Palantir, a data-collection and analysis company whose contracts with U.S. government agencies include work for the Immigration and Customs Enforcement Agency. Thiel served on Trump's transition team and helped place a number of close associates in key roles within the administration, although he did not publicly support Trump's reelection bid.
Luckey is a virtual reality pioneer who sold his company to Facebook. He left Facebook after the social media platform was ordered by a Texas jury to pay $500 million in a trade secret and copyright infringement case that involved Oculus and Luckey. According to a Washington Post report, Luckey donated $100,000 to Trump's inauguration through a series of shell companies.
The Levandowski affair raised questions about how far Silicon Valley "geniuses" should be allowed to push ethical and legal standards in their quest for innovations and personal riches. "Though clearly an outlier, the disgraced former autonomous drive expert embodies an aspect of Silicon Valley culture that must be addressed," said the automotive news site The Drive in a 2019 essay.
In 2016, Levandowski left Google's driverless-car division, later spun out into an Alphabet subsidiary called Waymo. He started his own company, Otto, to develop driverless truck technology. Otto was soon acquired by Uber for $680 million as the ride-hailing venture pursued its own autonomous-vehicle division. Levandowski took charge of the Uber self-drive engineering team.
Levandowski's legal trouble began when Google sued Uber, alleging he downloaded proprietary engineering documents from Google computers and took them to Uber. After several days of blistering testimony in a federal jury trial held in February 2018, Uber gave up and settled the case with Google.
In March 2018, an Uber driverless test vehicle ran over and killed a pedestrian crossing an Arizona highway, spotlighting concerns about driverless car safety and companies that test them on public roads.
Last month, Uber sold its autonomous-vehicle development arm to safety-conscious driverless vehicle developer Aurora. Uber invested $400 million in the company and Uber Chief Executive Dara Khosrowshahi joined its board.
Aurora is a major player in driverless technology, with investors that include Hyundai and Amazon. Its chief executive, Chris Urmson, led Google's driverless car project for seven years before co-founding the company with Sterling Anderson, who headed Tesla's Autopilot team, and Drew Bagnell, a member of the Uber self-drive team.
Levandowski thanked the president in an early morning tweet Wednesday, saying he was grateful for the opportunity to move forward.
The Associated Press was used in compiling this report.