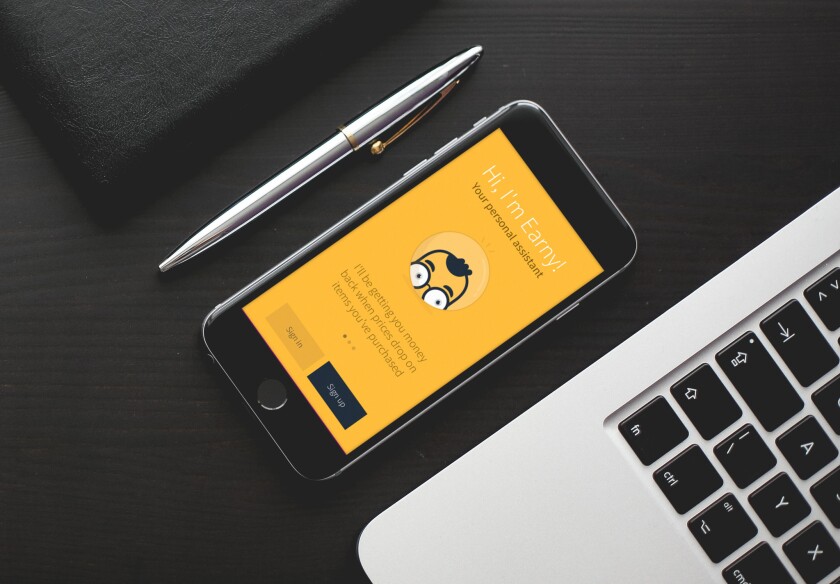 Earny, a mobile app, only does one task. It's work that a human could do, but it's so cumbersome that just 3% of people undertake it, by one estimate.
Earny's job is to get people partial refunds using credit-card-and-retailer policies designed to protect consumers from price decreases that occur soon after they buy an item.
Mike Jones, chief executive of the Santa Monica start-up builder Science Inc., bought a $34 Apple memory card reader for himself and $35 Pokemon card set for his son from Amazon.com. After prices fell on both, Earny recouped $6.84 for Jones after taking a 25% cut for itself.
Savings like those led Jones to recently invest in Earny Inc. through Science and pull the small company to Santa Monica from San Francisco. Earny announced last week that it had raised a total of $1 million, including cash from other investors.
Jones tested Earny and a dozen other apps as he searched for software that automated shopping. A holy grail could be an app that plans a vacation with a tap of button, finding the best rates on hotels, airfare and all.
Earny is not that sophisticated and isn't even fully automated; humans still have to handle some undisclosed tasks to process refunds for consumers. But Jones and Earny Chief Executive Oded Vakrat expect its software to become an advocate for consumers in many more ways.
What Earny has managed to do for now is parse rules from companies including Costco, Target, Macy's, Visa and American Express. They typically allow consumers to collect cash within a week to six months if prices drop or a rival has a better offer.
Users allow Earny to continually search their email for receipts from supported retailers. When there's a match, Earny begins tracking prices online and files a claim when needed. The receipt data is deleted after the price protection period expires, Vakrat said.
Though it ends up costing them money, retailers and credit card companies like the idea of Earny, said Vakrat, who first designed the service at an app-making competition hosted by MasterCard.
"We thought they'd hate us," he said of credit card issuers. "But they understood the potential of giving confidence to customers to buy whatever they want whenever they want."
Retailers make best price guarantees to attract customers and getting them to use the offers makes the shopper feel good, Jones said. After a few weeks of use, he's shifted spending to retailers with the best price-protection policies.
Giving Earny access to email, even if only messages from specific senders, could be concerning for people. Vakrat suggested that they could create an email account to use only for online purchases. And Jones said that security worries would be outweighed by the fact that it's rare for an email add-on to give money to its users.
Cargomatic changes CEO
Jonathan Kessler has stepped down as chief executive of Cargomatic, an online marketplace that connects short-range truckers and companies that need items transported.
"It's time for me to hand over" the reins to others, he said in an email.
Kessler, who will become chief product officer and remain on the board of directors, wrote that the Venice start-up's prospects "have never been more positive." The company is focusing more on adding bigger customers and has hired shipping veterans to its executive ranks, though it didn't immediately name a new CEO.
Cargomatic takes a cut from deals struck on its service. The company, which recently laid off a significant portion of its workforce, faces increasing competition from fellow start-ups. It hasn't publicly disclosed any financing since raising more than $10 million from investors in 2014 and early 2015.
Past investors include Sherpa Capital, Canaan Partners and Volvo Group's venture capital unit. They didn't respond to requests for comment.
Cargomatic was the eighth start-up that Kessler co-founded or become involved with. He grew up studying engineering and computer science. He then worked in a variety of industries worldwide, including fishing, English teaching, bacteria testing and hat imports. He suggested that leaving the CEO role after three years would allow him to continue the streak of pursuits.
DCVeolcity first reported the news.
Fan-run football team
A Santa Monica group of technologists, former athletes and sports media executives own a new indoor football team in Salt Lake City -- but they don't have much power. Instead, they expect to leave decision-making to users of an app, delegating everything from choosing the team's name to filling in its roster and calling the plays.
By the end of the team's first season next year, Project Fanchise probably will have spent upward of $2 million on the experiment, Chief Executive Sohrob Farudi said.
In Farudi's mind, sports fans want to be more involved with their favorite teams -- and thanks to smartphones they now have the power.
"Ten years ago, sitting in the stands and calling a play wasn't a possibility," he said. "But there's a generation of kids in their 20s looking for a different way to consume sports and entertainment and connect with it."
The app will become the central hub for the Indoor Football League's Salt Lake City team. Games and practices will be streamed there. Even interviews for general manager and coaching candidates will be streamed -- after all, it's users who will submit the questions and decide who gets hired.
To deal with miscreants, fans who do the most stuff on the app or exhibit the most football knowledge in online quizzes will increase their IQ "rating" and get more power, chiefly the ability to vote on play calls. The app will offer educational videos to help users boost their knowledge.
Project Fanchise's ultimate goal is to have an entire fan-run league by licensing the technology to other teams.
The Indoor Football League is an affordable place to test the system. Teams generate about $1 million in revenue, with most of them profitable by Farudi's estimate. They have small executive teams and players make just $250 a game.
But by putting ownership on an app, Farudi is betting that he can increase the league's fortunes. Streaming could attract a global audience and bigger sponsors. More local excitement would come too, tripling average attendance at games to 12,000 in the best case. Salt Lake City was chosen over Austin, Texas, and Boise, Idaho, and elsewhere as the destination for the team after about 2,000 votes.
Farudi, who once co-founded cellphone reseller FlipSwap, raised capital for Project Fanchise from previous investors. Other funders include former Denver Broncos linebacker Al Wilson and former NFL and ESPN mobile development general manager Manish Jha.
On Monday, Project Fanchise launched a crowdfunding campaign to raise additional capital. The goal is to get on average about $25 from 10,000 people. Donors could get to sing the national anthem or warm up with the quarterback before a game.
The company is considering a second crowdfunding campaign that would enable anyone to buy shares in the team.
A new fund for Orange County?
The Orange County Technology Action Network, an Aliso Viejo nonprofit that has held big investor events and mentored local tech companies for more than a decade, could soon have some serious money behind it.
The organization, known as Octane, is attempting to raise a $50-million fund and has collected $4 million since last month, according to a Securities and Exchange Commission filing last week. Named in the document for the Visionary Venture Fund are Octane President and Chief Executive Bill Carpou and banker Jeffry Weinhuff. They declined to comment immediately, but it's possible the money could be used to invest in some of the dozens of companies that Octane helps annually.
Octane generated about $1.3 million in revenue in 2014, according to its most recently accessible tax filing.
A new fund for Los Angeles?
In Santa Monica, a trio of noteworthy names in tech are raising a $300-million fund to invest in start-ups, according to an SEC filing last week. Among the Alpha Edison fund's principals are venture capitalist Nate Redmond, longtime entrepreneur Nick Grouf and former Goldman Sachs tech banker Michael Parekh.
The group also is listed on a $30-million side fund. They declined to comment.
Redmond continues to manage Rustic Canyon Partners, a Santa Monica venture capital firm that had been endowed by the trust of the Chandler family, which once owned the Los Angeles Times. With Rustic Canyon winding down, Alpha Edison appears to be Redmond's next move.
Grouf has co-founded ad tech company SpotRunner, recommendation software maker Firefly and Internet service provider PeoplePC.
Parekh's resume includes lead roles in the initial public offerings of Yahoo, ad software maker DoubleClick and many more during the dot-com boom.
Club W gets a rebrand
Club W, which launched in 2012 as a personalized wine of the month club, announced that it's now going by Winc. The Los Angeles start-up produces all of its own wine and wanted a name that "stood out in what can be a very stodgy category," Chief Executive Xander Oxman said in a statement.
The company considered other ideas, but they either could be restrictive in the same way as the word "club" or weren't available as domain names and social media usernames.
"We've hit a nerve with a new generation of wine drinker that wants ... better wines and a better way to shop and discover -- without all of the pomp and circumstance that can surround wine," Oxman said. "The next stage for Winc is connecting with those same consumers in different contexts: at restaurants, at retail and beyond."
Winc has $17.5 million in new cash from Chinese investment group Shining Capital and Bessemer Venture Partners to carry out the plan.
Shining Capital also invested in El Segundo-based JustFab, the online shopping company where Winc board member Adam Goldenberg is co-chief executive.
Elsewhere on the Web
Snapchat Chief Executive Evan Spiegel purchased a four-bedroom home in Brentwood for $12 million and plans to live in it with his girlfriend Miranda Kerr, according to TMZ.
SubPac, a Los Angeles start-up working on audio technology, raised $6 million from NBA star Carmelo Anthony's venture capital fund, former high-ranking Google executive Andy Rubin and others, according to VentureBeat.
Virtual reality start-up 8i has hired longtime television and digital media executive Steve Raymond to run its production arm, which includes a studio in Culver City, according to Variety.
Los Angles start-up Sunflare is developing solar panels that are smaller, lighter and more flexible than standard varieties, according to Fast Company.
French drone company Delair-Tech is opening an office in Los Angeles, according to La Toulouse Tribune.
Skydance, the production company behind the latest "Star Trek" and "Mission Impossible" movies, bought a video game-maker for an undisclosed amount, according to Develop.
Investment firm B. Riley & Co. agreed to purchase Woodland Hills Internet service provider United Online for $170 million, including $48 million in cash, according to San Fernando Valley Business Journal.
In case you missed it
The brisk rise of coloring apps threatens the enormous growth of coloring book publishers, who sold 12 million adult and children's coloring books in the U.S. last year — 1,100% more than in 2014, according to tracking firm Nielsen.
Online video company Machinima Inc. thinks it can go further than other e-sports companies have and attract top-tier advertisers of all kinds to bankroll video-game-related entertainment.
Attracting women to e-sports, fostering amateur competitions and striking more licensing deals are among the major initiatives that need to be undertaken for the e-sports industry to realize its potential, industry leaders said.
As recently as last year when the company was fundraising, Uber didn't even mention expanding beyond ride-hailing when pitching investors.
YouTube is reportedly in talks with networks to stream TV through a paid service called Unplugged that could serve as a Web-based alternative to the cable box.
Twitter: @peard33
---