Vertical Mass: Where the entertainment industry goes to store and sell user data
Stream music? Go to concerts? Like a popular band on Facebook?
There's a good chance information about you is available for sale to advertisers and other businesses on Vertical Mass. The nearly 3-year-old West Hollywood start-up provides user data storage and analysis software for companies in music, sports, video games and Hollywood. Those companies also can list some of their user information for sale, with Vertical Mass collecting a portion of the proceeds.
Fees from the software service and the data marketplace have brought Vertical Mass seven figures in revenue for two consecutive years, Chief Executive Mark Shedletsky said, declining to provide specific figures.
But investors think the company is only getting started as a key information broker in the entertainment universe. Vertical Mass announced Tuesday a $5-million batch of funding from Greycroft Partners, Formation 8, Sierra Wasatch, Canyon Creek Capital, Magnetar Capital and the San Francisco 49ers.
Some of the funds have been spent already, but Shedletsky plans to use the rest to hire software programmers, data scientists and eventually sales workers.
Shedletsky and co-founder Nick Abramovic, formerly chief strategy officer at dating app OkCupid's experimental division, met at Amplify.LA, the business accelerator program in Venice.
They saw a hole in the data brokerage industry. BlueKai, Datalogix and their competitors hold information about consumer goods shoppers, travelers and auto buyers. But Shedletsky, who started and sold an entertainment app developer and worked in marketing at MTV Canada, noted that no one quite addressed the industry he'd been working in.
Now, entertainment businesses can aggregate different sets of data onto Vertical Mass. A talent manager could get a holistic view of a client's audience by putting together ticket buyers, Facebook fans and online listeners. Combined with other information Vertical Mass sells (such as data showing a band's fans love Jimmy Kimmel more than most), a sponsor using that artist as a spokesperson could get a better sense of where to place ads. Vertical Mass even helps companies buy ads. Data buyers include Foot Locker, YouTube and Elizabeth Arden.
"When you put 30-second ad in front of a fan of the person in the creative, it just performs better," Shedletsky said.
Companies have control over what, if any, data Vertical Mass can make available for others to buy. For example, one concert promoter may not want to share data with a rival. Each record costs about $2 to $12, a slight premium over industry averages because Vertical Mass is often the exclusive source for it, Shedletsky said.
Information about 100 million people flow through Vertical Mass each month, though duplicates may exist because it's difficult to collate one's smartphone browsing to desktop usage. The company facilitates data-gathering through software tools like browser cookies, tracking pixels and mobile app kits.
Vertical Mass abides by the privacy policies of its customers. Shedletsky said that consumers who don't want their information stored within Vertical Mass can opt out through its website or through whatever partner is collecting their data in the first place.
"It's really partners who are responsible for their audience relationships," Shedletsky said.
Vertical Mass previously raised $3 million in seed funding, including from several entertainment lawyers interested in learning about structuring data deals.
"No contracts really have data rights built into them in our space, whether it's a film studio and talent, or a sports team and venue, or a TV network and a league," Shedletsky said. "Interesting conversations are going to happen around revenue flow, ownership and management of those data."
Why seed investments could be on the decline
The number of start-ups getting funding has been down across the country in 2016 after years of upswing. One of the sharpest declines has been in seed or angel investments, which are about $1 million or less and usually mark the first cash a company receives from outsiders.
About 900 seed or angel deals happened during the third quarter, the first drop below 1,000 in a given quarter since the end of 2012, according to data provider PitchBook and the National Venture Capital Assn.
In the Los Angeles region, seed-stage investments are numbering about 40 to 50 a quarter over the last year, excluding a big spike to 87 between April and June, according to research firm CB Insights.
Investors say the drop-off represents a return to pre-2013 levels. And they say it's sparked by concern about high share prices and a lack of liquidity because of a slowdown in initial public offerings and other deals that return their investment.
But there might be more to it. On the simple side, some start-ups and venture capital firms are no longer announcing every investment when it's made. More complex is that entrepreneurs are waiting longer to raise seed funds, or making a larger investment the first cash they take on.
"Angels are smartening up," said entrepreneur Sam Strasser, referring to the wealthy individuals who make seed investments. "It's forcing us to get further along in the product and have a true fit in the market before going to them."
Strasser recently left day-to-day duties at the Santa Monica software development company Distillery, which he co-founded. He's started a yet-to-be-named company that's developing finance software for small businesses to invest excess cash. He's aiming to fund the operation himself for as long as possible, so that the service is potentially generating revenue by the time he chases investors. His goal is to have $5 million under management before he seeks funding.
"People don't want to throw their money out the door anymore," Strasser said.
When he does go out to raise money, he could get several million dollars and bypass a seed check altogether. In other words, he could collect more money while losing less of his ownership stake.
Video distribution tool maker Epoxy acquired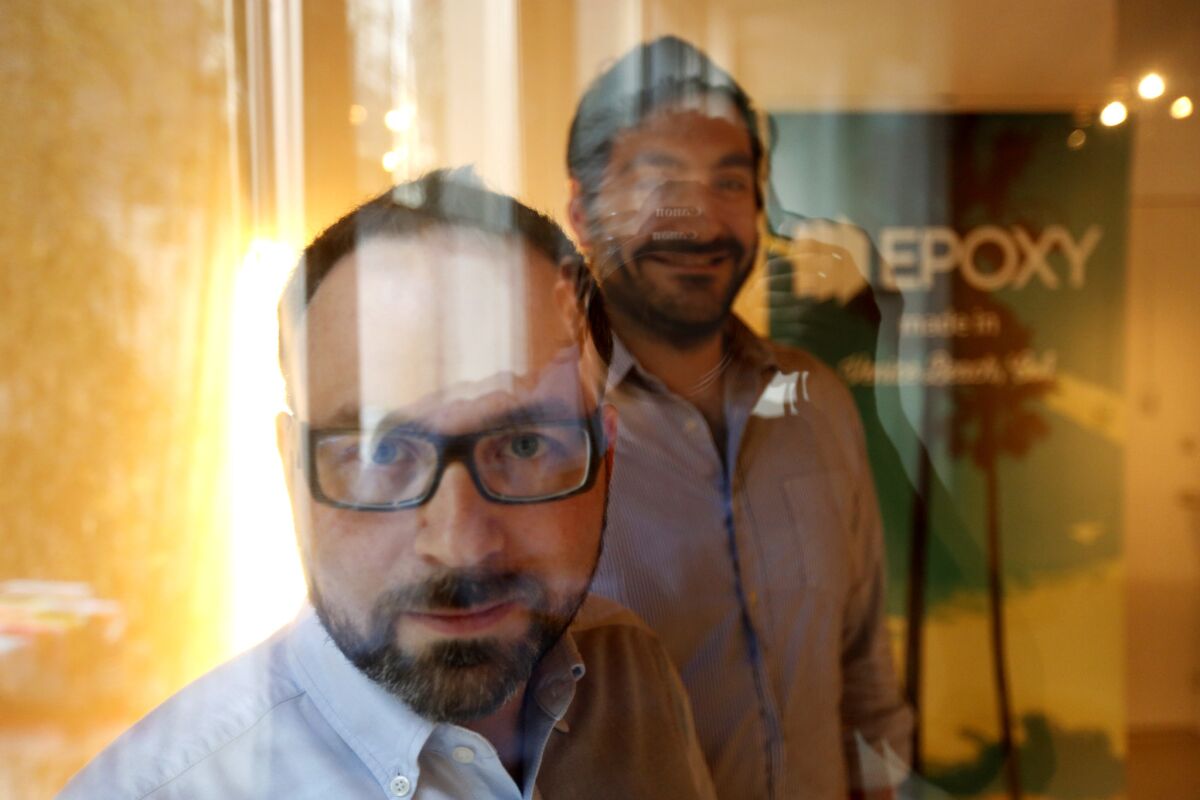 Venice start-up Epoxy, whose software enables online video makers to distribute clips to multiple social media apps at once, has been acquired for an undisclosed amount.
The buyer announced Tuesday is Vemba, a Toronto company that helps video makers get their videos onto news apps and other online publishers. Integrating Epoxy into its service means Vemba should be able to help its users more effectively get videos onto Facebook, Twitter, YouTube and other apps that are increasingly becoming key publishing platforms for media companies. Vemba's customers include magazine giant Conde Nast and Los Angeles Times owner Tronc.
Epoxy, founded in 2012, had received more than $8 million from investors. Both it and Vemba shared an investor: Los Angeles' Upfront Ventures. The Video Ink reported late Monday that Epoxy Chief Executive Juan Bruce will assume an advisory role at Vemba.
Chinese company takes over Newegg
Newegg, a popular online shop for computer parts, released new details about a significant investment it agreed to receive last month from Chinese app maker Liaison Interactive.
The funding round of $263 million gives Liaison majority ownership, the City of Industry company said Monday. The foreign investment is awaiting regulatory approval, Newegg's Merle McIntosh, senior vice president of sales and marketing, said in a statement.
A month ago, the company said it hoped to use the cash to expand internationally, add more products to its store and gear up for the growing interest in e-sports and virtual reality.
McIntosh said Liaison "has a track record of investing in companies and keeping management in place" and "the same will be true for Newegg."
Doctor-on-demand start-up Heal gets $27 million
Legendary Pictures Chairman and Chief Executive Thomas Tull is deepening his stake in Heal.
Tull's new venture capital fund led a $26.9-million financing of the Santa Monica company, which sends doctors out for $99 house calls from 8 a.m. to 8 p.m. daily. The Hollywood executive, who's made more than $75 million in tech investments — including in Oculus and Pinterest in recent years — also led Heal's previous financing.
"At its core, Heal is a technology enabled business and that's always interesting for starters," Tull, who joined the company's board of directors, said in a statement. "And any technology that allows people to have smoother interactions and better experiences fits our purview."
Health industry analysts and people who've tried to operate Heal-like services have said that they waste doctors' time on the road and they're not cost-effective. Heal, which has served 10,000 customers in a year since launching, counters it can produce better outcomes by providing a personalized touch. It's considered an in-network provider for insurers Blue Shield of California, Anthem Blue Cross of California, Cigna, Aetna and United Healthcare.
Other investors include Breyer Capital, Qualcomm Executive Chairman Paul Jacobs and Slow Ventures. David Ellison, chief executive of Hollywood production firm Skydance Media, invested and joined the board.
Major bet on the workplace of the future
Oblong Industries announced Tuesday a $65-million investment meant to help the Los Angeles company speed up sales and development of workplace collaboration tools.
The company's signature product is a technology system that lets corporate teams work across screens and offices. Backers include investment firms Greenspring Associates, Industry Ventures, Morgan Stanley and Foundry Group. Also contributing was University of Texas' investment arm.
Coding school to offer more online instruction
Codesmith, a Playa Vista school that aims to take people of any age or experience and turn them into at least mid-level software programmers in 12 weeks, received $1.1 million to add more online classes.
For its in-person boot camp, the company tries to choose high-caliber individuals and give them new skills in computer science. But it helps thousands of people learn the basics through free sessions online and in person.
Most of the new money comes from Chad Troutwine, who co-founded Codesmith with Will Sentance and serves as chief executive of online test preparation provider Veritas Prep.
Elsewhere on the web
Film studio Warner Bros. is in advanced talks to purchase the stake in online video company Machinima that it doesn't already own, according to the Information.
Walt Disney Co. unveiled partnerships with the nine companies in its start-up investment and mentorship program, including an effort to explore bringing characters to life as robots, according to the Hollywood Reporter.
Online video aggregator Pluto.tv, used by about 5 million people each month, raised $30 million from additional TV distributors, according to the New York Post.
Make in L.A., a development program for hardware start-ups, announced its third batch of companies, including ones in solar power, 3-D mapping and speakers.
In case you missed it
One of the world's largest maritime ports operators led a $50-million financing of Hyperloop One, a Los Angeles company aiming to transport cargo and people faster and more cheaply than existing options.
As a safety precaution, meal replacement start-up Soylent halted sales of its new nutrition snack bar and advised customers to discard any in their possession.
YouTube's acquisition of Santa Monica start-up FameBit, which connects advertisers with online video creators, gives the streaming video service a new tool to fend off rivals Snapchat and Facebook.
Amazon.com officials offered an explanation of how the company's first big video game, "Breakaway," came to be and what to expect from Amazon Games.
Coming up
Investment bank Siemer & Associates' annual Siemer Summit has moved to downtown Los Angeles from Santa Monica, and should bring together hundreds of tech and media entrepreneurs and investors Tuesday and Wednesday.
L.A. tech advocacy group Lincoln Federation plans to host a discussion with local transportation officials and start-ups in the transportation industry on Wednesday afternoon in downtown Los Angeles.
The Women Founders Network expects to hold its fourth annual Fast Pitch Competition on Thursday in Los Angeles. About $35,000 in cash and $100,000 worth of services are up for grabs, with the 10 finalists including women-led companies CityMoms (kids' activities booking app), Markett (connects companies with people willing to be brand ambassadors) and WeReach (video advertising software).
Twitter: @peard33
---