Upfront Summit, ads and acquisitions of Mophie and Represent among week's L.A. tech highlights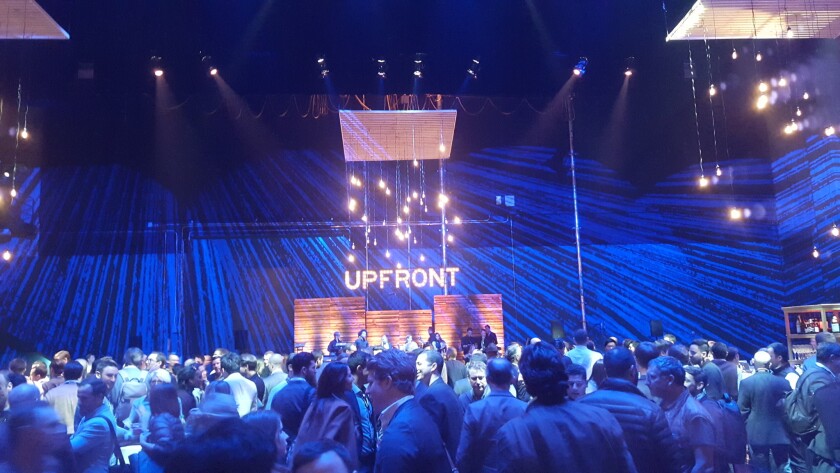 NBA legend Magic Johnson, Amazon.com business development executive Jeff Blackburn and venture capitalist Fred Wilson were among the headliners at last week's Upfront Summit.
The Los Angeles tech conference, hosted by Santa Monica venture firm Upfront Ventures, brought hundreds of investors and tech executives to the Dolby Theatre over two days.
During one session, Johnson and other racial-minority leaders in tech advocated for hiring Latinos and blacks to bring fresh thinking into companies. Johnson, who invests primarily in real estate and sports, has begun looking to put money in tech as well. He explained how he developed successful Starbucks locations in low-income neighborhoods by swapping in music and desserts -- like sweet potato cakes instead of scones -- that resonated better with African Americans.
Blackburn discussed Amazon's growing presence in Santa Monica as it begins to produce more shows and movies. He also suggested the company wasn't tied to making videos available only to subscribers, saying Amazon is open to generating revenue from ads too.
And Wilson, whose firm has made millions of dollars because of investments in Twitter, Etsy and others, took aim at ride-hailing company Uber Technologies Inc. He said Uber -- in which he is not an investor -- should go public despite the valuation troubles of publicly traded tech companies at the moment. Being public provides more spending power and name recognition, he said. Delaying an initial public offering is unfair to early investors in Uber, Wilson said.
Honestly, an IPO? Honest Co. is working with bankers at Goldman Sachs and Morgan Stanley to prepare for an initial public offering, Bloomberg reported, citing anonymous sources. Honest declined to comment, and sources close to the Santa Monica-based company didn't dispute the report. But it could be many months before the maker of nontoxic beauty and health products finds an opportunity to go public. A turbulent stock market has pushed shares of most tech companies that went public last year into negative territory relative to their IPO price, according to data from Renaissance Capital.
Shares of more established software and hardware companies have also taken a hit. LinkedIn is down 57% over the last three months and GoPro is down 58%. Still, several L.A. companies are considering filing to go public confidentially, allowing them to be prepared should conditions change, one person familiar with the discussions said.
VC caution. Investors in many of those companies that are considering going public ended the year more upbeat after three straight quarters of waning optimism in the market, according to the latest University of San Francisco Silicon Valley Venture Capitalist Confidence Index. But maybe that's because they are sure now that the start-up investment market is in a downswing.
"The public markets cannot possibly absorb the current batch of unicorns at their current valuations, not to mention the thundering herd of unicorn wannabes," Bill Reichert of Garage Technology Ventures said in the survey, using the term unicorns to denote companies worth more than $1 billion.
"There will be more disappointment than celebration over the next 18 months," he continued. "Still, there is plenty of room for creating real value and building great companies. We just need to adjust expectations."
Super Bowl screen time. Honest and Los Angeles-based Dollar Shave Club appeared to put to use some of the nearly $100 million each raised from venture capitalists last year. Both of the start-ups aired commercials during the Super Bowl.
Dollar Shave's national airtime cost an estimated $4.9 million, according to tracking firm ISpot.tv. The men's bath products company later tried to generate buzz around its ad by sharing a series of "cutbacks" it had made to pay for the expensive spot. The stunts included saying toilet paper use would be limited in the office to three sheets a visit and placing a conference room for rental on Airbnb.
Snapchat hosted its own helping of ads on Super Bowl Sunday, including an animated filter purchased by Gatorade that made it look as if a bucket of the drink was being dumped on the photo subject. Gatorade said Monday that the animation, known as a Lens to Snapchat users, had been viewed more than 100 million times. The game itself peaked at almost 116 million viewers on TV in the U.S.
Disney split. Walt Disney Co. dropped start-up mentorship group Techstars as a partner on the Disney Accelerator. The program, which will return for a third run this summer, provides about 10 young companies a year with money and support. In exchange, Disney gets an early look at innovations that could affect its business and a potential cash return.
Although Techstars has kicked in money and mentoring for the last two years, Disney wanted to go a different direction this year, focusing even more on media and entertainment start-ups. On its own, it should have more leeway to change the day-to-day structure, invest larger sums and attract more mature companies. Techstars said in a statement that its contract with Disney had expired and it was glad Disney would maintain a program.
Virtual reality. Littlstar, a virtual reality service similar to YouTube, recently opened an office in Santa Monica. The New York City start-up expects to use the new hub to work with Discovery Channel, Disney, Showtime, Michelle Phan and other video creators. The company declined to say how many users it has. It's one of several start-ups trying to become the YouTube for virtual reality and helping video makers produce videos. Littlstar is designed to work on many devices.
Augmented reality. Chinese online shopping giant Alibaba led a $794-million investment in Magic Leap, the Florida company developing light-field technology that projects digital objects in front of people's eyes. Warner Bros. and several mutual funds also bought shares in the company, which has shown its product to few people. The start-up has an office in Los Angeles too.
Flowers. Just in time for the Valentine's Day rush, a Venice-based flower delivery service announced raising $12 million from Azure Capital Partners, KEC Ventures, Quest Venture Partners and other investors. Bouqs.com aims to deliver cut-to-order flowers in as little as two hours in about 50 cities. It also offers other arrangements for later deliveries at lower costs.
Phone cases. Smartphone case maker Zagg is acquiring rival Mophie for at least $100 million, the companies announced last week. The merger could almost double annual revenue for Salt Lake City-based Zagg while boosting profits as the companies combine operations. Mophie, based in Tustin, is known for having a battery pack in its cases.
Hyperloop update. A USC student group was one of 26 teams from colleges worldwide chosen to test their design for a hyperloop pod at a small-scale track in Hawthorne this summer. Judges from academia and industry recently reviewed more than 120 designs, but cleared only some to reach the test-track stage. Elon Musk promoted the hyperloop high-speed transport system idea three years ago, and his company SpaceX is sponsoring the first-of-its-kind design competition. Also moving on were teams including students from Harvey Mudd College and UC Santa Barbara.
In case you missed it. Venture capitalists and other tech industry leaders offer stories to prove that high valuations and big investments are getting tougher to find. Writers, marketers, designers and accountants who freelance in Los Angeles can now connect through LinkedIn with companies offering temporary gigs.
This week, YouTube will launch new shows that only paying members can watch.
Yahoo is laying off 1,700 people and facing a lawsuit over the way it handled performance reviews. Twitter said it's doing a better job of booting terrorists from the social media app, but it offered limited evidence. Facebook promoted its new Sports Stadium feature for the Super Bowl, though the content still had kinks.
Salinas, out to become the agricultural tech capital, hopes to turn farm workers' children into computer scientists. Robots, it turns out, deliver fun with hotel room service orders, and they don't expect a tip.
Elsewhere on the Web. Represent, a service for celebrities or anyone to customize and sell merchandise, was sold to larger industry player CustomInk for nearly $100 million in cash and stock, according to TechCrunch. Los Angeles-based Represent was founded in May 2014 by the people behind Prizeo, a fundraising service for charities. Prizeo was sold for an undisclosed amount last summer to Chideo, a fundraising service that puts an emphasis on video pitches.
Los Angeles online-centric fashion brand NastyGal is laying off 19 people, about 10% of the company, according to Bloomberg. The restructuring ahead of NastyGal's 10th birthday is meant to make the company more "nimble" as it tries to "evolve," Chief Executive Sheree Waterson said in a memo.
An app-install ad was spotted on Snapchat for the first time, according to Adweek. The incredibly lucrative ad format allows advertisers to link to a page where their app can be downloaded.
Wevr, based in Venice, is another one of those companies trying to develop the YouTube for virtual reality headsets. It's raised $25 million from major technology companies and other investors to fund the effort, according to Fortune.
Sesame Workshop, the nonprofit organization behind "Sesame Street," will invest $10 million in start-ups supporting "childhood development," according to Fast Company.
WiSilica, based in Aliso Viejo, is among many companies aiming to develop a management platform for Internet-connected devices and has raised $3.35 million, according to a regulatory filing.
Coming up. Game maker Activision Blizzard Inc. reports fourth-quarter earnings Thursday, and workplace software company Cornerstone OnDemand does the same Wednesday. After having one of the best years of any company on Wall Street last year, Activision Blizzard has seen its stock plunge since Christmas -- alongside much of the tech sector. Investors in the Santa Monica company are likely to zero in on holiday sales of "Call of Duty: Black Ops III." Meanwhile, Cornerstone has lost a fifth of its value since Thursday amid concerns that global economic volatility and increased competition will generate weaker-than-expected sales this year at business technology companies.
Chat with me on Twitter @peard33
---