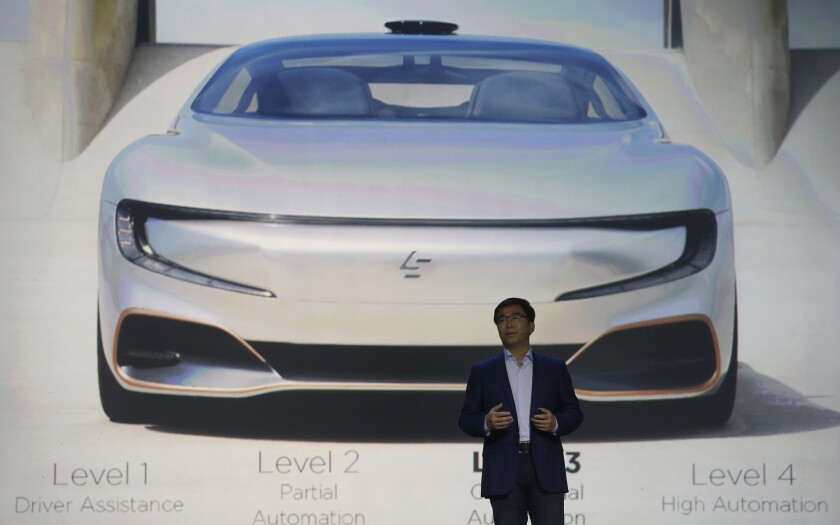 After snapping up Irvine television maker Vizio in July for $2 billion in cash, Chinese tech firm LeEco made its official U.S. debut Wednesday, hosting a San Francisco news conference to spell out its ambitions to sell gadgets as varied as phones and cars.
During the two-hour presentation, the company ran through nearly a dozen products it plans to launch, including a range of 4K smart TVs, the Le Pro3 and Le S3 smartphones, a virtual reality headset, a smart bicycle that can travel up to 30 mph, a video streaming service and two smart cars: the semi-autonomous LeSee and the fully autonomous LeSee Pro concept car.
But the LeSee was noticeably absent from the news conference. LeEco founder Jia Yueting told the audience it got into a "serious accident" while in transit from Los Angeles to Silicon Valley.
"We weren't able to repair it," he said.
The LeSee Pro, present at the event, sat stationary on display.
The company was also scant on details about how its video streaming service, which boasts partners such as Lionsgate, Showtime, Vice and Machinima, will work and whether it's exclusive to LeEco devices.
LeEco's effort to expand to the U.S. has drawn skepticism from technology analysts, who point to Chinese companies' struggles — relative to their Japanese and Korean rivals — in selling high-tech gadgets to U.S. consumers.
Among analysts' doubts is whether a company as young as LeEco has enough cash to effectively make and market its ambitious slate of products. Many of its flashier products, such as the self-driving car, remain "concepts" with no planned launch date or price tag.
LeEco got its start in 2004 doing video streaming before expanding into hardware. In addition to the Vizio acquisition, the company signaled its U.S. ambitions in June when it acquired 49 acres of property in Santa Clara from Yahoo.
"LeEco plans to develop this site into our global headquarters, and what we've dubbed as 'EcoCity,' " Dan Poritzky, LeEco's head of real estate, said on the company's blog.
Times staff writer Paresh Dave contributed to this report.
---