Lyft's public market debut will put its kinder, gentler image under a microscope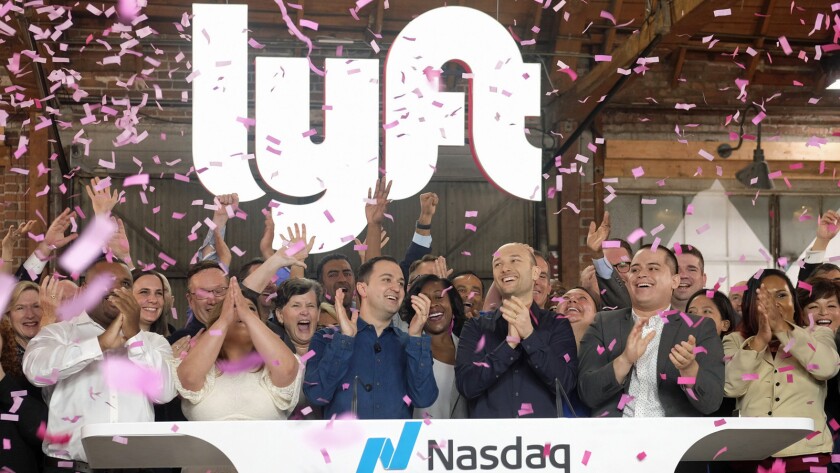 Lyft has worked hard to build a kinder, gentler image since its founding in 2012, when it was just a small group of drivers in San Francisco with fluffy pink mustaches adorning the grills of their cars.
It has offered its contractor workforce free bank accounts, discounted repair services and near-immediate access to earnings — perks intended to keep drivers happy without providing all of the protections or benefits of traditional employment.
So when the ride-hailing firm began trading on public markets Friday, Lyft sought to put out the message that it isn't just its engineers and executives who will be richly rewarded — it's the drivers, too.
Well, some of them.
Drivers who are in good standing with the company and have performed more than 10,000 rides have been given a $1,000 cash bonus with which they can choose to purchase Lyft stock at the IPO price of $72. Trading began at $87.24.
Drivers who performed more than 20,000 rides received a $10,000 bonus.
Lyft would not say how many of its 1.1 million drivers are eligible to purchase stock at the IPO price. The company reserved 5% of its shares for drivers and employees to purchase at that price. Drivers don't have restrictions on when they can sell the shares; employees must hold onto them for 180 days.
A successful IPO is famously the moment tech workers wait for — a chance to strike it rich overnight. Employees save their generous salaries for years with the hope of exercising stock options at a lower price. (Based on Friday's debut, Lyft employees now hold nearly $1.5 billion in stock.)
Whether Lyft's stock model is generous to drivers depends on who you ask, but it could set the stage for how other gig economies reward independent contractors as they go public.
Uber is reportedly expected to introduce a similar stock model for drivers in its initial public offering in the coming months. The company declined to comment.
While the IPO does not amount to a payday for most drivers, it's important for Lyft to keep morale high among its contractors. With nearly $1 billion in annual losses in 2018, recruiting and retaining drivers is crucial to the company's success.
"The hearts and lungs of the ecosystem are the drivers," Wedbush Securities analyst Dan Ives said. "Drivers need to feel loyalty to the brand."
Amassing 10,000 rides takes a lot of time — making it out of reach for the large portion of contractors who view Lyft as a part-time opportunity to supplement their income. But it's a figure that longtime drivers and some who drive full-time for the service say they have been able to hit.
A company spokesperson said Lyft settled on 10,000 as the threshold because it was exceptional and would help the company reward its most dedicated drivers.
Among them is Mimi Fan, who has been driving since 2013 and was invited to ring the bell to begin trading on Nasdaq alongside Lyft's executives at a media event in Los Angeles. Fan, who has given 12,000 rides, said she will invest at least part of her $1,000 bonus in Lyft.
"I'm honestly just grateful that I get the opportunity to even buy shares," said Fan, a San Francisco driver who said she made an average of $1,300 a week driving 12 to 14 hours a day. Fan has a full-time job now and drives part time.
Other drivers are less interested in purchasing stock. Nicole Moore, an organizing member of Rideshare Drivers United — a group advocating for better wages from Uber and Lyft — said many would rather spend the money on things they need, like car maintenance.
"We can say that for the most part, drivers [in our organization] aren't interested in stock in Lyft," Moore said. "What they're interested in is being able to live and make a living, and $1,000 might actually pay for the transmission that just went down."
In the run up to Lyft's public market debut, drivers in Los Angeles staged one-day strikes over cuts in rates on Monday. Drivers and demonstrators from a group called Gig Workers Rising protested outside of Omni Hotel in San Francisco where Lyft executives were slated to meet with investors on the first day of the company's roadshow.
The meeting was ultimately moved to another location, Bloomberg reported.
Framing itself as the friendlier ride-share service helps Lyft differentiate itself from its larger competitor, Uber, which has faced backlash over its aggressive approach to growth and to regulations that stood in its way. Lyft has made a point to pitch itself as a company focused on its social and environmental responsibility in an effort to appeal to both consumers and regulators.
In a Friday news conference with Los Angeles Mayor Eric Garcetti, Lyft said it would commit $5 million toward the city's transportation initiatives. That's part of a broader commitment to donate $50 million — or 1% of profits should the company become profitable — to U.S. cities where it operates.
As the event was underway, about a dozen drivers were making their way to Sacramento to meet with members of Gov. Gavin Newsom's cabinet to discuss wages and what they call a driver's bill of rights. The governor's office reached out after Rideshare Drivers United rallied outside Newsom's downtown Los Angeles office in January.
Fan is a member of Lyft's driver advisory forum, which was created as a means for drivers in each of the business' markets to express their concerns to the company. She said she sees the strikes as another means of giving Lyft feedback and is confident the company will take that into account, despite the company's resistance to raising driver pay in the past. She said her income is in line with her 2013 pay in spite of rate cuts because the volume of rides and riders has grown since then.
"The one thing that I can truly say about Lyft is they really do care about our feedback," she said.
Managing a bifurcated workforce will likely pose challenge for Lyft for years to come.
The company said as much before it stock market debut, warning investors that any regulatory challenges to the independent contractor status of drivers could hurt its ability to recruit and retain drivers.
The company has backed away from the suggestion that it will someday lower costs and increase profits by replacing contractors entirely with self-driving vehicles — it now acknowledges a portion of the cars on its network will likely always be driven by humans.
Such concerns didn't appear to scare off investors, who in Lyft see a model for the future of transportation, a growth stock, or both. Shares closed up 8% from the IPO price at $78.29.
Times staff writer Sam Dean contributed to this report.
Twitter: @jmbooyah
---