USC's Max Nikias talking innovation among week's L.A. tech highlights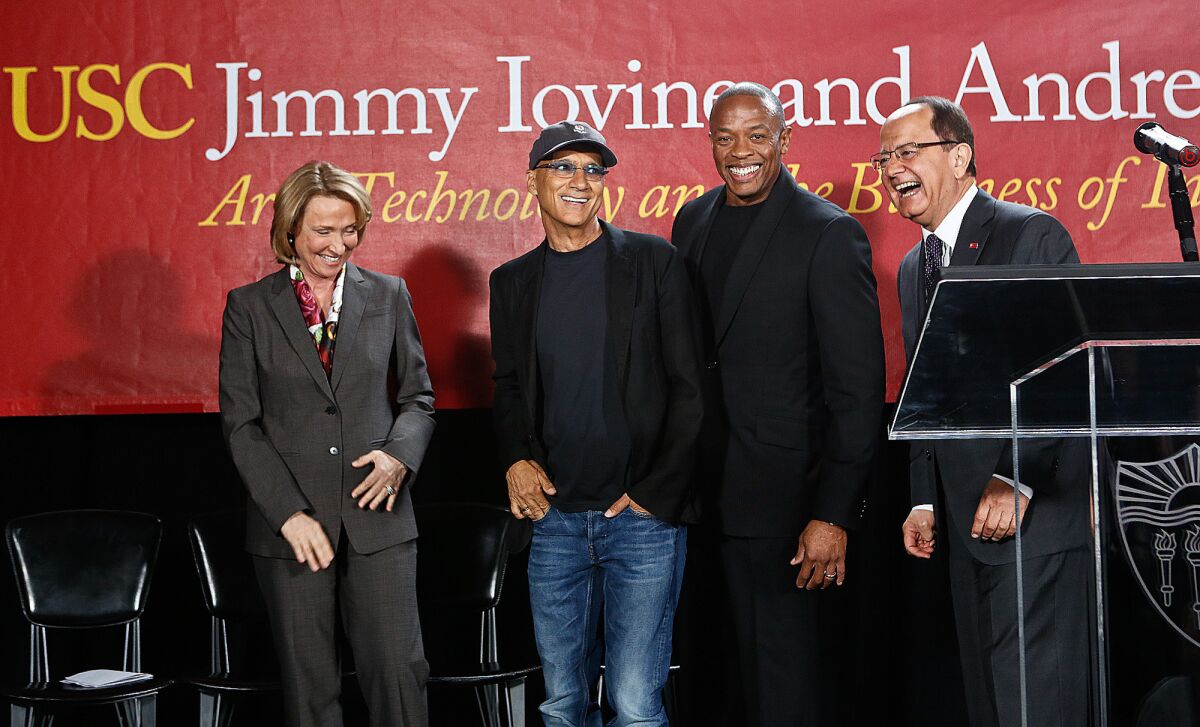 USC President C.L. Max Nikias is going out of his way to foster relationships with Los Angeles's technology business community while highlighting his own moves to boost innovation at the university.
Nikias recently gave his first big speech to "Silicon Beach" at an LAX Coastal Chamber of Commerce event, attended by executives from Dollar Shave Club, SpaceX, Google, Belkin, Ranker and more.
He elaborated with The Times by phone last week.
"Innovation isn't something that you make the investment and you anticipate," he said. "It comes when you're being surprised, because you have provided this environment and the right network of contacts."
Out-of-the-box thinking is most productive at the intersection of disciplines, Nikias said, which is why USC is hiring new professors into several academic units at once, like psychology and chemistry, or medicine and engineering. University management tightly controls purse strings from the recruiting process forward to make sure one department doesn't hog the faculty member. The ideas is that a professor relegated to a single department creates silos of expertise and narrow thinking, which gets in the way of communication and idea-sharing.
We have household names who were dropouts from colleges, but I don't think there's any rush to not be patient for one to two years to be sure you're very well rounded.
— USC President Max Nikias
For example: After music mogul Jimmy Iovine questioned whether USC had a program that could produce the next "Steve Jobs," Nikias, seeing none, combined professors from business, engineering and art into the new Jimmy Iovine and Andre Young Academy. Iovine agreed to not meddle with the curriculum design, while Nikias' team insisted three deans work together to develop it.
The ultimate test will be whether USC can hold on to students for the full four years and not lose them to startups. That's important to USC as a business, of course, but also to the students' future, Nikias said.
"I know we have household names who were dropouts from colleges, but I don't think there's any rush to not be patient for one to two years to be sure you're very well rounded in your education," Nikias said. "You're going to have plenty of time to pursue your dreams as an entrepreneur."
Another example: the World Bachelors in Business program, where students spend a year each at USC and universities in Hong Kong and Milan, Italy, before choosing to return to one for their final year of study.
Nikias almost crushed the idea because he refused to issue a joint degree. Putting the seal of USC on the same piece of paper as other schools would dilute its value, he said. His colleagues devised what he called an innovative solution: Students get a separate degree from each university.
The program has been important to USC as a business, helping draw more applicants from Europe. But it might have never come up if Nikias wasn't open to formal program pitches from deans as well as informal thoughts from faculty members who corner him at events.
"If it's a really good idea, we can get it done very quickly," he said. "I'm constantly looking for research and education programs that will give us a distinct identity that we're not going to copy anybody else. The ultimate measure of success is others want to copy you. That's my mantra."
Also recently:
Santa Monica-based Patient Pop announced raising $10 million from Toba Capital to grow over the next year to 200 employees from 65. The company's software helps doctors attract new patients and hold onto existing ones by improving their websites, handling online reservations and organizing patient outreach.
Cybersecurity startup Zenedge raised $4 million from the venture capital division of Canadian telecommunications giant Telus. Los Angeles-based Zenedge is using the investment to create outposts in Toronto and Amsterdam and expand its sales network. The startup's software is meant to deter distributed denial of service attacks and other attempts to derail websites.
Real estate search service Agent Ace recently acquired a similar app called fypio and rebranded the combined company as OpenHouse Realty. The Santa Monica-based startup got $13.5 million from Triangle Peak Partners, March Capital Partners and others. OpenHouse's search combines "data-driven real estate agent recommendations" with "in-depth neighborhood and community information" culled from social media, public databases and other sources.
Elsewhere on the Web:
The Sun-Sentinel details a $9-million economic incentive package that Florida officials are dangling before augmented reality startup Magic Leap. Google and heavy hitters in media and tech invested more than $500 million in Magic Leap, but the company is still eying the taxpayer cash to expand its Plantation, Fla., headquarters. Magic Leap also has offices in Los Angeles, Santa Cruz and Mountain View.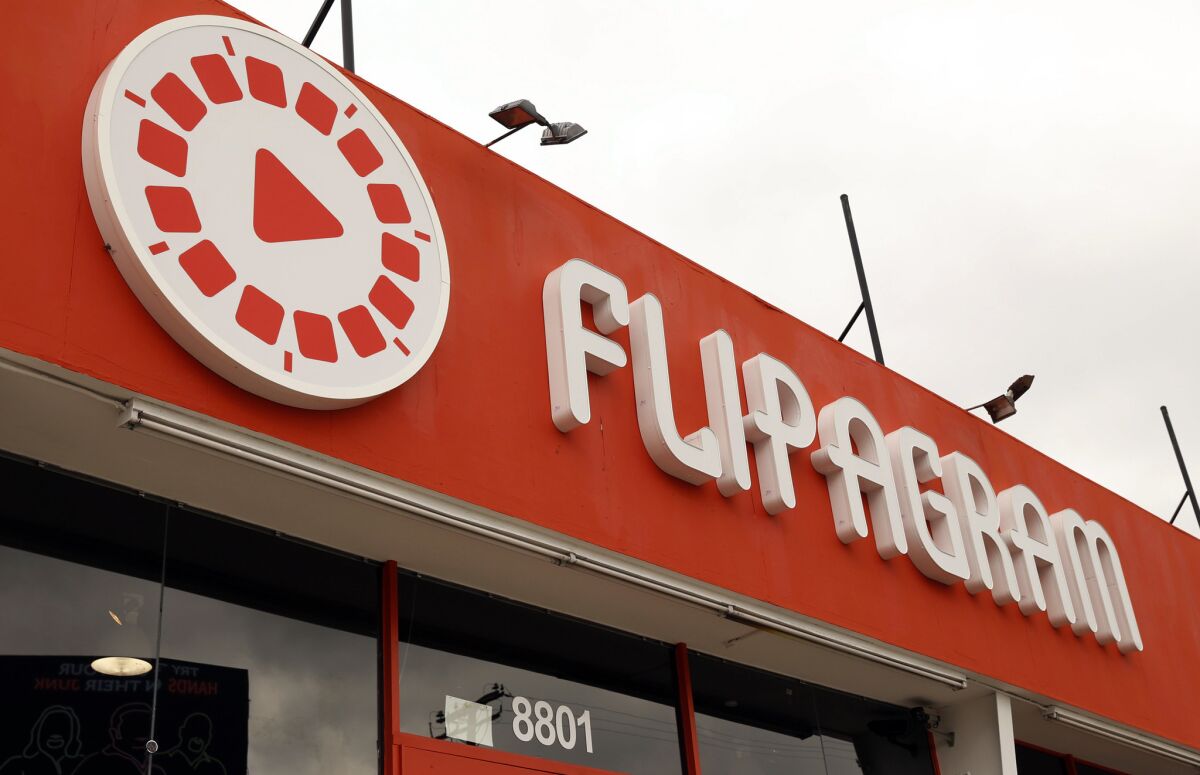 Forbes goes into the history of social media app Flipagram, which raised $70 million after entertaining major Silicon Valley investors over a Persian lunch. The Los Angeles company recently laid off more than a dozen employees though, despite a 165% increase in usage over the last year.
Flipagram said the trimming would lead to a faster product development. The company told Forbes most of the cuts were related to automating "product testing," but a source told Forbes that "poor user retention" and high costs had more to do with it.
Industry experts have said Flipagram is running into trouble as it tries to become a hub where people come to view content, much like Instagram. But Flipagram began as an app to edit video and export it onto other apps, making it more difficult for it to hold consumer attention and show ads.
Coming up:
The Game Awards take place at the Microsoft Theater in downtown Los Angeles on Thursday night. It's the second year of a new awards show dedicated to the video game industry, with last year's event taking place in Las Vegas. Video game journalist Geoff Keighley started the show, which will stream online, after stopping a similar event with Spike TV. This year's categories include game of the year, best narrative and eSports player of the year.
In case you missed it:
Big brands, including Coca-Cola, Toyota and W Hotels, have experimented with Snapchat ads because they couldn't pass up the easy chance to market to a large segment of highly coveted young consumers. But several advertisers have warned that they won't increase their Snapchat budgets without more enhanced targeting tools or data about the ads' effectiveness.
Chat with me on Twitter @peard33