Meet the next building that will try to blow Silicon Valley's mind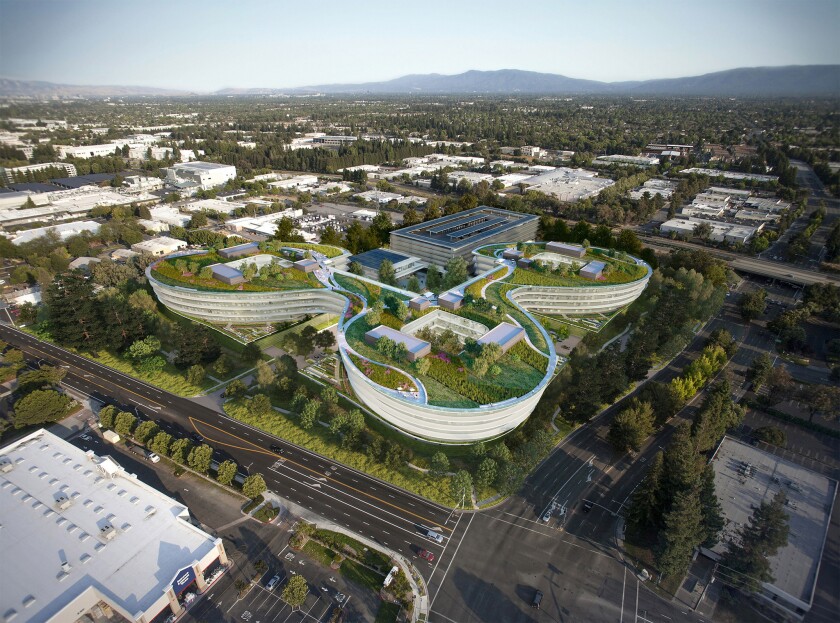 The proposed Central & Wolfe campus in Sunnyvale, Calif., has a collaborative roof garden.
(Landbank)
A different rendering showing the campus without the roof garden.
(Landbank)
HOK Architects described the design as "a curvy modern edifice surrounded by greenery."
(Landbank)
The campus will actually be three, four-story buildings and two smaller building with amenities for employees.
(Landbank)
To maximize green space on the 18-acre plot, all parking is underground. That's similar to other major tech campuses being built in Silicon Valley.
(Landbank)
The buildings will have a total of 770,000 square feet.
(Landbank)
Much of the exterior is floor-to-ceiling curved class.
(Landbank)
The architectural renaiassance in Silicon Valley seems to be still gathering steam. In a region not known for its notable buildings, tech companies and developers now seem intent on changing the region's drab image.
The latest entry in the valley's architectural sweepstakes is a cluster of office buildings being proposed for Sunnyvale called the Central & Wolfe campus.
The building is being built on "spec." That is, there are no official tenants as yet. But the company developing the project, Landbank Investments, is a family firm and one of the region's oldest developers and has worked with many of the valley's biggest tech companies over the years.
Landbank owns the land where there are currently nine standard office buildings that would be leveled and replaced by a swirling design that boasts floor-to-ceiling glass windows that wrap around the exterior.
Scott Jacobs, chief executive of Menlo Park-based Landbank, said that after years of developing office buildings, the firm wanted to use the opportunity to redevelop the site to make a departure from its playbook.
"We wanted to reimagine what a technology campus in suburban Silicon Valley could be," he said.
Landbank is not alone, of course. Nvidia Corp., Google Inc., Apple Inc., Facebook and Samsung Electronics Co. have all either proposed or started building daring new campuses that thumb their noses at the valley's generic office building style.
Adding to the building boom is a giant campus being built in North San Jose for a mystery tenant.
For Campus & Wolfe, Jacobs said the developer wanted the building to promote the cutting-edge work experiences that many tech firms are adopting. In particular, it wanted an experience that promoted more collaboration.
The firm selected HOK Architects to come up with a design for the project. In a statement, HOK said:
"Much like the hotly anticipated Apple HQ, the Central & Wolfe project will replace an unsightly set of sprawling cookie-cutter buildings and their surface parking lots with a curvy modern edifice surrounded by greenery."
The campus will consist of three main buildings with four floors each. Each floor has wide, open designs to let employees roam around and spark chance encounters.
The buildings will also be connected by walkways that are designed to promote interaction. In addition there is an option for a lush, rooftop garden that Jacobs hopes would be another place to promote collaboration and interaction.
There will be two smaller buildings on the campus that will offer amenities to employees. Those perks include: a cafeteria, fitness center, barbershop, bike repair, walking paths and a 500-seat amphitheater in the central quad area.
And like many of the other new tech campus projects that it draws on for inspiration, parking is located under the building ito maximize green space.
Although there is no official tenant, Jacobs seems relatively optimistic that interest in the building is high.
"We have been out marketing this to the world's largest technology companies for the better part of six to nine months," Jacobs said. "The reception we've gotten from them has been overwhelmingly positive."
The Central & Wolfe campus is currently going through the entitlement and environmental review processes with the city of Sunnyvale. But Jacobs is hopeful tenants will be able to occupy the new building in March 2016.
---
Your guide to our new economic reality.
Get our free business newsletter for insights and tips for getting by.
You may occasionally receive promotional content from the Los Angeles Times.