Challenges await, but don't underestimate Microsoft's Satya Nadella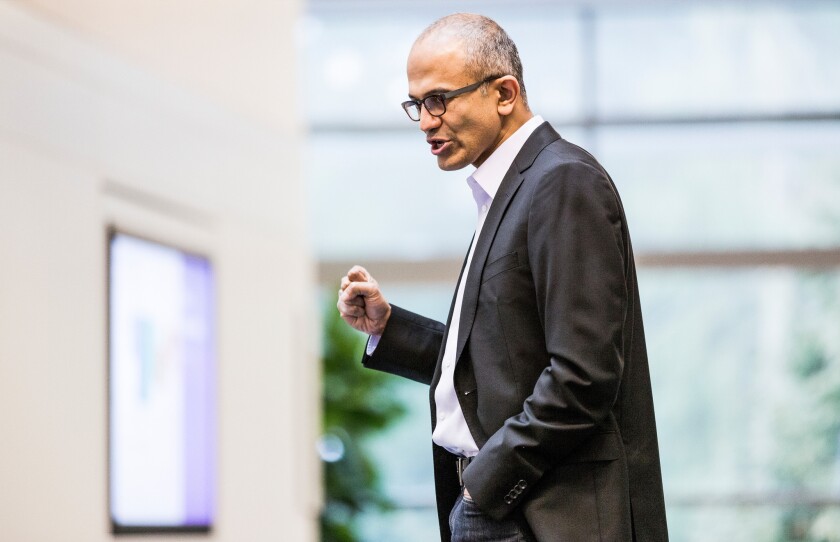 The conventional wisdom that emerged in recent days about Satya Nadella boiled to a simple, singular word that was repeated over and over again:
Safe.
The 22-year Microsoft was the "safe choice" to be the third chief executive in Microsoft history. The simple judgment wasn't intended to be harsh. But it also wasn't meant to be flattering.
PHOTOS: 10 ways to use the sharing economy
The people saying it were generally Wall Street analysts and investors who had hoped the company would find a guru from the outside to replace retiring CEO Steve Ballmer.
They wanted someone who would shake up Microsoft. Maybe sell off some things like the consumer business. Or the Xbox. Something. Anything.
"To this point, since Mr. Ballmer announced his intent to retire last August there has been rampant speculation and optimism that Microsoft would use this as a golden opportunity to bring in an outsider and innovator that could change the direction of the company," wrote Daniel Ives, an analyst at FBR Capital Markets Research, in a note to clients. "Instead, the board looked right down the hall from Mr. Ballmer's office and found its next CEO with a core/home grown Microsoft insider."
But those who know him dismiss the notion of Nadella as "safe."
"I think there's more pleasure in being underestimated," said Sanjay Parthasarathy, who worked at Microsoft for 20 years. "And I know Satya will feel good about that."
Parthasarathy was already working at Microsoft in the early 1990s when he met Nadella, who had been hired into sales. He convinced Nadella to move over to a product group, where he would be making things, instead of selling things.
There were several things that struck Parthasarathy about his new colleague. The first was how hard he worked.
"We were both pretty hard-driving," he said. "But Nadella, he would get on a plane to Chicago every Friday for two or three years to get his MBA. I'm a pretty demanding manager. But he was putting himself through so much more."
Nadella's other important trait was his ability to learn rapidly.
"He absorbs information like a sponge," Parthasarathy said. "That is the thing that will serve him well. He reads poetery, enjoys cricket. He's on his way to being a Renaissance man."
Though he has spent 22 years at Microsoft, Nadella is still a stranger to many at the large company. So he spent Tuesday, his first day as CEO, meeting employees and sending out a companywide email to introduce himself.
"Like anyone else, a lot of what I do and how I think has been shaped by my family and my overall life experiences," Nadella wrote. "Many who know me say I am also defined by my curiosity and thirst for learning. I buy more books than I can finish. I sign up for more online courses than I can complete. I fundamentally believe that if you are not learning new things, you stop doing great and useful things. So family, curiosity and hunger for knowledge all define me."
At noon on Tuesday, he appeared before a room of Microsoft's customers and partners to participate in a brief onstage Q&A about his plans for the company. The meeting, held at the company's Redmond, Wash., headquarters, was streamed live online.
Sitting cross-legged in a blue plaid shirt and dark gray suit, Nadella spoke quickly and energetically, emphasizing with his hands and smiling broadly as he addressed the crowd.
"What defines me ... I'm a lifelong learner. I get energized when I see people achieve standards," he said. "That's the thing that gets me going."
Addressing his plans for Microsoft's business, he singled out the Internet of Everything as a trend that would drive much of the forthcoming technology at the software giant, saying the company would focus on building for a mobile-first, cloud-first world.
"We have to do new things. At the same time, we have to be very confident in our capability around software as it comes to these new experiences," he said. "I think that's what makes this industry exciting ... the notion that every day you come to renew yourself with innovation."
Nadella said he planned to "ramp up very, very quickly" and was looking forward to integrating Nokia into the Microsoft family; bridging the consumer and business markets; and meeting with customers, partners and investors.
"The first thing is both internally and externally, there's a lot to learn," he said. "I've said spent a lot of time in Microsoft, but there are also parts of Microsoft that are going to be new to me."
And that has been the concern of analysts and investors.
Before becoming CEO, Nadella was executive vice president of Microsoft's Cloud and Enterprise group. In that role he oversaw the company's computing platforms, developer tools and cloud services. That meant a heavy emphasis on business and enterprise.
In recent years, Nadella has been credited with growing Microsoft's enterprise business, one of the bright spots of Ballmer's tenure. But he's had less direct involvement in the consumer businesses, such as the Internet and mobile products, where Microsoft has struggled to gain a bigger foothold.
Though he did run Bing, the company's search engine, for a time, analysts wonder whether Nadella has a strong enough vision to turn around Microsoft's mobile business and fix the troubled rollout ofWindows 8.
"He's a relatively young guy with a lot less work experience than any other CEO running a company the size and complexity of Microsoft," said Patrick Moorhead, principal analyst of Moor Insights & Strategy. "What will he do with the consumer side of the business that hasn't had a major string of hits for more than a decade?"
Padmasree Warrior, chief technology officer at Cisco Systems, said such sentiments ignore the strengths Nadella brings to his new job.
"The fact that he's been at Microsoft and knows the culture, from my perspective, that's an advantage," she said. "He's been successful at leading them into the cloud space when they were stalled."
Warrior also noted that just about every major tech company, including Google, Facebook, IBM and Cisco, is going through a major transition because of the rapid evolution of mobile and cloud computing. In that respect, Microsoft's challenges mirror those of the broader industry, she said.
Nadella, she said, understands that Microsoft's position has changed and sees the broader trends driving the shift in computing. And he knows that the Microsoft will need to change as well.
"I've always found him very deeply technical, but very open minded about seeing the whole ecosystem and partnerships," Warrior said. "He's someone who can reflect the status quo and at the same time, take them in a new direction. He's a very savvy business leader."
ALSO:
Indians in Silicon Valley bursting with pride over new Microsoft CEO
Twitter parody account imitating new Microsoft CEO causes confusion
Microsoft names Satya Nadella as CEO; Gates steps down as chairman
---