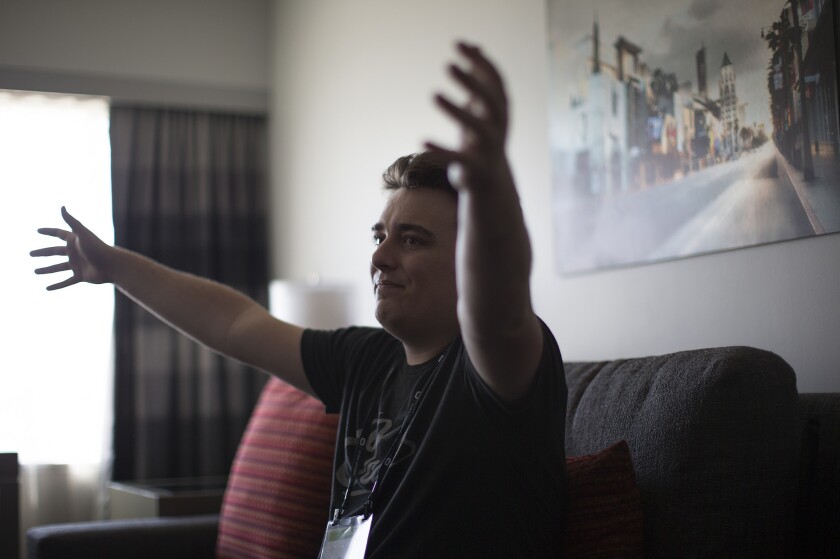 Palmer Luckey, the Long Beach entrepreneur whose zeal for virtual reality kickstarted mass investment in the technology, has left Facebook three years after selling his start-up Oculus VR to the social media giant for $2 billion.
His next move isn't clear. Facebook declined to disclose the reason for his departure, and Luckey couldn't be reached for comment. But the announcement comes months after Luckey's political participation ignited a firestorm around Oculus.
In September, he apologized to the company for donating $10,000 to Nimble America, an organization that had been seeking to elect Donald Trump as president and discredit challenger Hillary Clinton.
Luckey said he was a libertarian and planned to vote for third-party candidate Gary Johnson, but he thought Nimble America had "fresh ideas" on engaging with young voters.
News of his involvement in spreading anti-Clinton messages led to blowback for Oculus from business partners and users. And it swirled into public concerns about Facebook allowing misleading news articles to spread on its service.
The normally chatty Luckey, 24, has been publicly silent since his apology. The lone exception was testifying in a lawsuit that ended with a $500-million judgment against Facebook and Oculus founders last month. The jury found Luckey violated a non-disclosure agreement with a video game company.
Luckey's fanaticism for computer games drove him to develop more immersive game-play experiences. He hacked together a virtual reality headset prototype with foam, tape and smartphone parts at his family's Long Beach garage and USC's Institute for Creative Technologies.
The device aimed to transport people into a different world by enveloping their eyes with a digital screen. He soon teamed with two others and launched a company.
Through the years, virtual reality has gone through several cycles of hype and disappointment, and Oculus faced a steep climb to commercialization. But Facebook Chief Executive Mark Zuckerberg caught wind, gave it a try and in quick succession purchased Luckey's business in March 2014 for $400 million in cash and nearly $2 billion in stock, some of which was in the form of performance bonuses.
The spectacular price for a company that had yet to deliver a product put a big spotlight on virtual reality as potentially the next great technology medium. Being transported from anywhere to inside a classroom or a sports arena "will become a part of daily life for billions of people," Zuckerberg proclaimed in announcing the deal.
Billions of dollars in investment came from Hollywood studios, fellow tech giants and small start-ups rushing to develop their own VR experiences.
Luckey, a Cal State Long Beach journalism dropout, used his new wealth to buy a Tesla Model S and splurge a bit more at restaurants.
Oculus finally launched its headset a year ago. But driving interest in the $599 device has been difficult. Prices were cut $100 and retail booths slashed in recent weeks. Oculus CEO Brendan Iribe stepped down in favor of a former Google executive, while Zuckerberg has taken greater control of the venture.
His deepening involvement suggested Luckey, usually found in sandals and a Hawaiian shirt, and his co-founders may have been ill-equipped to commercialize virtual reality.
Facebook's other blockbuster acquisitions, including WhatsApp and Instagram, remain independent units with their original founders still at the helm.
In a statement, Facebook said Luckey "will be dearly missed."
Twitter: @peard33
---