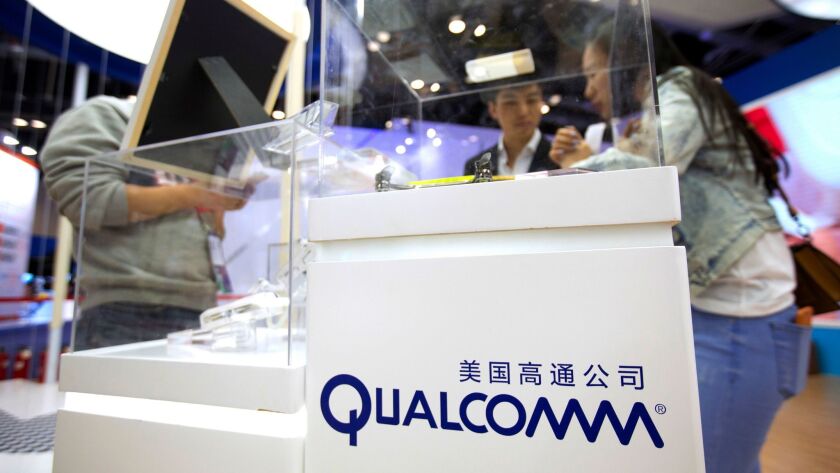 Chip maker Broadcom Ltd. boosted its buyout offer for rival Qualcomm Inc. on Monday to $82 per share — ratcheting up the pressure on shareholders to support a hostile takeover bid.
The massive $121-billion merger would be the largest ever in the tech industry, and Broadcom's bid represents a 50% premium over the trading price of Qualcomm's shares in early November, when Broadcom first made overtures to acquire the San Diego company.
Broadcom Chief Executive Hock Tan called the increase his "final and best'' offer for Qualcomm.
In November, Broadcom offered $70 per share to acquire Qualcomm, which the company's board rejected as too low. Tan then nominated a slate of alternative candidates to replace all 11 members of Qualcomm's board of directors in a hostile takeover bid. Qualcomm shareholders will choose either Broadcom's or Qualcomm's slate by its March 6 annual meeting.
The new offer would pay Qualcomm shareholders $60 per share in cash and $22 in Broadcom stock. The cash portion of the deal is the same as it was in November. But the old bid offered only $10 in Broadcom stock per Qualcomm share.
"Our proposal includes substantially more Broadcom stock, which will allow Qualcomm stockholders a greater opportunity to participate in the upside created by the combined company's strategic and operational advantages," Tan said in a letter to Qualcomm's board.
Qualcomm said that it has received the revised offer and that its board will review it.
"We suspect the price is still below what Qualcomm is looking for," Bernstein Research analyst Stacy Rasgon said in a report.
The combination would create a semiconductor giant with more than $50 billion in annual revenue — trailing only Intel and Samsung.
It also could cause significant upheaval at Qualcomm. Tan is known for operating lean. Broadcom, based in Singapore and San Jose, has roughly 17,000 global employees compared with Qualcomm's headcount of 33,000.
In its fight against the hostile takeover, Qualcomm has argued that future growth prospects are strong as it pushes into new markets beyond smartphones, including personal computers, computer servers, automotive semiconductors, radio frequency chips and Internet of Things gadgets.
The rollout of next-generation 5G mobile networks beginning in 2019 also is expected to help Qualcomm, which estimates that it has a one- to two-year lead over competitors in 5G technology.
Qualcomm argues that its shares have been temporarily depressed from legal battles with Apple Inc. and global antitrust regulators over its business practices surrounding patent licensing. Once those disputes are resolved, the company believes it can deliver $6.75 to $7.50 per share in earnings in 2019.
But in a presentation to shareholders, Broadcom contended Qualcomm has long failed to deliver on its projections, including missing targets for its chip business revenue, cost reductions and operating profit margins.
"Given Qualcomm's broken promises, should investors believe Qualcomm can accurately project two years forward?" Broadcom said in its pitch to shareholders.
Rasgon called Broadcom's rebuttal of Qualcomm's growth prospects "simply brutal."
"Some elements of particular note include the observation that the 4G cycle did nothing for Qualcomm's stock in a much better market environment, the fact that Qualcomm's future growth model is the opposite of their history and that Qualcomm's stock has traded above $82 for only three days in its entire public company history," he said.
Broadcom added wrinkles to its new offer. It's prepared to walk away if Qualcomm pays more than $110 per share for Dutch automotive chip maker NXP Semiconductors.
The long-pending, $38-billion deal is awaiting final regulatory clearance from China and it's unclear whether Qualcomm can close the NXP acquisition before its March 6 annual meeting.
Broadcom said it will withdraw the $82-per-share offer if Qualcomm delays its annual shareholder meeting past March 6.
If its board candidates are elected by shareholders at Qualcomm's March 6 annual meeting, the Broadcom board "is prepared to invite [current Executive Chairman] Paul Jacobs and one other current Qualcomm director to join the combined company's board upon completion of the transaction."
Broadcom's shares ended trading Monday down 3% at $228.10. NXP's shares slipped 2% to $118.19. Both trade on the Nasdaq.
mike.freeman@sduniontribune.com;
---
UPDATES:
5:45 p.m.: This article was updated with additional details.
10 a.m.: This article was updated with analyst comment and Qualcomm's stock movement.
This article was originally published at 7:15 a.m.
---