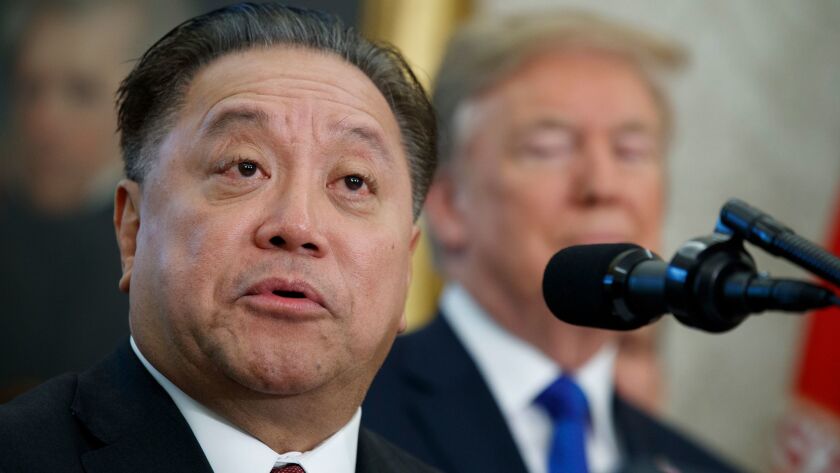 Qualcomm Inc. rejected rival chip maker Broadcom's $121-billion takeover bid — which Broadcom Chief Executive Hock Tan has called his "final and best" offer — but the San Diego company said it is prepared to sit down with Tan to discuss the proposal.
In a letter to Tan on Thursday, Qualcomm Executive Chairman Paul Jacobs said his company's board of directors believes the latest $82-a-share offer "materially undervalues Qualcomm and falls well short of the firm regulatory commitment the board would demand given the significant downside risk of a failed transaction."
But Qualcomm's board is prepared to meet with Tan so he can explain how he would try to bridge the gaps in value, deal certainty and other unaddressed issues.
The move is the first time Qualcomm has said it would meet with Tan since he began pursuing an acquisition of Qualcomm in November.
At that time, Tan offered $70 a share for Qualcomm, which the board rejected as being too low. Tan then nominated alternative candidates to replace all 11 members of Qualcomm's board of directors in a hostile takeover bid.
Qualcomm shareholders are slated to vote on the board candidates — and select either Broadcom's or Qualcomm's picks — by Qualcomm's annual meeting March 6.
On Monday, Tan boosted his offer to $82 a share, including $60 in cash and $22 in Broadcom stock.
In the letter, the Qualcomm board said it is seeking clarity on whether Tan would be willing to up the price. In addition, it wants to know what steps he would take to ensure the deal closes.
Qualcomm contends that overlap in Wi-Fi, Bluetooth and other product lines, as well as customer concerns, could result in a lengthy review by global regulators, who might require selling off divisions or block the deal outright.
"The differences in our business models expose the company to significant customer and regulatory risk between signing and closing an agreement," the letter said. "If you are not willing to agree to do whatever is necessary to ensure a transaction closes, we will need you to be extremely clear and specific about exactly what actions you would refuse to take so that we can properly evaluate the risk to Qualcomm's shareholders."
Broadcom, based in Singapore and San Jose, did not immediately respond to a request for comment.
The combination of the two companies would create a semiconductor giant with more than $50 billion in annual revenue — trailing only Intel and Samsung.
---