What to look for when Snap posts fourth-quarter earnings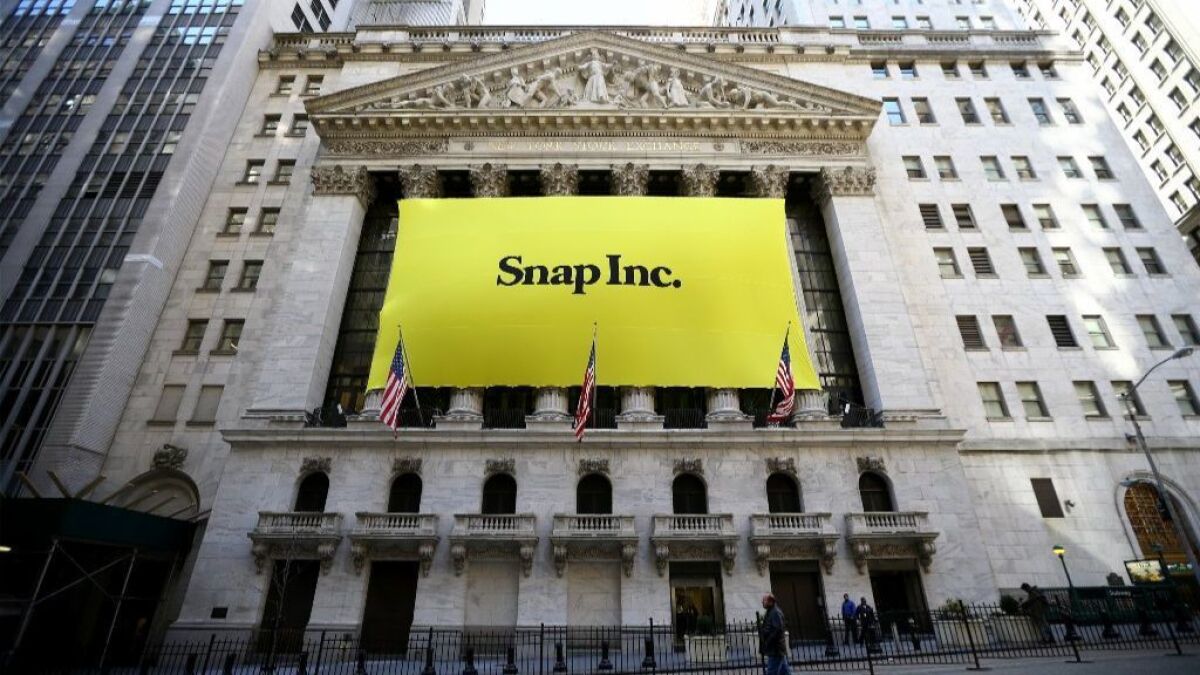 Snap Inc., the parent company of video messaging app Snapchat, will need to show strong growth when it releases its fourth-quarter earnings report Tuesday if it hopes to reverse what's been a difficult first year as a publicly traded company.
Despite major changes to its famously esoteric interface, Snap has so far struggled to deliver sufficient user growth and advertising revenue to satisfy investors in the face of stiff competition from Facebook and Instagram. A steady exodus of executives has also raised questions about the company's stability.
"Snap is going through a painful maturation phase to turn this one-trick-pony platform into a broader, ad-centric consumer app that will enable Snap to increase [average revenue per user] and [daily active user] growth," Daniel Ives, an analyst for GBH Insights, wrote in a research note.
Ives expects Snap to have added 6 million more daily active users in the fourth quarter, to bring the Venice company's worldwide total to 184 million. By comparison, Instagram has 300 million daily active users.
The Facebook-owned photo and video app has replicated many of Snapchat's products, including its short video compilations, which Instagram calls Stories. Facebook co-founder and Chief Executive Mark Zuckerberg told analysts last week in an earnings call that Stories were on track to overtake regular posts on Facebook's News Feed.
Consensus on Wall Street is that Snap will report revenue of $253 million in the fourth quarter — up from its disappointing third-quarter results when the company missed expectations by nearly $30 million after it reported revenue of $207.9 million.
Michael Pachter, an analyst for Wedbush Securities, thinks Snap will disappoint again in the fourth quarter, predicting revenue below consensus of $238 million.
"Decelerating growth trends, fierce competition for user mindshare and advertiser dollars, and a history of being hugely unprofitable keep us on the sidelines," Pachter told clients in a research note.
Snap filed its IPO in March to great fanfare, pricing its stock at $17. After peaking at $27.09 shortly after, the company's stock has seen a steady decline, dropping as low as $11.83 in August.
The stock closed at $13.85, up just over 1%, on Monday, when many stocks fell and the tech-heavy Nasdaq composite index slipped nearly 3.8%. The wider volatility in stock prices, however, means it's difficult to gauge the significance of Snap's modest gains Monday.
Snapchat still commands a highly desirable user base of young people, in the eyes of advertisers. But it needs to find more ways to generate revenue out of this group.
"Snapchat is doing really well when it comes to engagement; its users spend a significant amount of time on the app, and young users in particular are still very active," said Debra Aho Williamson, an analyst for EMarketer, a research firm. "But that hasn't translated to strong revenue growth. In part, that's because advertisers continue to funnel more money to Instagram."
Major changes are rolling out on Snapchat to attract more users. Among them, a redesign aimed at making the app's interface more intuitive and a move to allow users to share public content on rival social media platforms.
Follow me @dhpierson on Twitter