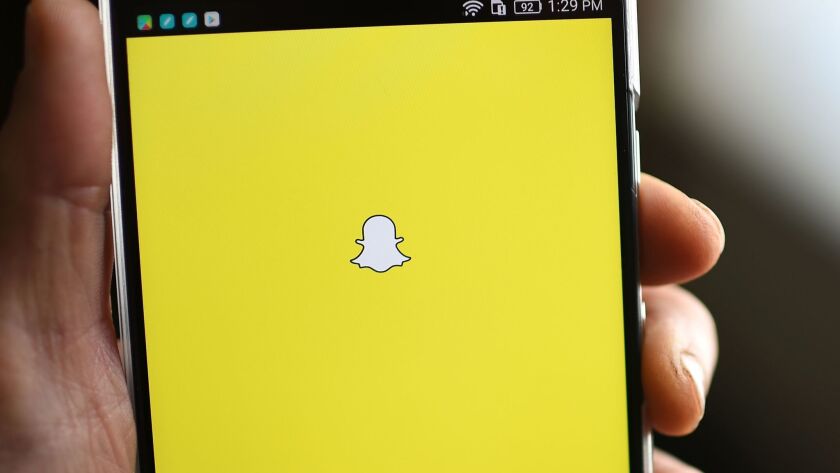 Snapchat picked up fewer users and less revenue in the second quarter than analysts had expected, sending shares of owner Snap Inc. plummeting Thursday afternoon.
The Los Angeles tech company has suffered through a treacherous run on Wall Street since a blockbuster initial public offering five months ago. Hype about Snap's potential to take on Facebook and Google as a major player in online advertising sales fueled one of the largest IPOs in tech history, and the largest ever for Southern California.
But Snap hasn't delivered promising results in its first two earnings reports. It has frustrated financial analysts and investors by adding new features for advertisers too slowly and missing on estimates for daily usage.
Shares fell 21% after the first earnings report and about 13% on Thursday, when the latest results emerged after the close of markets. The slumping stock lessens the chance of a big sell-off when employees who hold shares become eligible to sell for the first time Monday, because many would lose money on the deal.
Disappointing results
Growth in usage of Snapchat, the social media app that turned self-destructing photo messages into a popular form of expression, has declined in four straight quarters.
Laura Martin, managing director of equity research at Needham & Co., said she was surprised that Snap added only 7 million users during the second quarter. Facebook and Snap use different measurements to count daily users, but analysts have held the two in similar regard.
"How can Facebook be adding 50 million this quarter despite reaching 1.3 billion daily active users, and Snap [at 173 million daily active users] can't add 8 to 10 million," she said in an email. "That is why the shares are down — and they should be!"
Of the daily users Snap gained during the April-through-June period, 4 million came from North America, 2 million from Europe and the rest from elsewhere in the world. Snapchat had 148 million users this time last year.
Snap also has endured four straight quarters of slowing growth in average revenue per user. Though a slowdown from booming growth a couple of years ago had been expected, the drop-off has been more than hoped. Worse yet, company executives warned that sales growth could take a hit in the current quarter because ad sales received notable boosts last year from commercials tied to the Summer Olympics and the U.S. presidential election.
Snap's response
Snap Chief Executive Evan Spiegel, 27, told analysts Thursday that the company had "made great progress" and that daily usage "remained solid."
He rattled off achievements: Users are tuning in to messages, mini-TV shows and other content on Snapchat more frequently and for longer spans than ever before. Users 25 and older spend about 20 minutes a day on average inside the Snapchat app, and users 24 and younger browsed Snapchat for 40 minutes a day on average. People created a record number of Snapchat posts, and public-sharing soared after the company launched a digital map that plots the locations of both users and places buzzing with posts.
Spiegel reiterated a long-held position that investors shouldn't focus on daily usage growth as a proxy for Snap's potential. But he added new color to his contention, saying that Snap's growth in expenses would outpace sales increases if it tried to attract users in developing markets. The company isn't in a position to absorb those costs, he said, which explains why it's concentrating on showing more ads to existing users.
Facebook, and its holdings Instagram and WhatsApp, might be growing fast around the world as they emulate key Snapchat features. But Spiegel said Snapchat would be able to catch up when it decides to focus on parts of the world beyond North America, Europe, Australia and the Middle East.
For example, by the second quarter of 2018, Spiegel expects Snapchat's app for Android phones to be much quicker and less bug-riddled, which could lead to greater adoption in less-affluent countries where Android devices tend to be more popular than iPhones.
"We've always been last to market competing against giant companies, and we've historically been able to grow our business … because we're so focused on innovation," he said. "That explains why we're willing to take this wait-and-see approach in markets that don't make financial sense for our business at this point, but may make sense in the future."
As far as generating more revenue off users, Snap executives said their months-old effort to draw ad purchases from small and medium-size businesses is off to a good start. As that program picks up, ad sales could increase dramatically. But selling to such advertisers has brought down prices for Snapchat ads.
Snap expectations vs. reality
| Measurement | Analysts' estimate | Actual |
| --- | --- | --- |
| MeasurementRevenue | Analysts' estimate$186 million | Actual$182 million |
| MeasurementCost of sales | Analysts' estimate$158.6 million | Actual$152 million |
| MeasurementLoss | Analysts' estimate$367 million | Actual$443 million |
| MeasurementLoss per share | Analysts' estimate$0.30 | Actual$0.36 |
| MeasurementAverage revenue per user | Analysts' estimate$1.07 | Actual$1.05 |
| MeasurementDaily users | Analysts' estimate175 million | Actual173 million |
| MeasurementNet increase in daily users | Analysts' estimate9 million | Actual7 million |
Source: FactSet
Overall for the second quarter, Snap reported $182 million in sales, up 153% from $71.8 million in last year's second quarter. Snap's loss widened to $443 million, compared with $115.9 million in the same period last year. About half of the losses represent costs related to paying employees in company stock.
The company began selling Spectacles, its video-filming sunglasses, in Europe during the quarter. But expanded availability didn't boost demand, with sales falling to $5.4 million from $8 million.
Shares fell nearly 17% to below $11.50 in after-hours trading after closing at $13.77, up 21 cents on the day. They debuted on the stock market at $17.
Snap shares already had fallen more than 40% since the company issued its first earnings report.
Analysts attributed most of the summer slump to concerns about Snap losing users and advertisers to Instagram. But also weighing on Snap shares is the end of a six-month period in which employee-shareholders couldn't sell their stock. Spiegel said he and co-founder Bobby Murphy do not plan to sell shares this year.
In the month prior to Thursday's earnings announcement, 10 financial analysts have lowered their long-term target for Snap's share price, while just one analyst has increased it, according to FactSet data.
The analysts following the company had estimated Snap would see a modest increase in sales and similar usage growth when compared with the first quarter.
Snap doesn't provide guidance about its expected performance. But Spiegel teased upcoming features more than he typically does in public forums. He said more than 250 million Snapchat posts are saved each day in a digital file locker in the app. That volume of activity was creating a foundation for features that help people reminisce, he said.
LOOK BACK | First quarter earnings report: Snap shares dive, but CEO Evan Spiegel isn't worrying about slowing user growth »
Twitter: @peard33
---
UPDATES:
4:15 p.m.: This article was updated after Snap Inc.'s earnings call with analysts.
2:00 p.m.: This article was updated to include comment from Needham & Co. analyst Laura Martin.
This article was originally published at 1:30 p.m.
---