Snap shares dive, but CEO Evan Spiegel isn't worrying about slowing user growth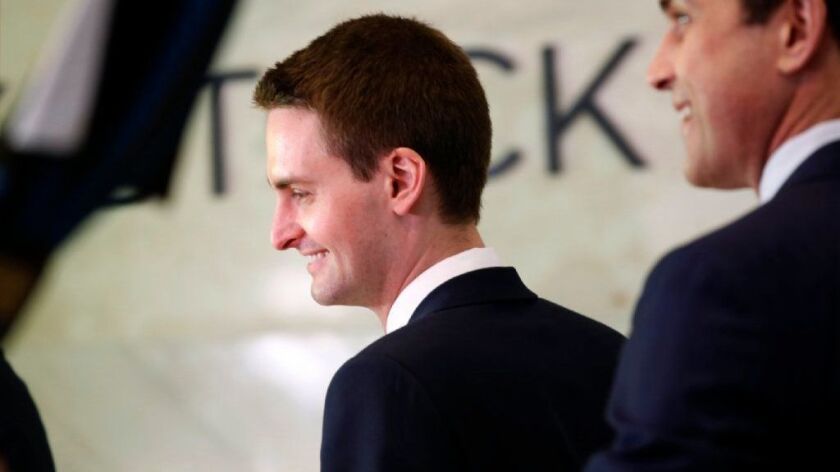 Ahead of its first-ever earnings report, Snap Inc. cautioned investors to expect uneven user growth and a big loss, largely due to stock grants issued to employees after its initial public offering.
On Wednesday, it barely deviated from predicted results — and investors hammered the company anyway.
The swift reaction, which knocked as much as 25% off of the Los Angeles firm's stock price in after-hours trading, points to the grueling exercise Snap will have to endure as it seeks investors to back its unconventional plans to build a social media titan vastly different from predecessors such as Facebook and Twitter.
ALSO: Snap isn't the only tech firm to get hammered after its first earnings report »
Snap Chief Executive Evan Spiegel sees universal appeal in the company's whimsical Snapchat video-sharing app and goofy Spectacles video-taking sunglasses. And he's already roping in users to peruse ad-supported content from friends and media companies.
But how fast Snapchat adds users, he has repeatedly told investors, will depend on how soon high-speed cell service arrives in the developing world and how quickly the company launches new features.
Facebook has been able to sustain steady user growth through a number of means Snap eschews, including acquiring other popular apps and tweaking its service to work well in countries with slow Internet speeds.
"Hacking" your way to growth might be easy, but it's not sustainable, Spiegel told analysts Wednesday.
The decline in Snap's shares late Wednesday — to just above their initial offering price of $17 — suggests that many investors aren't yet buying into the Snapchat game plan. Adding to their concerns is Facebook's encroachment on Snap's territory.
Snap led the way in making the smartphone camera the focal point of a social media app. But without naming Snapchat, Facebook Chief Executive Mark Zuckerberg declared last week that his company was now "pretty much ahead" in evolving how people interact with their smartphone cameras.
Spiegel struck back Wednesday, with a comparison of his own: "At the end of the day, just because Yahoo has a search box doesn't mean they're Google."
He insisted that Snap could be more creative than the rest of the tech industry.
"The bottom line is if you want to be a creative company, you got to get comfortable with and basically enjoy the fact that people are going to copy your products if you make great stuff," Spiegel said. "We believe that everyone is going to develop a camera strategy."
In his first major public address in almost two years, Spiegel said on a conference call with financial analysts that he was pleased with how Snap performed in the first quarter despite results that investors may have found troubling.
The company extended a three-quarter streak of slowing usage growth and sustained a post-holiday pullback in advertiser spending.
Daily active users — a key measurement followed by investors in social media companies — rose to 166 million in the first quarter. The figure marked a 36% increase from the same period last year and a jump of 8 million users from the last quarter of 2016.
Snap generated $149.6 million in revenue during the first quarter, up 286% from last year's first quarter, but a potentially concerning slowdown compared with the $166 million in revenue it recorded to close 2016.
The company has yet to generate a profit as it relies on venture capital and proceeds from a $3.9-billion IPO — the biggest in Southern California corporate history — to fuel expansion into new services, products and countries.
The March IPO pushed Snap's first-quarter losses to more than $2.2 billion. Almost $2 billion in expenses came from stock-based compensation as a big batch of shares doled out to employees and advisors vested when the company went public. Excluding the one-time costs, Snap lost about $217 million.
The financial results were expected to be closely watched by investors because Snap was the first to go public among several similarly aged, unprofitable tech start-ups valued at more than $10 billion. It's also a hotly debated stock because of Snap's refusal to grant new shareholders a vote in key decisions.
With 2,360 employees, hundreds of business partners such as NBCUniversal and the National Football League and big-name rivals in Google and Facebook, how Snap performs can have wide ramifications in the media and technology industries.
Expectations vs. reality
Young, fast-growing companies such as Snap often can't predict how their business will change quarter to quarter. As a result, they don't provide data to set investor expectations about their likely performance. Financial analysts generate estimates to help investors gauge what's coming.
Snap largely met or exceeded those estimates, but investors still punished the company.
| Measurement | Analysts' estimate | Actual |
| --- | --- | --- |
| MeasurementRevenue | Analysts' estimate$158 million | Actual$150 million |
| MeasurementCost of sales | Analysts' estimate$155 million | Actual$163 million |
| MeasurementLoss | Analysts' estimate$2.03 billion | Actual$2.2 billion |
| MeasurementLoss per share | Analysts' estimate$1.92 | Actual$2.31 |
| MeasurementAverage revenue per user | Analysts' estimate$0.82 to $0.89 | Actual$0.90 |
| MeasurementDaily users | Analysts' estimate165 million to 169 million | Actual166 million |
| MeasurementNet increase in daily users | Analysts' estimate7 million to 11 million | Actual8 million |
Source: FactSet, RBC Capital Markets, William Blair
Snap shares initially were priced at $17 before the March debut on the New York Stock Exchange. They traded as high as $29.44 and as low as $18.90 entering Wednesday.
The company released its financial results after the close of markets. Its shares, which closed Wednesday at $22.98, down 34 cents, or 1.5%, lost as much as a quarter of their value in after-hours trading, to $17.64 at the time of publication.
The decrease in price after Snap's announcement Wednesday suggests that many investors were disappointed with the company's progress during the first quarter toward generating a profit.
Progress on Android issues
Spiegel said the company's efforts to rectify issues that caused glitches and crashes of Snapchat's app for Android devices drove a 100% increase in the number of new daily Android users.
Android smartphones are prevalent outside of North America and Europe. Snap didn't add any daily users outside of those territories in the fourth quarter of last year, but bounced back with 1 million additions in the first quarter.
Overall usage increases
Snap executives touted that users on average spent 30 minutes using Snapchat each day. In IPO filings earlier this year, the company described average usage as 25 minutes to 30 minutes a day.
Snap has said usage is a vital statistic for judging the health of the company.
Spectacles sales
Snap started selling its high-tech sunglasses online and at a store along the Venice Beach boardwalk in recent months, boosting sales to about $8 million from $6 million in the last quarter of 2016.
Spiegel said 5 million Snapchat messages have originated with video shot on Spectacles.
'Scratching the surface' with ads
Snap Chief Strategy Officer Imran Khan, who oversees ad sales, said the company is "just scratching the surface" when considering how often it can show users ads before overwhelming them.
In early June, the company plans to release a self-service tool for buying ads that could increase both demand and prices.
Drew Vollero, Snap's chief financial officer, attributed the slide in revenue compared with the end of last year to the loss of college football and NFL videos in which ads are interspersed. Their seasons ended early in the first quarter.
Spiegel said he's excited about the ad sales opportunities that will come by running more mini-TV shows, such as a version of NBC's "The Voice" and a new relationships show "Second Chance." Such videos draw about 8 million viewers each, he said.
Twitter: @peard33
ALSO:
Snapchat has changed through acquisitions, and it's hunting for more people and tech to buy
Snapchat maker's first earnings report since IPO could reveal how much user growth matters to investors
What Snapchat maker's IPO means for the Los Angeles tech scene
---
UPDATES:
4:40 p.m.: This article was updated with new quotes from Chief Executive Evan Spiegel and other Snap executives.
2:15 p.m.: This article was updated with new information from Snap Inc.'s earnings call.
1:10 p.m.: This article was updated with the company's earnings report.
This article was originally published at 4 a.m.
---
Your guide to our new economic reality.
Get our free business newsletter for insights and tips for getting by.
You may occasionally receive promotional content from the Los Angeles Times.