Snap continues to lose Snapchat users, but its revenues rose in the third quarter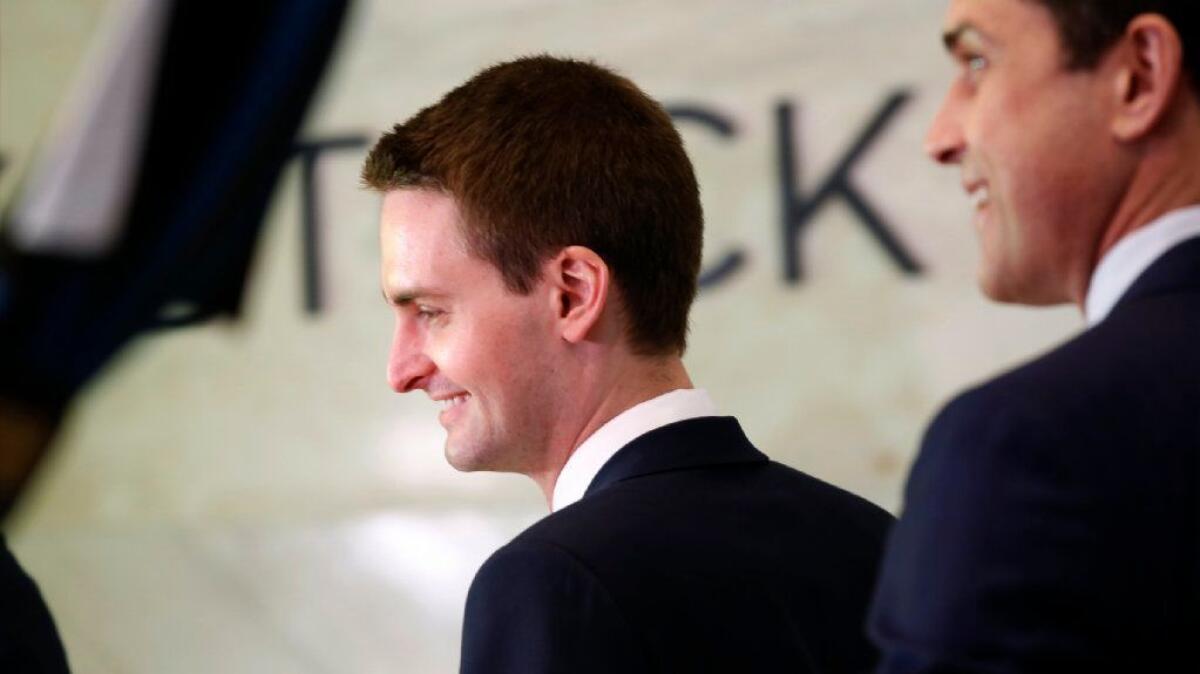 Snap Inc. reported Thursday that its disappearing-message app Snapchat has a disappearing user base — but the company is squeezing more money out of the eyeballs that stick around.
Revenue rose to $297.7 million in the third quarter from $207.9 million in the same quarter a year earlier. That was higher than what Wall Street analysts expected. Snap's net loss shrank to $325.1 million, from $443.2 million a year earlier. Its net loss per share of 12 cents was less than the 14-cent loss analysts had projected. But 2 million daily active users of the company's social network slipped away in the last three months.
It was the second quarter in a row that the Santa Monica-based company's user base has contracted. Daily active users have now fallen to 186 million from a high of 191 million in March of this year. And on a call with analysts after the report, Chief Financial Officer Tim Stone said that the company assumes the slide will continue into the final three months of the year.
Snap's stock price closed up before the report, rising 6% to $6.99. Shares initially jumped in after-market trading but quickly fell back, dropping 10% to their lowest price ever.
Chief Executive Evan Spiegel emphasized that the company was focused on monetizing its existing user base and expanding adoption among Android users, who account for much of the dropoff in usage. Many Android users are outside of Snap's largest markets in North America and Europe, and Spiegel believes this update will drive user growth in global markets.
Snap's Android redesign, code-named "Mushroom," is meant to be more lightweight, reducing the app's data and processor usage.
A key goal outlined in both the earnings statement and conference call is to reach full-year profitability in 2019. Stone said that could be achieved through a return to user growth and increased monetization. Ad revenue increasingly comes from the company's programmatic ad placement service, which advertisers can use themselves to automatically place ads in the app. After a rocky start this year, Spiegel said on the call that the service now brings in 85% of Snap's advertising revenue.
The results come after a year of turmoil at the company, which was kicked off by Spiegel's decision to radically redesign the app in late 2017.
Users voiced dismay at the move away from a chronological message feed — a Change.org petition gathered 1.2 million signatures within weeks — prompting the company to redesign the redesign in May. But the damage was already done. User numbers continue to dwindle, adding to fears that Facebook has successfully stolen Snapchat's thunder by copying its core features with its Instagram Stories product.
In a 6,500-word memo to employees in late September outlining his strategy for 2019, Spiegel apologized for rushing the redesign. "In our excitement to innovate and bring many new products into the world, we have lost the core of what made Snapchat the fastest way to communicate," he wrote.
On Thursday, he noted that daily snap creation fell after the redesign and has yet to fully recover, but that 60% of users continue to create snaps every day.
The 18 months since Snap's initial public offering have also been marked by executive churn, with 11 high-ranking departures as the company struggles to find its footing. An internal survey obtained by technology website Cheddar found that 40% of Snap's 3,000 employees indicated that they didn't plan to stay at the company as its stock slumps toward a third of its $17 price at the company's March 2017 IPO.
Earlier this week, Snap announced two two high-profile hires to replace the position left open by former Chief Strategy Officer Imran Khan. The choice of Jeremi Gorman as chief business officer underscores the company's focus on growing revenue — as the former head of global ad sales at Amazon, she was instrumental in turning the tech behemoth into one of the largest online ad publishers, after Facebook and Google, with ad revenue topping $2 billion in the first quarter of this year.
Brian Weiser, an analyst with Pivotal Research Group, said that he was unfazed by the dip in users. "I don't know that it necessarily matters as long as they have a sufficiently large devoted base of users," Weiser said. "As long as your expectations are that [Snapchat] is a niche platform."
Weiser noted the company is projected to burn through an additional $500 million of cash before meeting its profit goal, which raises the possibility it could run out of money.
"It's a real risk if they don't manage themselves tightly," he said.
Follow me on Twitter: @samaugustdean
---
UPDATES:
4:35 p.m.: This article has been updated with an analyst's quote.
3:55 p.m.: This article has been updated with information from Snap's call with analysts.
This article was originally published at 1:35 p.m.