Snap stock slides after Rihanna denounces domestic violence-themed ad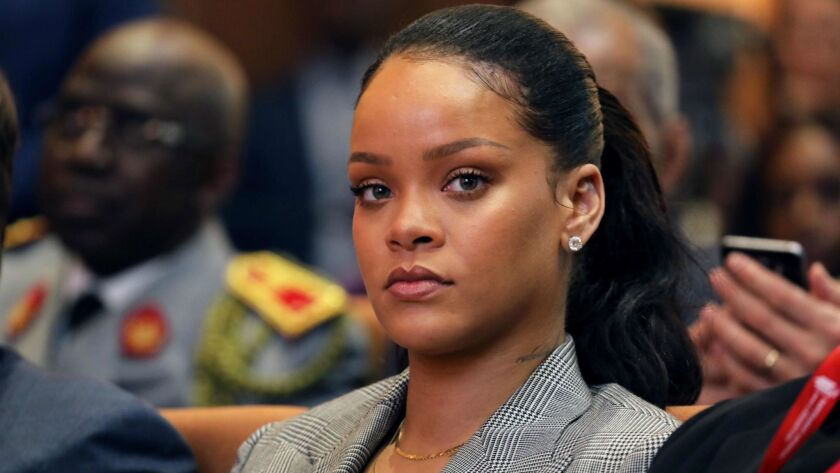 Pop singer Rihanna criticized Snap Inc. for running an ad that asked Snapchat users to decide whether they wanted to slap her or punch Chris Brown, saying it made a joke of her history as a victim of domestic violence.
Snapchat removed the ad, which was placed by a video game company, and apologized, saying it was a mistake. After Rihanna's comments, Los Angeles-based Snap responded further, calling the promotion "disgusting."
Snap stock fell as much as 5.3% Thursday before recovering somewhat. The shares ended the day down 3.6% at $17.20.
"Now Snapchat I know you already know you ain't my fav app out there," Rihanna wrote Thursday in an Instagram story, "but I'm just trying to figure out what the point was with this mess! I'd love to call it ignorance, but I know you ain't that dumb!"
She said Snap let down victims of domestic violence, which she experienced while dating Brown in 2009. "Shame on you."
Rihanna's note was the latest round of celebrity criticism of Snapchat, an app with which people can send photos and messages that disappear. Last month, reality-TV star Kylie Jenner criticized a redesign of the app; her comments also sent shares down.
Kylie Jenner called Snapchat 'sad,' and Snap's stock fell more than 6% »
---
UPDATES:
1:35 p.m.: This article was updated with a comment from Snap and with the stock's closing price.
This article was originally published at 10:55 a.m.
---