Snapchat's parent company is expanding into 300,000 square feet of Santa Monica office space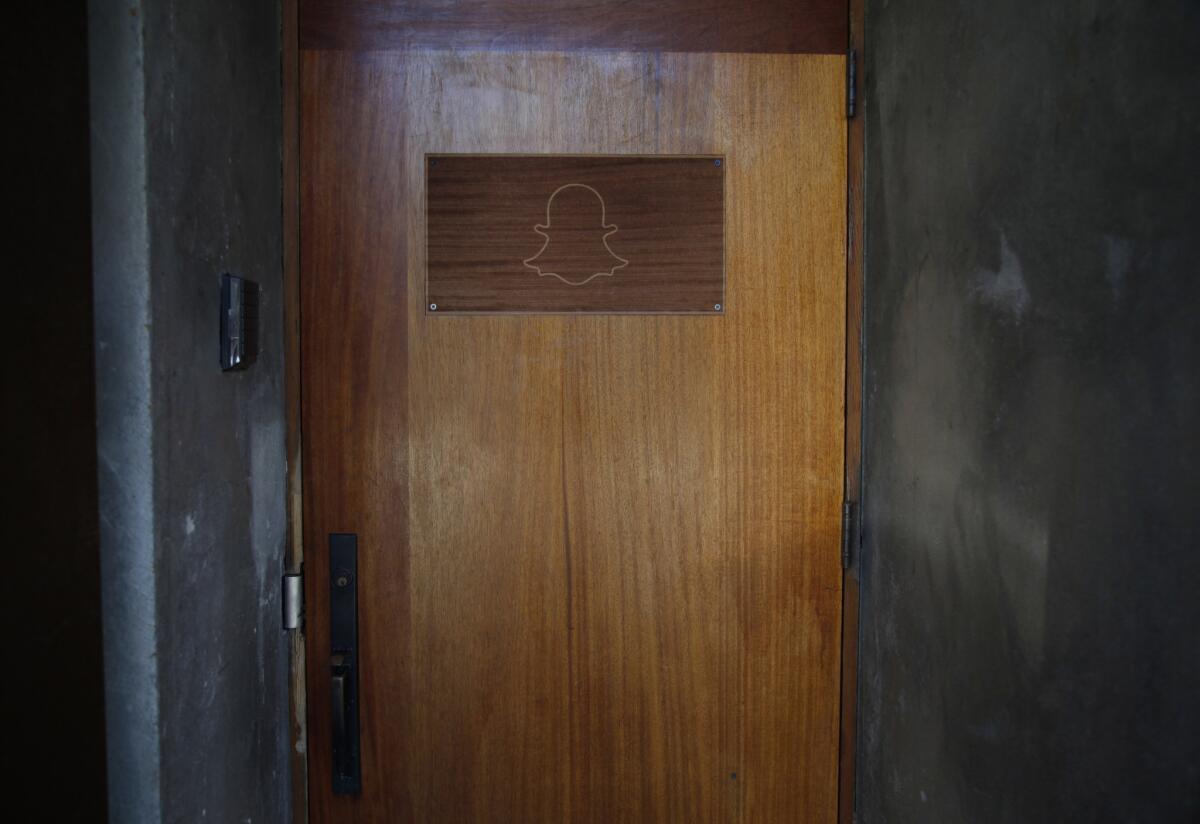 The company behind popular mobile chat app Snapchat has decided to take a large amount of office space near Santa Monica Airport as it continues to expand rapidly.
Snap Inc. has leased about 300,000 square feet at Santa Monica Business Park, according to Westside real estate experts who know about the agreement but aren't authorized to speak publicly.

For the record:
9:59 p.m. Oct. 3, 2023Direct marketing company Guthy Renker no longer has offices at Santa Monica Business Park.
The company's real estate broker, Gary Horwitz of JLL, said Friday that Snap will keep its offices in Venice, where it is headquartered, but expects its future growth will be in Santa Monica.
He otherwise would not discuss the deal and the company declined to comment.
The business park is on Ocean Park Boulevard at Centinela Avenue and is home to the headquarters of video game maker Activision Blizzard and offices of online radio service Pandora and direct marketing company Guthy Renker.
Snap has the option to lease an additional 100,000 square feet there.
Financial terms of the lease were not available, but landlord Blackstone is asking for $4.65 to $4.95 per square foot a month in rent at the park, according to real estate data provider Costar Group.
The deal, possibly the largest real estate move yet by the company, comes after Snap signed a six-year lease in September to take over 79,000 square feet of office and hangar space at Santa Monica Airport.
The Santa Monica leases add to Snap's unusual Los Angeles real estate portfolio, which comprises a web of owned and leased properties across the Westside. It's anchored by its headquarters on Market Street, where Chief Executive Evan Spiegel has his office. Snap occupies about 95,000 square feet across Venice, according to CoStar.
Snap uses shuttles to ferry employees between offices and parking lots and gives employees vouchers to use at local eateries. It's secretive about many locations, with little to no signage on the facades.
The company ballooned to more than 1,500 employees, mostly in Los Angeles, at the end of 2016 and has more than 100 job openings, including for chefs and security guards.
Much of the expansion stems from Snap's increasing ambitions.
The company continues to develop new features for chatting with friends. But it's also gathering user-shot images to produce news stories from them. And it's partnering with major TV studios to develop shows for airing on Snapchat.
Last year, Snap released Spectacles — sunglasses with a video camera integrated on the hinge. The device is just the start of the company's hardware development plans, investors have said.
The nearly 6-year-old company's giant financial pipeline has kept it fueled.
Snap has raised nearly $3 billion from private equity investors and could double that haul by selling some shares publicly in the coming months. It has also generated about $400 million in revenue from selling ads that appear inside its app.
Twitter: @rogervincent
Twitter: @peard33
ALSO
For some workers, pay raise comes with loss of cheap child care
Home video sales shrank again in 2016 as Americans switched to streaming