Snapchat hits pause on trying to run its own 'TV' channel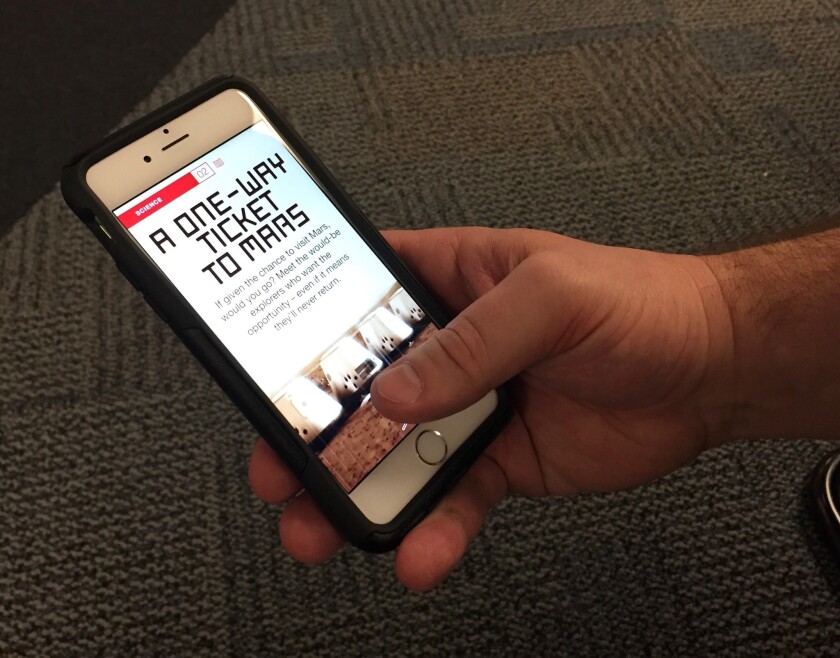 Snapchat Inc. worked with Madonna, Steven Spielberg's daughter, yoga instructors, comedians and countless other performers to draw people to its Snap Channel.
But that section of the Snapchat app, which hosted videos produced by the Venice company itself, was recently shut down, less than nine months after it launched. Snapchat acknowledged the "winding down" of the Snap Channel.
Several employees at the 550-employee company are leaving or being fired as a result. The move marks a rare clear misfire on the feature side for the 4-year-old company, which also has dealt with broader security and privacy issues.
Snapchat is used by more than 100 million people each day as a hub for user-generated photos and videos. It gets 5 billion video views a day, Chief Executive Evan Spiegel said at an event in India on Monday, rivaling competitors such as YouTube and Facebook.
In January, it introduced professionally produced content from media giants such as ESPN and CNN in separate "channels" within a feature called Discover.
One of those channels was produced by Snapchat itself, with debut music videos from Madonna and Goldroom, a multiweek comedy show starring the daughters of film producers Spielberg and John Goldwyn and lifestyle content such as yoga tips.
Online video studios such as Funny or Die and online celebrities were involved in programming too. Snapchat also brought in people who had worked at Fox, VH1 and other media companies to lead the content production efforts.
The company has raised more than $1 billion in venture capital, pushing its value to more than $15 billion.
But even flush with cash, it was "a sensible move to close the segment down now rather than hemorrhage more money," said Paolo Pescatore, director of multiplay and media at research firm CCS Insight. Snapchat won't say if or why the channel proved unpopular.
"[Making content] requires a huge investment, and it took the company in a different area from a content perspective as its users want access to live stories," Pescatore said.
The company is still hiring rapidly in other areas, such as beefing up its finance, legal and engineering research teams. Snapchat still produces some original content through the Live Stories videos, with broadcasters such as former CNN political correspondent Peter Hamby adding context to news events.

Chat with me on Twitter @peard33
---
Your guide to our new economic reality.
Get our free business newsletter for insights and tips for getting by.
You may occasionally receive promotional content from the Los Angeles Times.