Snapchat signs lease to expand operations in Venice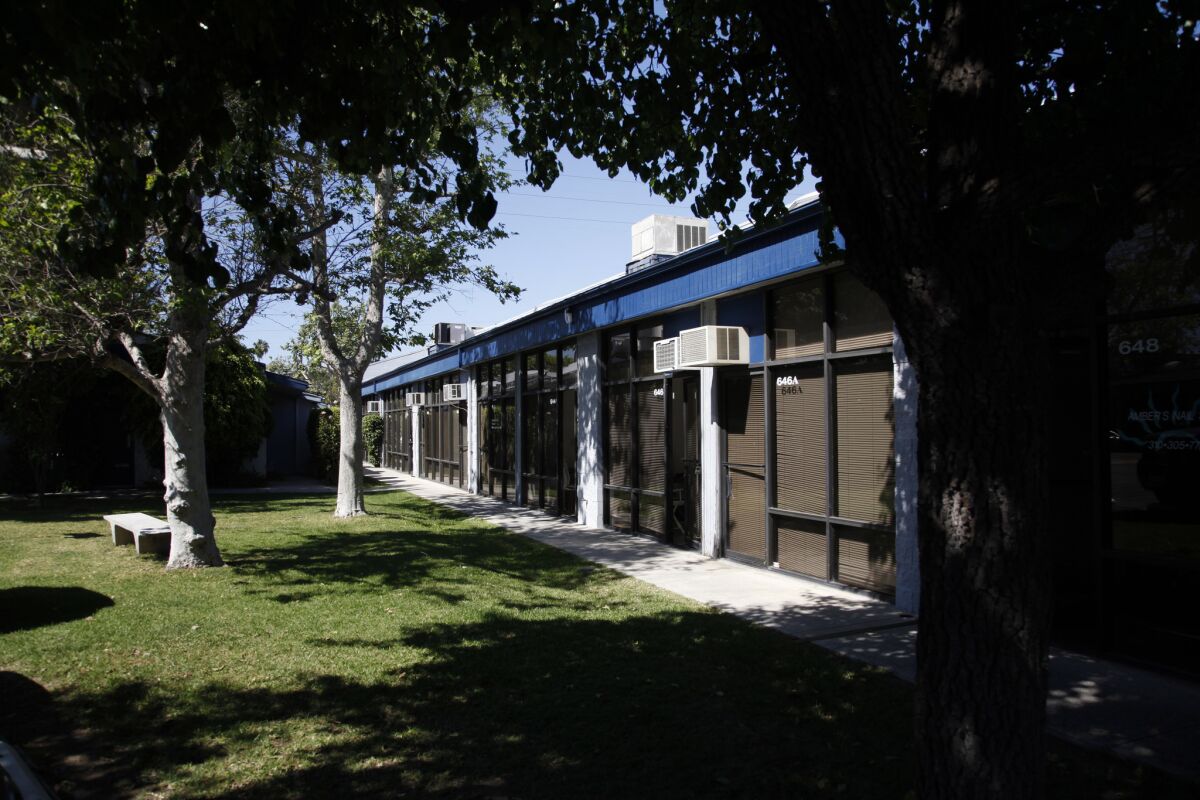 Snapchat's biggest real estate deal yet is in the books.
This week, Los Angeles' most famous technology start-up signed a 10-year master lease, with a five-year option, to occupy a spacious complex at the southeast corner of Abbot Kinney and Venice boulevards. Snapchat plans to spruce up the four office buildings and connect some units now separated by walls, but it won't be doing a complete teardown, said Jim Abbott Jr., the Realty Advisory Group broker who handled the transaction for the property's owners.
Snapchat has rapidly added office space in Venice since first settling two years ago into a boardwalk bungalow that it soon outgrew. Fueled by a popular advertising-supported app to share self-destructing content and hundreds of millions of dollars in venture capital, the start-up has mushroomed to more than 200 employees. The company's still on the hunt for more space, suggesting the robust hiring will continue.
The expansion plans have rattled some Venice residents and business owners, who worry that well-funded tech companies are squeezing out smaller players in a tight real estate market. Snapchat's arrival at what's known as Venice Connection and Studio Village is expected to displace about 40 small businesses, including a beauty salon, media production companies and a start-up that designs small drones. Some have already moved out ahead of anticipated eviction notices from Snapchat.
The company has declined to comment on real estate issues, saying only that it loves Venice and strives to be a good neighbor.
The family that has controlled parts of the property since 1973 sought to sell it last April, but Abbott said that the family realized within a few months that leasing the 47,000 square feet of commercial space would yield the most long-term value. He said he sold one property for $925 a square foot one recent year, and a second one on the same street sold for more than $2,000 a square foot the next year.
"The appreciation in value here is astronomical," Abbott said of Venice. "Any landlord in this area should hold on to property for a long time because I don't see the end in sight any time soon."
Besides Snapchat, expressions of interest in buying or leasing the Abbot Kinney complex, which sits on 90,000 square feet of land, also came from tech companies like Uber and the Brentwood Country Mart and other real estate developers. Ultimately, the owners went with Snapchat over offers with more "upside" because the locally raised company could bring wealth to the area for years, Abbott said. As a start, he noted that Snapchat employees should become regulars at a Mexican restaurant in the complex that the start-up doesn't plan to evict.
"The owners realized that Snapchat would solidify Venice as a globally recognized tech hub and their property could be a centerpiece of Silicon Beach," Abbott said. "I see it being a long-lasting relationship."
Chat with me on Twitter @peard33