Selling stuff online just got a little easier with Sold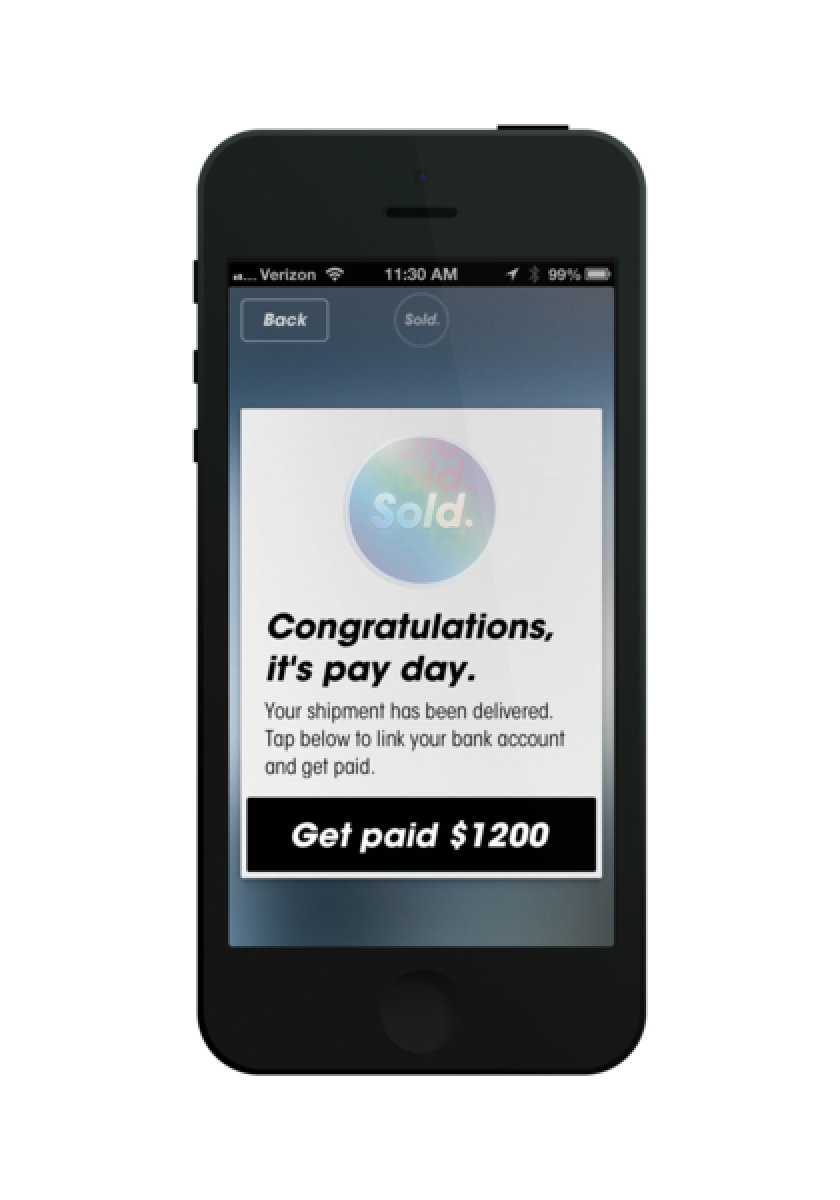 I value money, but when it comes to the hassle of selling "stuff" online, all that comes to my mind is "Ain't nobody got time for that," as intoned by YouTube viral sensation Sweet Brown.
While you are reading this, my iPhone 4 and aviator Ray-Ban sunglasses are collecting dust on my desk. I know the items would sell, but it takes valuable time to figure out how much I should charge, find a buyer, and then box and ship them.
Why can't selling be just as easy as buying online? MIT graduates have come up with free a Apple app, dubbed Sold, that aims to reinvent online selling by taking the burden of pricing, listing, haggling and shipping completely off of your shoulders.
"If you've never experienced what having a personal assistant devoted to selling your stuff is like, now you can," said Tony DeVincenzi, one of the three co-founders. The others are Matt Blackshaw and Dávid Lakatos.
Through its smart pricing analytics, and algorithm-powered intellectual property, Sold "finds the buyer and the right price, and makes the selling worth your time," DeVincenzi said.
Rather than competing with eBay, Amazon or other online marketplaces, Sold makes use of all of them with its product search database, cutting out the middleman. It acts as a "service layer," which gathers information on the different marketplaces selling that specific item. For example, say you want to sell your Kindle. Sold knows the approximate running rate and will generate a fair price for the item in its current condition.
Here is how it works:
After you describe the item you are selling, Sold asks you to take at least four pictures of the item, giving you tips on what to show in the pictures (to get the most value for the item). Employees at Sold then view the pictures to verify that the info you wrote about it is accurate and the item is in good condition.
Within a day or two, depending on the item, the Sold pricing engine automatically generates a price, which you can then accept or reject, and which marketplace is offering that price. The price includes what the marketplace such as Ebay and Amazon will charge you for the transaction, the cost of shipping and packaging, and Sold's service fee, which depends on the value and size of the item.
Once Sold finds a buyer, the app takes care of the rest of the transaction. Sold sends you a pre-paid and pre-labeled box -- so all you need to do is pack it and schedule a pick-up. The proceeds are deposited directly into the seller's bank account.
But there is a catch: Sold won't sell just anything, and it's limited to "items of value" such as phones, laptops, cameras and certain fashion items like handbags. Also, DeVincenzi said currently the items must fit into one of three different sized shipping boxes, and the service is available only in the U.S.
Although Sold just launched last week, it has already raised seed funding from Google Ventures, Greylock Partners, Matrix Partners and Boston Seed Capital.
Follow @JessicaNaziri on Twitter.
ALSO:

Start-up Sunday: Getting real estate data is a snap with Homesnap
Start-up Sunday: KillSwitch app wipes out painful reminders of exes on Facebook

Start-up Sunday: Mango Health app tries to make managing meds fun and games
---