Here's evidence Snapchat Spectacles are headed to Texas, Oregon, Nevada and Washington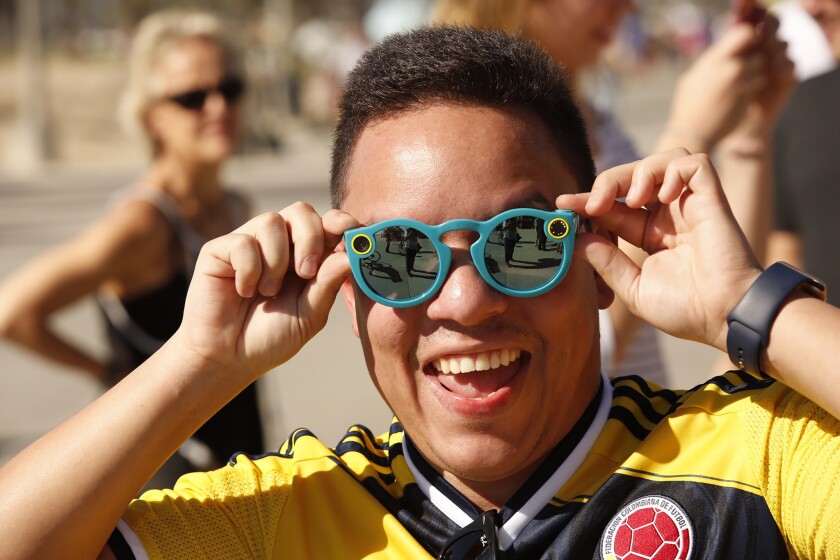 Californians and Oklahomans were the first to get their hands on Spectacles — the hot new device from Snapchat maker Snap Inc.
With a limited supply sold through a traveling vending machine that made short stops in recent days in Venice, Big Sur and Tulsa, Okla., more customers are missing out on the video-camera sunglasses than sporting them. So there's understandably a frenzy to figure out where a vending machine is headed next.
Public records suggest at least Nevada, Oregon, Texas and Washington state are likely destinations.
Companies generally need a permit to do business in a particular jurisdiction. That's why Snap obtained a seller's permit from the state of California in September, weeks before the vending machine debuted last week on the Venice beach boardwalk near the company's headquarters.
A copy of the permit was affixed to the back of the bright yellow machine. The permit is a conduit for reporting how much in sales tax the company has collected and sending it to the government.
Texas records show a Snap LLC registered in late September and obtained a sales tax permit too. Records in Oregon, which doesn't have a sales tax, reveal a Snap Inc. registered in August. It's similar to cases in other states too.
Still, the records are no guarantee of Spectacles sales. Filings across many states were made before distribution plans for Spectacles were finalized, according to a person familiar with the matter who declined to be named.
Snap declined to comment.
It's not clear when Snap will unveil its next location for Spectacles.
But getting a quick jump on the location of the vending machine in the coming weeks could be huge for consumers. At the first two stops, Snap has offered up only a certain number of devices before packing up for the day. Dozens, if not hundreds, of people have showed up, waited for hours and only been denied their chance to pay $130 for a pair.
Some buyers have shelled out about a $1,000 to get Spectacles off EBay.
Twitter: @peard33
---
UPDATES:
Nov. 15, 10 a.m.: This article was updated to include mention of Oklahoma, Snap Inc.'s latest destination for Spectacles, and additional reporting suggesting they may soon be on sale in Nevada and Washington.
This article was published on Nov. 14 at 6:20 p.m.
---