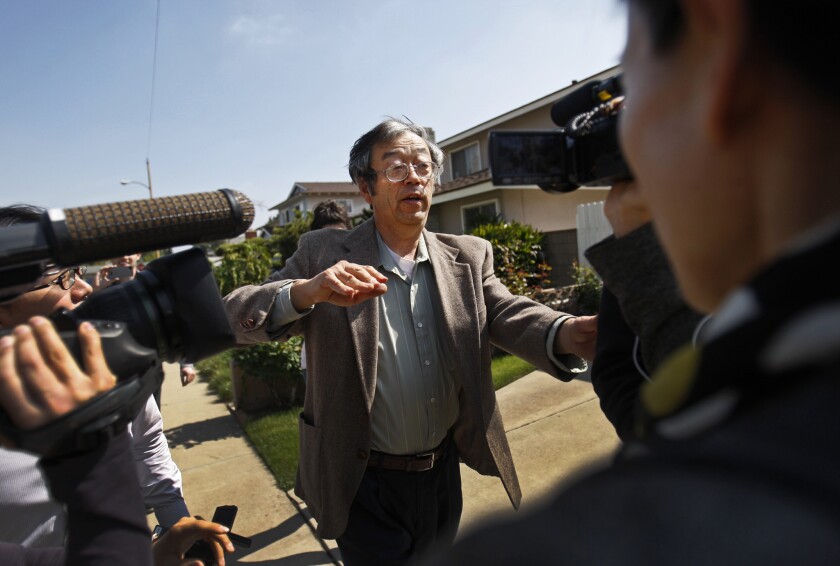 Newsweek grabbed the top tech headline Thursday by claiming to have located the founder of Bitcoin, who appears to be living in the San Gabriel Valley under the name many had believed to be just a pseudonym.
The magazine unveiled the Bitcoin founder, Satoshi Nakamoto, with an extensive cover story titled "The Face Behind Bitcoin." According to the article, the Bitcoin founder really is named Satoshi Nakamoto and he is a 64-year-old Japanese American.
The magazine tweeted the story early Thursday.
The creator of Bitcoin is worth $400 million, but he lives in a modest home outside of L.A. https://t.co/C9frgU1Iod pic.twitter.com/4452ciMx9K— Newsweek (@Newsweek) March 6, 2014
That sent waves through Twitter and the Web. Many were surprised that someone had managed to track Nakamoto down.
I can't believe they found Satoshi Nakamoto (Bitcoin inventor) and I REALLY can't believe it's not an NSA pseudonym https://t.co/LFjXMcjVt9— bruno riddy (@brunoriddy) March 6, 2014
Whoa, I thought this dude was fake. Turns out he lives in Silicone Valley. Crypto-currency is amazing stuff. https://t.co/i6X23M0Kie— Nusser Studios (@NusserStudios) March 6, 2014
OMG, is it true? Satoshi Nakamoto has been found!? https://t.co/qI6zwXLRuO— Jakob Edman (@midge_82) March 6, 2014
Finally!!! Been curious about the Bitcoin founder for ages. Can't believe so much about this article... https://t.co/TH5rXBzLJi— Joel Stonington (@jstonington) March 6, 2014
The Newsweek story included quite a few details about Nakamoto, including a picture of his home. That led some, including some of our own reporters, to stake out the house.
He's apparently holed up inside. Neighbors don't seem to know him (or know what Bitcoin is, for that matter).— Andrea Chang (@byandreachang) March 6, 2014
Waiting outside Satoshi Nakamoto's house in Temple City with a horde of reporters and photographers. #bitcoin pic.twitter.com/vC5CQ8OI4d— Andrea Chang (@byandreachang) March 6, 2014
Bitcoin house sits on a quiet single-block street of mostly 60s ranch-style houses in Temple City pic.twitter.com/r49gnRObwC— ChristopherHawthorne (@HawthorneLAT) March 6, 2014
A woman we presume to be Nakamoto's mother has emerged from the house, was helped into a waiting car #houseofbitcoin pic.twitter.com/DHwWhUi9RQ— ChristopherHawthorne (@HawthorneLAT) March 6, 2014
I'm not alone. NYT, NBC here too. #houseofbitcoin pic.twitter.com/XupmA73j0i— ChristopherHawthorne (@HawthorneLAT) March 6, 2014
Just met Dorian "Satoshi" Nakamoto.— Quentin Hardy (@qhardy) March 6, 2014
At least one person was happy to learn of Nakamoto's whereabouts.
I know where i'm trick or treating this year! #TempleCity #SatoshiNakamoto throw me a #bitcoin yo— AMR (@auntaud) March 6, 2014
But many were disappointed by Newsweek's reporting, saying they revealed the identity of, or "doxxed," an old man.
If this man turns out to be #Bitcoin creator #SatoshiNakamoto he clearly didnt want attention. He created this for you, do that for him.— Andrew (@dAnconiaMining) March 6, 2014
Well done Newsweek...nothing like putting a $400 million bullseye on a reclusive old guy. #SatoshiNakamoto— Luke Arthur (@lja_14) March 6, 2014
#SatoshiNakamoto is no longer Free At Last. Sad day whether that is really HIM or not. Shame on that reporter!— FreeAtLast (@LunaVava) March 6, 2014
Not cool of @Newsweek to dox this guy. "@SGgrc: Wow! Bitcoin's Inventor has been found: https://t.co/1b4ycx2pQM"— timsee (@timsee) March 6, 2014
Satoshi's done something of great historical importance... It's exactly the role of the press to dox him.— from the future (@nk) March 6, 2014
Journalist claims to dox "the inventor of Bitcoin". Way to paint a target on an elderly man's back, Newsweek. https://t.co/hAQOoUAC3b— Lawrence McAlpin (@lmcalpin) March 6, 2014
@Newsweek I am so angry with the careless doxing of this poor man. You better hope and pray nothing bad happens to him. Idiots.— Kallisti (@Kallisti) March 6, 2014
You really should take off the picture of his house. what are you, insane? @Newsweek calls out Father of Bitcoin #BTC https://t.co/YWUP1vNKm2— Mark Nemi (@marknemi) March 6, 2014
Really, @newsweek, did you HAVE to publish details of Nakamoto's life, including names of his kids & pictures of his house? This is insane.— joy larkin (@joy) March 6, 2014
Meanwhile, others were disappointed that Nakamoto's life wasn't more exciting. Having remained anonymous since the founding of Bitcoin in the late 2000s, many thought Nakamoto would be some mysterious hacker.
Have to say I'm a little disappointed with Satoshi Nakamoto's real identity. Where's the Hollywood flare?— James Hutchinson (@j_hutch) March 6, 2014
Creator of Bitcoin finally revealed! I have to admit I am a little bit disappointed! https://t.co/NPwOwxNVAA— Niels Maes (@NielsMaes99) March 6, 2014
boy could the outcome to the "who is satoshi nakamoto" drama have been any more boring?— Bishnu (@bishnu_b) March 6, 2014
Welcome to our boring cyberpunk future. Bitcoin: created by Satoshi, a guy in LA who's into model trains? https://t.co/z02YXXQn0s HT @cdevers— jesse (@obra) March 6, 2014
Can't believe that after all that, #SatoshiNakamoto turns out to be... Satoshi Nakamoto. #nymnymnym #bitcoin— ¿¿¿¿ (@jonahsilas) March 6, 2014
Who'd have thought "we found the mysterious secretive inventor of bitcoin" could be such a boring story? https://t.co/2mZcXti1J0— Tom Gara (@tomgara) March 6, 2014
ALSO:
Popular iPhone game QuizUp arrives on Android
Is bitcoin creator Satoshi Nakamoto living quietly in Temple City?
Want to wake up to the smell of bacon? Enter Oscar Mayer contest
---