Left cash at home? Venmo helps users pay with their smartphones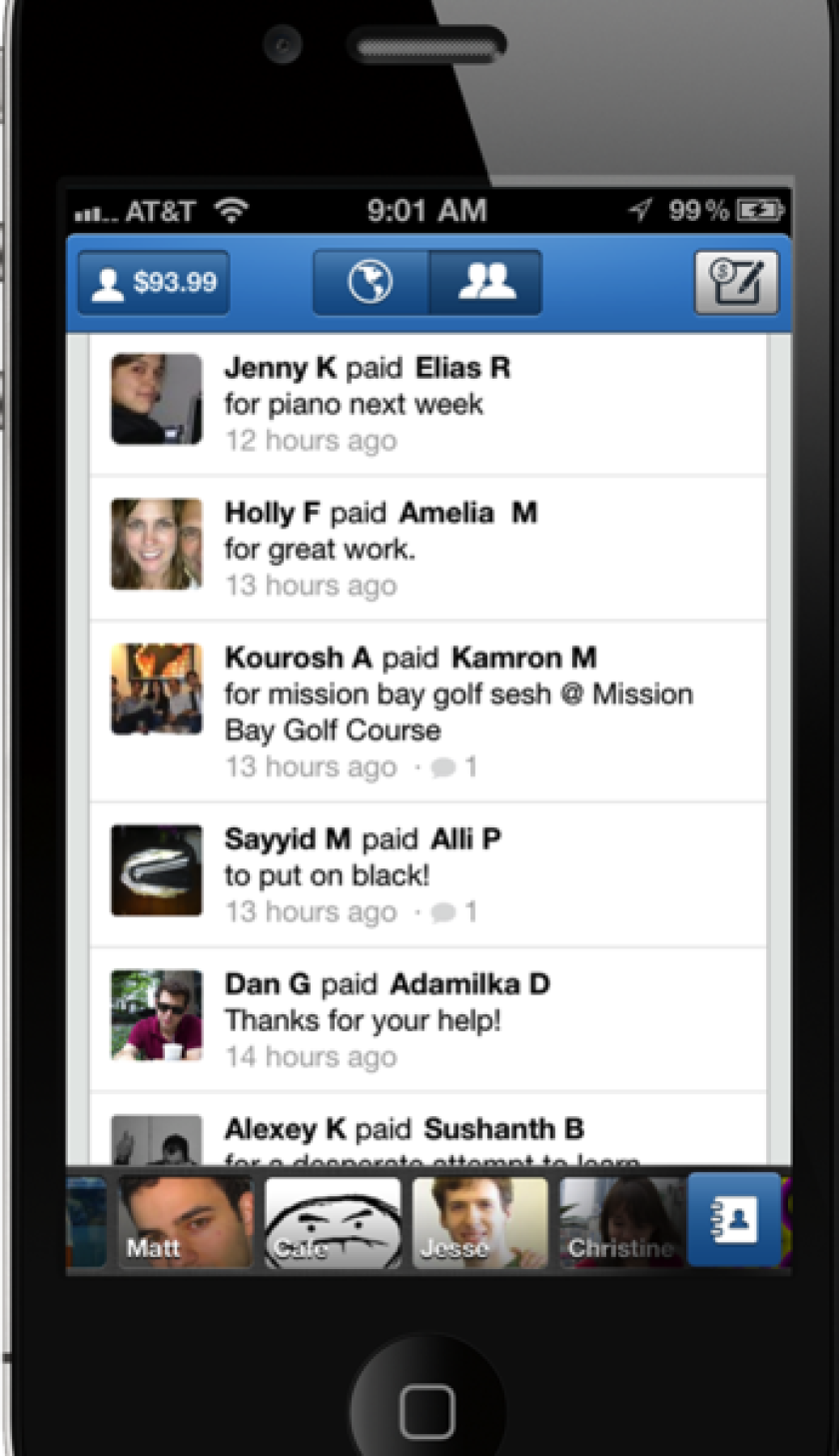 If you are one of those people who rarely carry cash or forget to take it along, there's a smartphone app that might interest you.
Venmo, a digital wallet company, has an app that makes it easy to exchange money, split bills and make good on IOUs.
"It's like sending a text message with money attached to it," said 30-year-old Andrew Kortina, who founded Venmo with longtime friend Iqram Magdon-Ismail, 29. The two met during their freshman year at the University of Pennsylvania.
Kortina said PayPal was an inspiration for Venmo, although "it wasn't optimized for paying friends." He added, "we wanted to make things easy so you can focus on the experience rather than the payment piece of the transaction."
Venmo put its focus on areas where similar mobile payments were lacking: a social aspect of sharing and sending money and stories to friends. The idea is to connect the payments to the memories created by enabling friends to see what was done, who paid, and how others reacted.
The free Venmo app for iOS, Android and BlackBerry hooks into Facebook and uses a feed similar to the interfaces of Facebook, Twitter and Instagram to show users how much their friends have paid one another and why. Users can easily switch their payment feeds to private in the settings or each time they make a payment.
Let's say you're at dinner and send a friend $30. He can sign up, instantly verify his account and request to cash out, and the money should show up in his checking account the next day.
Here is how it works:
To send funds: First choose a friend from your contacts, using your phone's email and Facebook contacts. Next, type the amount and a message; for example: Jessica paid Nat $60 for champagne brunch.
Then choose your sharing options, connect your Venmo account to a U.S. credit or debit card and send. You can keep a balance to draw from in your Venmo account, or your payment can be charged to a credit card or bank account that you register with the company. Your friend can then transfer the money from Venmo to his bank account.
Venmo says it uses bank-grade security systems and data encryption to protect users and prevent unauthorized transactions or access to users' personal or financial information.
You enter the card information once, and it is stored after that. So the next time around, tap "Pay" on the app to text the payment and tap "Charge" to text a charge to whoever owes you money.
To receive funds: Tap "Cash Out" after you receive the money to connect your Venmo account to your bank account and follow the steps to transfer the funds.
Venmo also has a "Pay" button in the navigation bar so you can quickly settle debts.
If you pay from a bank account, bank transfer, debit card or Venmo balance (money that is in your Venmo account before you cash out. Payments will be funded by your balance unless the payment exceeds it), it is free, but users will incur a 3% charge on credit card-funded payments (to cover the fees Venmo pays). Receiving money is free.
Kortina said the peer-to-peer mobile payment start-up launched the app in beta last March but spent about three years working on and testing the product. Venmo's parent company, Braintree, a Chicago payment company, acquired the start-up last August for $26.2 million.
Kortina did not want to talk about revenue specifics but said Braintree is seeing about $8 billion in annual transactions.
He said he foresees an eventual business plan centered on users paying merchants such as restaurants, with Venmo charging those merchants a small amount. Venmo also hopes to work with Square and other point-of-sale systems in hopes of replacing credit cards altogether.
With mobile payments projected to reach $1.3 trillion per year by 2017, the digital wallet industry has many players. Companies such as PayPal and Chase are also trying to roll out SMS- and app-based peer-to-peer payment systems. Venmo's social component and news feed could give it an edge.
ALSO:
Play to stay fit with Fitocracy app
Fundraising goes digital with Schoola.com
---