Secrets shared on Whisper's app become fodder for new TV network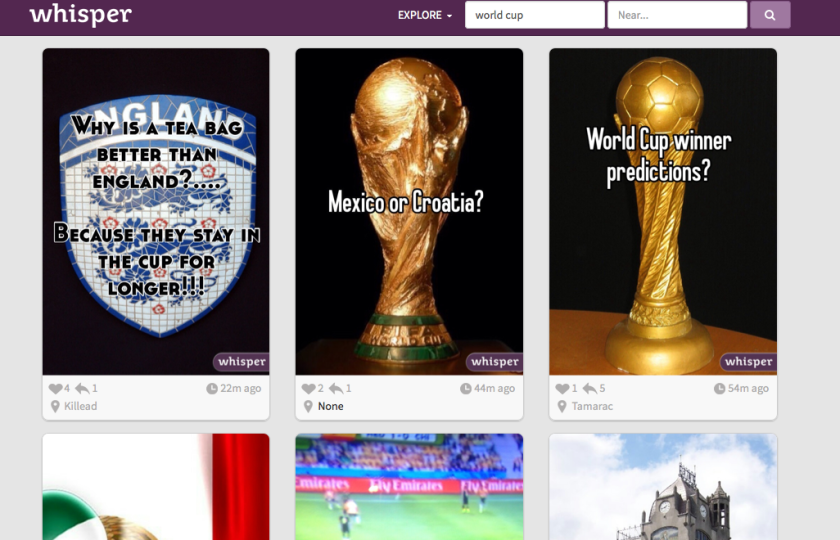 From the stream of anonymous posts on the social network Whisper, an edgy, new television network plans to find quietly discussed issues and trends that it can plug into broadcast stories.
The collaboration between Fusion and Whisper, one of several anonymity-friendly online social networks, follows similar image-boosting media partnerships that Twitter and Facebook earlier in their lifespans struck with mainstream networks for election, sports and other coverage.
Whisper, a 2-year-old startup based in Los Angeles' Venice community, allows users to publicly but anonymously share secrets and pose questions via an app available for Apple and Android phones and tablets. Other users can comment on posts. The startup said the average users spend 30 minutes a day on the app.
Earlier this year, Whisper reached a similar deal with the news website Buzzfeed, which has produced Whisper-inspired articles such as "17 Confessions From British Teachers On Whisper" and "23 Confessions That Prove Being a Feminist Is a Complicated Identity."
Fusion, which launched last October as a 50-50 joint venture between Univision and Disney/ABC Television Network, said Monday that Whisper users come from the same young audience that the network is trying to reach.
Neetzan Zimmerman, Whisper's editor in chief and Gawker's former mastermind of viral content, described the app as being on "the pulse of what young people are feeling and sharing whether it be a social movement, pop culture trend, news event, personal struggle or daily musing."
A Whisper-fueled Fusion story on Monday analyzed 5,000 Whisper posts that came from ZIP Codes associated with universities that have well-known party cultures. In searching for answers to how these students talk about drugs, Fusion learned that marijuana or alcohol accounted for about four in five drug-related postings.
On Monday, posts on Whisper included the gut-wrenching ("My sister is still missing from the earthquake that destroyed Haiti, I still think she's alive somewhere."), the troubling ("I purposely wear shapeless clothing, no makeup, and unwashed hair to work so my coworkers stop sexually harassing me. It's not working") and the simple ("I adore redheads").
Anonymous social-sharing apps such as Secret, imgur and Yik Yak turn up similar content, though Whisper's search features and content deals have helped it gain increased visibility compared to the others.
Fusion is available on Dish network, Cablevision, Charter, Cox, AT&T U-Verse, Verizon FiOS and Google Fiber but absent on giants such as DirecTV, Comcast and Time Warner. TV networks with a young-adult vibe such as Vice and Comedy Central and the data-mining-driven website Vocativ are among its competitors. But the English-language channel has said it is particularly interested in reaching the growing number of young Latinos. The channel is based in the Miami suburb of Doral.
Chat with me on Twitter @peard33
---
Your guide to our new economic reality.
Get our free business newsletter for insights and tips for getting by.
You may occasionally receive promotional content from the Los Angeles Times.