Tech review: The best business laptops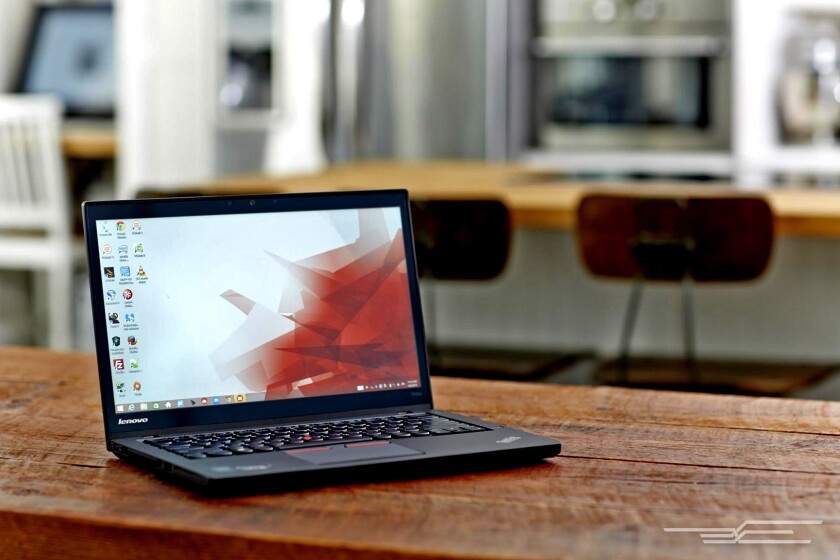 This post was done in partnership with The Wirecutter, a buyer's guide to the best technology.
If you need a business laptop that's tougher and more serviceable than an ultrabook, you should get the Lenovo ThinkPad T450s. After more than 30 hours of research and testing, it's the one we recommend because it offers the best mix of a great keyboard, speed, durability, configuration options and user-serviceability.
Who is this for?
Most people, even business people, don't need a traditional business laptop anymore—an ultrabook will be smaller, lighter, and good enough for most uses. But some people still need more battery life, more power, more ports or security features that you just can't get on an ultrabook, and they're willing to deal with a thicker, heavier laptop to get that.
How we decided
Most business laptops have the same guts as ultrabooks. We tested performance just to make sure there were no surprises, but we focused on the things that make business laptops great: the keyboard and trackpad, build quality, battery life, display, upgradeability and serviceability, and warranty and support.
Our pick
If I had to use one laptop every day for the next three to four years, it would be the Lenovo ThinkPad T450s, upgraded from the base model with a 1920x1080 IPS screen (which provides superior viewing angles), 12 gigabytes of RAM, and a backlit keyboard. It's thicker, heavier, and doesn't have as good a screen as an ultrabook, but its rugged chassis and spill-resistant keyboard mean you don't need to baby it. The ThinkPad keyboard is one of the best on any laptop, and unlike most ultrabooks, the T450s still has VGA and Ethernet ports, which are good for screen presentations and Internet/network connectivity, respectively.
It's easier to upgrade and service than most ultrabooks, and thanks to its hot-swappable batteries, you can get staggeringly long battery life without ever going near a charger.
The runner-up
If the T450s is unavailable, consider the Dell Latitude E7450, which has most of the same features at a similar price. Unlike the ThinkPad, it has an HDMI port and dedicated mouse buttons for the trackpad. The keyboard is almost as good as the ThinkPad's, and the Dell is easier to upgrade because its hard drive and RAM slots are more accessible. It's also slightly cheaper than the ThinkPad when configured similarly, and comes with a longer base warranty. As with the Lenovo, it's worth paying to upgrade from the terrible default display to a 1920x1080 screen.
The everyperson's business laptop
The 13-inch MacBook Pro with Retina has a higher-resolution screen and more powerful CPU than the ThinkPad T450s or the Latitude E7450. It has excellent battery life, two Thunderbolt 2 ports, and a top-of-the-line Wi-Fi card. It only has two USB 3.0 ports, and you'll need adapters if you want to use VGA or Ethernet cables. It's also expensive, even compared to already-expensive business laptops, and you can't upgrade it later if you run out of RAM or storage space. But Apple has the highest satisfaction ratings of any laptop maker, and OS X is a great operating system — you can always run Windows under Boot Camp or a virtual machine if you need it. It's not a traditional business laptop, but it's a great laptop for business.
In closing
The business laptop is a dying breed, but there's life in them yet. The Lenovo ThinkPad T450s has an amazing keyboard, great support, and a tough chassis, and it's easy to service and upgrade so it'll keep kicking for years. It's not flashy, it's just competent, and it'll stay that way for a long time.
This guide may have been updated. To see the current recommendation, go here. The Wirecutter's extensive research and testing is supported by a small commission from the purchases its readers make.
---