Tech review: The best fitness tracker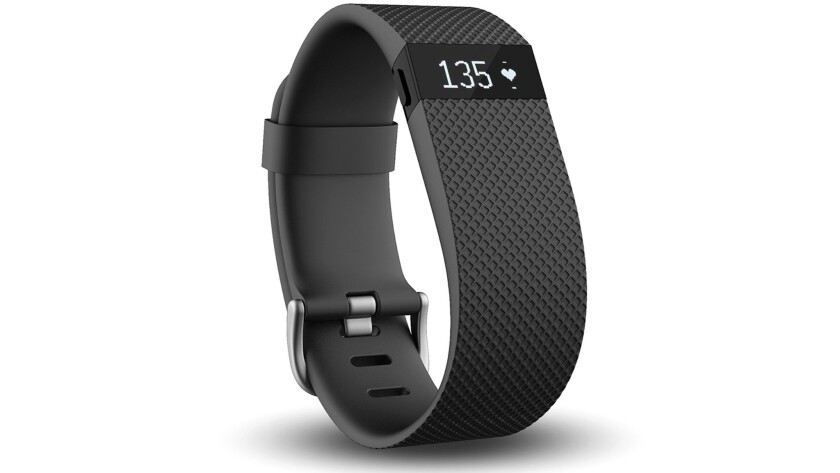 This post was done in partnership with The Wirecutter, a buyer's guide to the best technology.
The $150 Fitbit Charge HR is the fitness tracker we'd recommend for most people. According to our tests — which included 60 hours of research and 10 days of real-world testing — the Charge HR is more accurate at counting steps than most other wrist-worn trackers, and it works seamlessly with Fitbit's popular social ecosystem. It has continuous heart-rate monitoring; automatically activated sleep tracking with vibrating alarms; and a screen that uses OLED (technology that makes displays brighter and its blacks deeper) with caller ID that is legible in full daylight. And unique among trackers in this price range, the Charge HR uses a strap modeled after a traditional watch band, which means it won't fall off accidentally.
How we decided
We surveyed 602 Wirecutter readers to determine which features are the most important. They told us they required a wristband design, a built-in screen and the capability to accurately count steps and distance. Though less important features, we also considered heart-rate monitoring and sleep tracking. We ended up testing the Fitbit Charge, Fitbit Charge HR, Garmin Vivofit, Garmin Vivosmart, Basis Peak, Jawbone UP24, Pebble Steel (with Misfit app) and UP24.
We wore all these wrist-based devices simultaneously and recorded activity over five days. We also tested the wrist-based trackers against the hip-mounted Withings Pulse O2 for accuracy, as clip-on models tend to be more accurate, before testing each tracker individually along with its accompanying apps or software.
Our pick
The Fitbit Charge HR wristband counts daily steps and flights of stairs more accurately than the competition, features continuous heart-rate monitoring and performs automatic sleep tracking. It also includes basic smartphone-notification features and is complemented by a motivating app with support for third-party integration. The Charge HR also features a band similar to a wristwatch, and battery life is a good four to five days.
The runner-up (without heart rate)
If the Charge HR is sold out and you can't wait to buy a fitness tracker, get the normal (non-HR) Charge. You'll lose the HR's superior strap design and heart-rate tracking, but you'll get the same great options for syncing data with your smartphone or computer, the same great Fitbit software, the same legible LED display and the same motivating features of our top pick, for a lower price.
Running, cycling, or waterproof needs
For serious runners and cyclists, or people who need a waterproof tracker, Garmin's $150 Vivosmart wristband isn't as accurate at tracking steps, but it excels at workout tracking, and it can communicate with cycling sensors and heart-rate monitors to log their data. It's also a good option for people who'd like some smartwatch features (such as notifications and music-playback control) but don't really care about third-party app support.
If you prefer a clip design
The Fitbit One is best for people who prefer a clip-on device that reserves their wrist for an actual watch, or for those who prefer better step accuracy. A clip tracker is also a better option for those who participate in contact sports. As a bonus, the One is one of the few trackers that doesn't require a smartphone — it can even be synced directly with a computer via Bluetooth.
In closing
The Fitbit Charge HR offers the best combination of features for the least amount of compromise. For $150, you get an accurate, comfortable and full-featured activity tracker, along with a standout app that's both simple to use and motivating for getting visual feedback about your daily movement.
This guide may have been updated. To see the current recommendation, please go to TheWirecutter.com. The Wirecutter's extensive research and testing is supported by a small commission from the purchases made by its readers.
---
Your guide to our new economic reality.
Get our free business newsletter for insights and tips for getting by.
You may occasionally receive promotional content from the Los Angeles Times.