Los Angeles developer David Wilstein dies at 89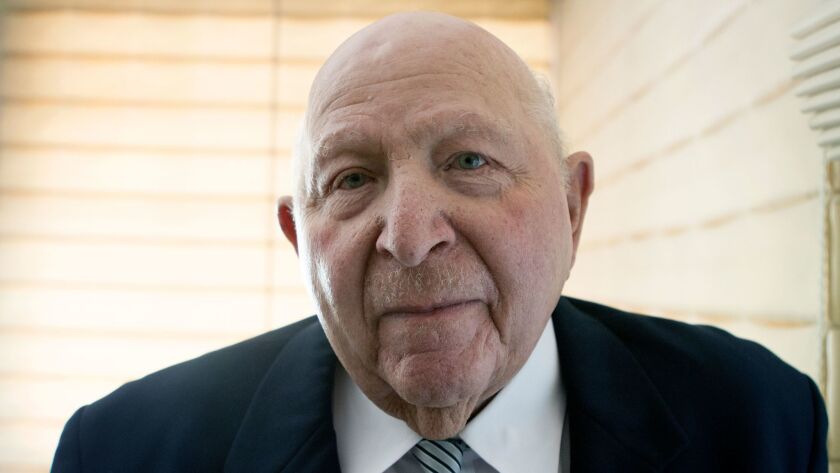 David Wilstein — founder of a prominent Los Angeles development firm — died Sunday. He was 89.
Since establishing Realtech Construction Co. in 1976, Wilstein had overseen more than 100 projects, including high-rise office towers, medical buildings, apartments, hotels and shopping centers.
Wilstein's daughter, Denise Margolin, remembers her father always with a phone in hand — no matter the time of day. He was the first one to work and the last one home.
"He always worked, he was married to his work," Margolin said. "He was always doing a deal, always involved with something. He worked so, so hard."
The Pittsburgh native, who had a bachelor's degree in engineering, came to California in the 1950s and got a job with the state helping designing freeways. He met his wife, Susan, two weeks after moving to L.A. Margolin said it was love at first sight, and the two were rarely apart in their more than 60 years of marriage.
Wilstein had humble beginnings in construction.
To earn some extra cash in the 1950s, Wilstein joined his father and brother in building a fence. That led to fixing the roof of a house, which led to the first of several remodeling jobs, Wilstein told The Times in a 2014 profile.
His career in development took off after a man for whom he had remodeled a home returned from Cuba with money to invest. Wilstein said he offered to build the man a six-unit apartment that could be sold for a 6% or 7% return.
Wilstein then started building properties for other investors. He eventually grew the company internationally, developing buildings in Japan, Thailand, Turkey and China.
Wilstein was responsible for some prominent L.A. office buildings, including the 12-story Roar building on Wilshire Boulevard at Roxbury Drive in Beverly Hills and the 25-story Wells Fargo Center at Wilshire and San Vincente boulevards.
Wilstein was involved with the Jewish faith, Margolin said, heading up several philanthropic initiatives in Los Angeles and Israel, including an effort to help at-risk youth.
He also served on the board of directors of Cedars-Sinai Medical Center, Brandeis-Bardin Institute and the American Friends of the Hebrew University. He was a past trustee of the California State University system.
"He was a great, great man, and he cared about everybody else before himself," Margolin said. "He really put himself last."
Wilstein, a resident of Beverly Hills, died of natural causes.
He is survived by his wife and daughter. Funeral services will be held 1 p.m. Thursday at Hillside Memorial Park in Culver City.
---