A storm state of emergency in an already sodden California
Good morning, and welcome to the Essential California newsletter. It's Thursday, Jan. 5. I'm Julia Wick, a City Hall reporter and your former newsletter scribe, writing from rainy Los Angeles.
Gov. Gavin Newsom declared a state of emergency Wednesday, as yet another powerful storm battered the state. Northern California bore the brunt of the onslaught, with evacuations, power outages and heightened fears of flooding and debris flows.
Californians are unfortunately no stranger to brutal weather, but this week's moisture-rich atmospheric river had been preceded by particularly dire warnings. San Francisco Mayor London Breed said the city was "preparing for a war" and Nancy Ward, director of the Governor's Office of Emergency Services, said she anticipated that "this may be one of the most challenging and impactful series of storms to touch down in California in the last five years."
The issue is not just the strength of this particular storm, but the fact that it comes after a deluge of several successive storms — meaning much of the state is already water-saturated, exacerbating flooding concerns. Wednesday's storm is the third atmospheric river to hit California in the last two weeks.
Years of drought — which theoretically would make the extra water welcome— have also heightened the dangers of heavy rains. As my colleague Hayley Smith explains, prolonged drought conditions have weakened the state's soil and left trees brittle. Worsening wildfires have left large swaths of burn scars that are highly vulnerable to landslides and increased stream flows.
My colleagues Hannah Wiley, Jessica Garrison, Summer Lin and Ruben Vives report that officials throughout the state were rushing to bring some of the tens of thousands of unhoused residents living on streets and along waterways into shelter.
By 5:45 p.m., San Francisco had run out of sandbags. Sacramento Mayor Darrell Steinberg urged residents "if at all possible to stay home." An electronic freeway sign looming over Highway 99 north of Fresno warned drivers to avoid travel amid severe weather.
What comes next:
A brief respite is in sight, but not for long.
Friday is expected to "be a bit of a break day," according to the National Weather Service's Bay Area office; the Los Angeles office also says storm activity should decrease in the region by Thursday night, with Friday looking dry. But more storms are expected through mid-January.
For those looking to get through the last of this storm and prepare for what's ahead, my colleague Jessica Roy has put together a great guide to staying safe during rainstorms, with lots of helpful tips and useful information.
And now, here's what's happening across California:
Kevin McCarthy on the ropes: It was another stunning day on Capitol Hill, as Rep. Kevin McCarthy (R-Bakersfield) struck out three more times Wednesday in his quest to be elected speaker. The House adjourned without electing a speaker Wednesday evening after McCarthy failed in his fourth, fifth and sixth attempts to secure the post. Los Angeles Times
Some further reading on McCarthy: In October, my colleagues Jeffrey Fleishman and Nolan D. McCaskill wrote a gripping and lengthy profile of the Bakersfield politician with one particularly delicious detail: Before filming the Netflix political thriller "House of Cards," actor Kevin Spacey studied for his duplicitous congressman role by shadowing McCarthy.
Note: Some of the sites we link to may limit the number of stories you can access without subscribing.
L.A. STORIES
LAPD chief backtracks after saying he has 'full support' of Mayor Karen Bass: Los Angeles Police Chief Michel Moore apologized Tuesday after sending an email that described his bid for a second term and suggested he has the backing of L.A's mayor. An aide to Bass said she has not made a decision on the chief's future. The five-member Police Commission had planned to vote Jan. 10 on whether to reappoint the chief, but Bass tapped the brakes on that, pushing the decision to a future date. Los Angeles Times
Inside the LAPD's secretive, multimillion-dollar private funding arm: The 25-year-old Los Angeles Police Foundation enjoys regular access to top LAPD officials, working closely with them to craft fundraising campaigns and host meetings with L.A.'s mega-rich and other philanthropic and corporate donors. Los Angeles Times
'Romeo and Juliet' stars sue Paramount over 1968 film's nude scene: The two stars of Franco Zeffirelli's hit 1968 version of "Romeo and Juliet" — who were both in their teens during filming and are now in their early 70s — sued Paramount Pictures for more than $500 million this week over the film's controversial nude scene. The suit alleges that the then-teens were filmed in the nude without their knowledge. Variety
The story behind the Rosca de Reyes at one Eastside bakery: The days leading up to the Jan. 6 holiday — el Día de los Reyes Magos — are some of the busiest of the year at La Sureñita, a Boyle Heights family bakery that specializes in traditional and seasonal Mexican desserts. Boyle Heights Beat
Check out "The Times" podcast for essential news and more
These days, waking up to current events can be, well, daunting. If you're seeking a more balanced news diet, "The Times" podcast is for you. Gustavo Arellano, along with a diverse set of reporters from the award-winning L.A. Times newsroom, delivers the most interesting stories from the Los Angeles Times every Monday, Wednesday and Friday. Listen and subscribe wherever you get your podcasts.
POLITICS AND GOVERNMENT
From the annals of WTF: A computer error incorrectly decided a school board race in Alameda County. A week after announcing the snafu, local election officials have not said how they plan to resolve the matter. San Francisco Chronicle
Personal details on the Hill: When former Long Beach Mayor Robert Garcia is sworn in to Congress, he plans to place three items with deep personal significance below the U.S. Constitution used for the swearing-in: a photo of his late mother and stepfather, who died from COVID-19-related complications in 2020, a copy of his citizenship certificate and an original Superman comic from the Library of Congress. Long Beach Press-Telegram
New Sacramento County district attorney makes history: Thien Ho, a former Vietnamese immigrant who handled the prosecution of the Golden State Killer, was sworn in this week as Sacramento County's 36th district attorney and the first person of color to hold the post. Sacramento Bee
CRIME, COURTS AND POLICING
Mastermind of college admissions scam sentenced to three years, six months in prison: William "Rick" Singer, the self-styled college admissions consultant who bribed coaches and rigged exams to slip the children of his wealthy clients into top universities, has been ordered to pay $10 million in restitution to the federal government along with the prison sentence. Los Angeles Times
HEALTH AND THE ENVIRONMENT
Storm is an 'extreme test' of waste capture system protecting the Pacific from L.A. runoff: This week's atmospheric river storm presents a test for an experimental waste-capturing system that's intended to keep plastic bottles, diapers and other trash from flowing into the Pacific. The solar-powered system, designed to work mostly autonomously, was introduced in October at the mouth of Ballona Creek near Playa del Rey. Los Angeles Times
CALIFORNIA CULTURE
Nine must-try Vietnamese restaurants in the San Gabriel Valley — for stone-pot pho and more. Los Angeles Times
A guide to public art in San Francisco's new Central Subway: Each station "gets an artwork that quite literally depicts a story about the location, and there's always work that engages with aspects of nature and geography." Central Subway begins full weekday service Jan. 7. San Francisco Chronicle
This app profits off SF's public soccer fields: "In a move that privatizes San Francisco's public reservation system for soccer fields, the Recreation and Park Department has begun selling reservations to an app that turns a profit by booking fields and charging people to join pickup games." Mission Local
One of the biggest rounds of tech layoffs in years: Salesforce will cut about 10% of its nearly 80,000-person workforce and plans to close an unspecified number of offices. The company is San Francisco's largest private employer. San Francisco Chronicle
A poem for your Thursday morning coffee: "Rain" by Jack Gilbert. Poetry Foundation
Free online games
Get our free daily crossword puzzle, sudoku, word search and arcade games in our new game center at latimes.com/games.
CALIFORNIA ALMANAC
Los Angeles: Moderate to heavy rain, 60. San Diego: Cold and rainy, 59. San Francisco: Winds and rain, 56. San Jose: more rain, 56. Fresno: Mostly cloudy with a few heavy downpours, 57. Sacramento: Cloudy with a few intense showers, 54.
AND FINALLY
We're trying something new down here! Ryan asked you to send us photos and blurbs about California landmarks that are interesting or important to you.
Today's landmark love: Half Dome, submitted by San Luis Obispo resident Ron Yukelson.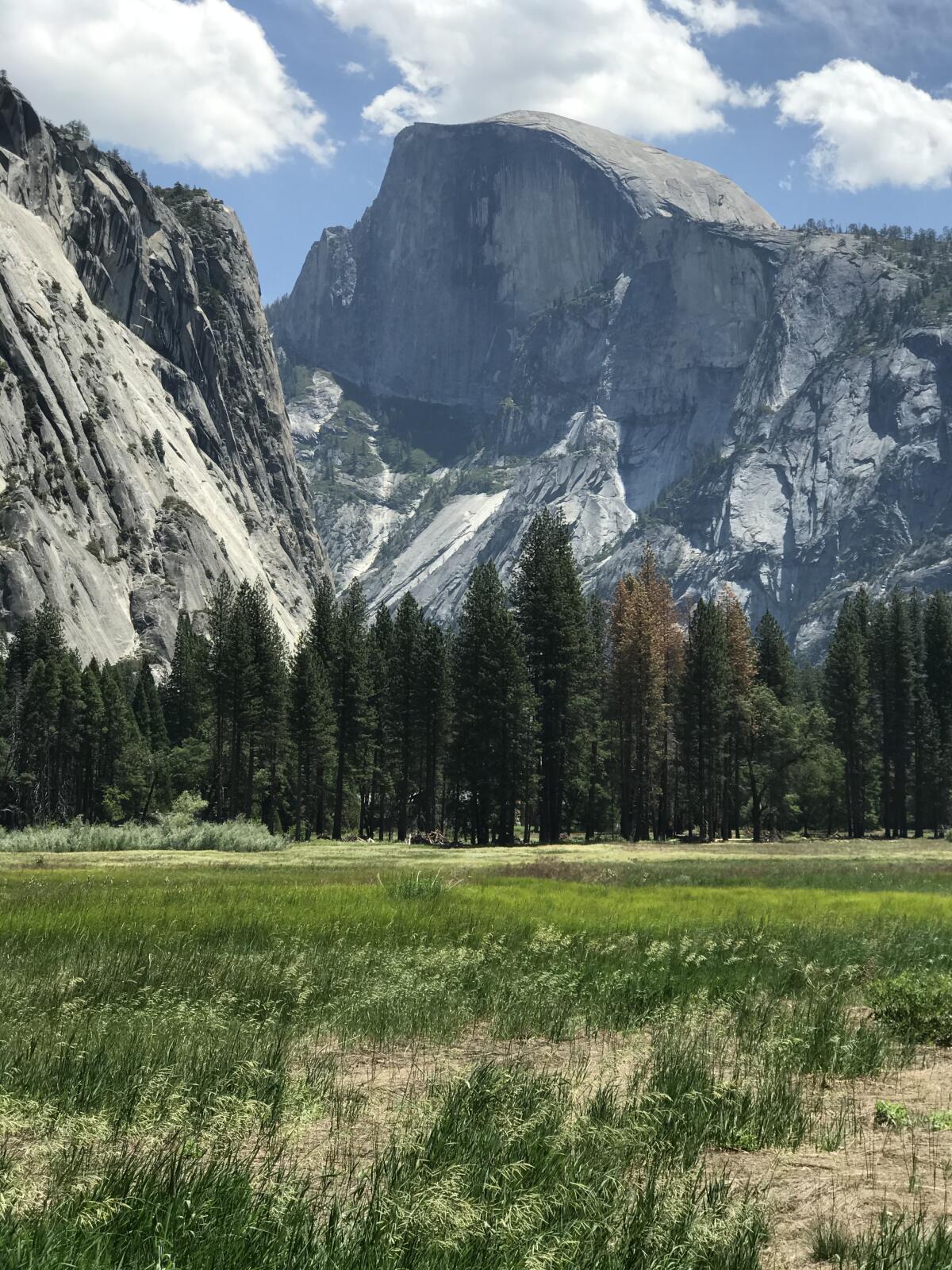 Ron writes:
I have been traveling regularly to Yosemite National Park, literally, since the womb (more than 60 years). For me, and my family, there is no more iconic landmark that symbolizes California than Half Dome. It is not only one of the nation's outstanding geologic formations, but is also a repository of childhood memories of summers in the park, passing along the love of Yosemite to my family and a place I consider a second home.
What are California's essential landmarks? Fill out this form to send us your photos of a special spot in California — natural or human-made. Tell us why it's interesting and what makes it a symbol of life in the Golden State. Please be sure to include only photos taken directly by you. Your submission could be featured in a future edition of the newsletter.
Please let us know what we can do to make this newsletter more useful to you. Send comments to essentialcalifornia@latimes.com.
Sign up for Essential California for news, features and recommendations from the L.A. Times and beyond in your inbox six days a week.
You may occasionally receive promotional content from the Los Angeles Times.