What's next for Brandon Tsay?
Good morning, and welcome to the Essential California newsletter. It's Wednesday, Feb. 8.
Brandon Tsay was working at his family-owned Lai Lai Ballroom & Studio in Alhambra on Lunar New Year's Eve when a man entered the lobby, armed with a semiautomatic handgun. Tsay lunged at the gunman and was able to wrestle the weapon away from him. The man fled the scene.
What Tsay did not know at the time was the gunman had fatally shot 11 people and wounded nine others in an attack on the Star Ballroom Dance Studio in the neighboring city of Monterey Park less than 30 minutes earlier. The gunman was located the next day in a Torrance parking lot, where officials said he fatally shot himself as officers approached.
Tsay saved countless lives and prevented immeasurable suffering with his quick actions. The swell of recognition and accolades that followed swept him into the public eye, and straight to the center of power. President Biden invited him to last night's State of the Union address as a guest, where he received a standing ovation from the nation's leaders, then took his seat — next to U2's Bono — as Biden shared his story with the nation:
"He thought he was going to die, but he thought about the people inside," Biden said, describing Tsay's act of courage.
"He saved lives," the president continued. "It's time we do the same. Ban assault weapons once and for all."
My colleague Noah Goldberg profiled Tsay for The Times this week, trying to understand who he was before and how he's now grappling with newfound fame. Noah writes:
It has been a lot to take in for a young man who prefers playing "League of Legends" with friends and building personal computers to public speaking — someone his family said always placed them ahead of himself, was devoted to his mother through the cancer that eventually killed her and worked nights at the family dance hall to keep it going.
Tsay is reluctant to be thrust into the spotlight, especially with the tragedy that came a short time before his heroic moment. He told Noah some of the victims of the Monterey Park shooting were customers and friends. The flood of media attention and requests to talk about his actions has him "reliving a trauma," he said.
Family members describe Tsay as "self-sacrificial," willing to do anything to help his loved ones. Tsay withdrew from Pasadena City College when his mother, Yvonne Hwei Fung Lin, was diagnosed with lung cancer. He took care of her for the next two years, helping her seek treatments in three countries. But in 2017, his mother died at 54, when Tsay was just 21.
After losing his mom, Tsay took on the managerial role at the dance studio that had been hers. He did not intend to stay, but as Noah writes, he continued "tending to the family business out of a sense of duty and love of the dance hall where he grew up."
Then a gunman walked into the lobby, and Tsay's life changed.
"He seems more like he's aged almost overnight," his sister told Noah. "Before this incident, his purpose was more foggy. Now, it seems to be more clear to him."
Tsay has teamed up with the nonprofit Asian Pacific Community Fund to create the Brandon Tsay Hero Fund, which will support the communities rebuilding after the Monterey Park shooting.
He also wants to go back to college to study sociology. Tsay hopes to examine human behavior and how it relates to events such as the shooting and encounter that changed his life overnight.
"I need to have a better understanding of how these things work, especially in our society where gun culture is actually pretty popular," he told Noah. "I would like to research how these events pan out and how ... to help those people out that are victimized."
Read Noah's story here.
And now, here's what's happening across California:
Note: Some of the sites we link to may limit the number of stories you can access without subscribing.
L.A. STORIES
Cue the sad violins: Gustavo Dudamel, who has led the Los Angeles Philharmonic for nearly 15 years, announced he will leave the orchestra pit after his current contract expires in 2026. The beloved conductor will join the New York Philharmonic. Dudamel is the "rare conductor who rises to the status of pop culture superstar," my colleagues Jessica Gelt and Mark Swed write, and "became an emblem of the Latino community's power and prominence, and has been pivotal to Los Angeles' rise as a cultural capital during the last two decades." Los Angeles Times
L.A. and the state decriminalized street vending back in 2018, but established "no vending zones" that include the Hollywood Walk of Fame, El Pueblo de Los Angeles Historical Monument and the Hollywood Bowl on event days. Some food vendors are fighting to stay in the pedestrian-rich areas — and they have a new ally in City Hall. LAist
Check out "The Times" podcast for essential news and more
These days, waking up to current events can be, well, daunting. If you're seeking a more balanced news diet, "The Times" podcast is for you. Gustavo Arellano, along with a diverse set of reporters from the award-winning L.A. Times newsroom, delivers the most interesting stories from the Los Angeles Times every Monday, Wednesday and Friday. Listen and subscribe wherever you get your podcasts.
POLITICS AND GOVERNMENT
The California Mortgage Relief program is expanding to include more homeowners who've been struggling through the pandemic. Program officials announced Tuesday that three new groups qualify: homeowners whose mortgages had a "partial claim" or deferral, those who missed a second mortgage payment after June 2022, and those with a primary residence that includes up to four units. Los Angeles Times
Last year, San Francisco Mayor London Breed pledged $5 million to fix crumbling housing for people experiencing homelessness. But more than six months after that money was made available, not a penny has been spent to make vital repairs to buildings. San Francisco Chronicle
HEALTH AND THE ENVIRONMENT
The number of California's trees that died last year climbed past 36 million, according to a survey by the U.S. Forest Service. That's nearly four times as many as in the previous survey. Experts point to drought, insects and disease as the main culprits. Los Angeles Times
Fresno County health officials say the local hospital system remains in crisis and needs state and federal help. That warning came as county supervisors voted Tuesday to end a local state of emergency enacted in early January, when hospitals were overburdened by the "tripledemic" and the closure of a hospital in neighboring Madera County. The Fresno Bee
California and 11 other states are recalling certain eye drop brands that could be contaminated with a rare but harmful bacteria. That germ, pseudomonas aeruginosa, has made its way to the U.S. for the first time. The Sacramento Bee
CALIFORNIA CULTURE
Lake Elsinore has a message for anyone hoping to visit this year's expected poppy superbloom: You don't belong among the wildflowers. The city closed a popular hiking trail this week and said the nearby freeway offramp would also be blocked off. Officials cited safety concerns and the 2019 superbloom that drew tens of thousands, snarling traffic and damaging wild space. Los Angeles Times
Free online games
Get our free daily crossword puzzle, sudoku, word search and arcade games in our new game center at latimes.com/games.
AND FINALLY
Today's landmark love comes from Alicia Springer of Chico: Bald Rock Dome in Plumas National Forest.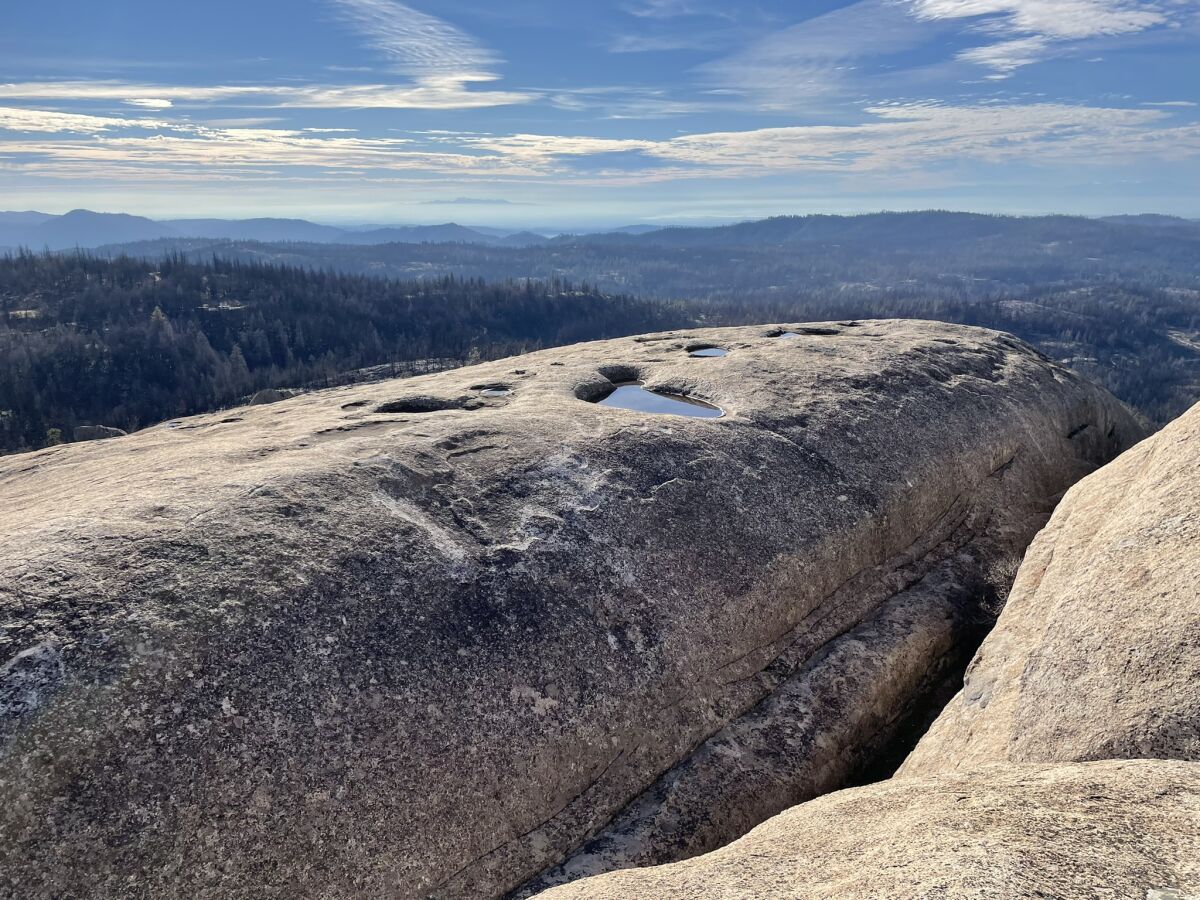 Alicia writes:
Bald Rock Dome is a massive granite batholith in the northern Sierra, sculpted by wind and water into striking formations and curves and planes. In the winter, little streams riffle along carved ledges, and in the spring wildflowers follow the silt along the cracks. At an elevation of 3,500 feet, a hiker can see across the Sacramento Valley to the Coast Range. It's poignant to hike up there because the bare granite dome is surrounded by the burn scar of the 2021 Bear fire that destroyed the community of Berry Creek — but it's still gorgeous.
What are California's essential landmarks? Fill out this form to send us your photos of a special spot in California — natural or human-made. Tell us why it's interesting and what makes it a symbol of life in the Golden State. Please be sure to include only photos taken directly by you. Your submission could be featured in a future edition of the newsletter.
Please let us know what we can do to make this newsletter more useful to you. Send comments to essentialcalifornia@latimes.com.
The stories shaping California
Get up to speed with our Essential California newsletter, sent six days a week.
You may occasionally receive promotional content from the Los Angeles Times.