As police across California eye advanced robots, watchdogs fear a slippery slope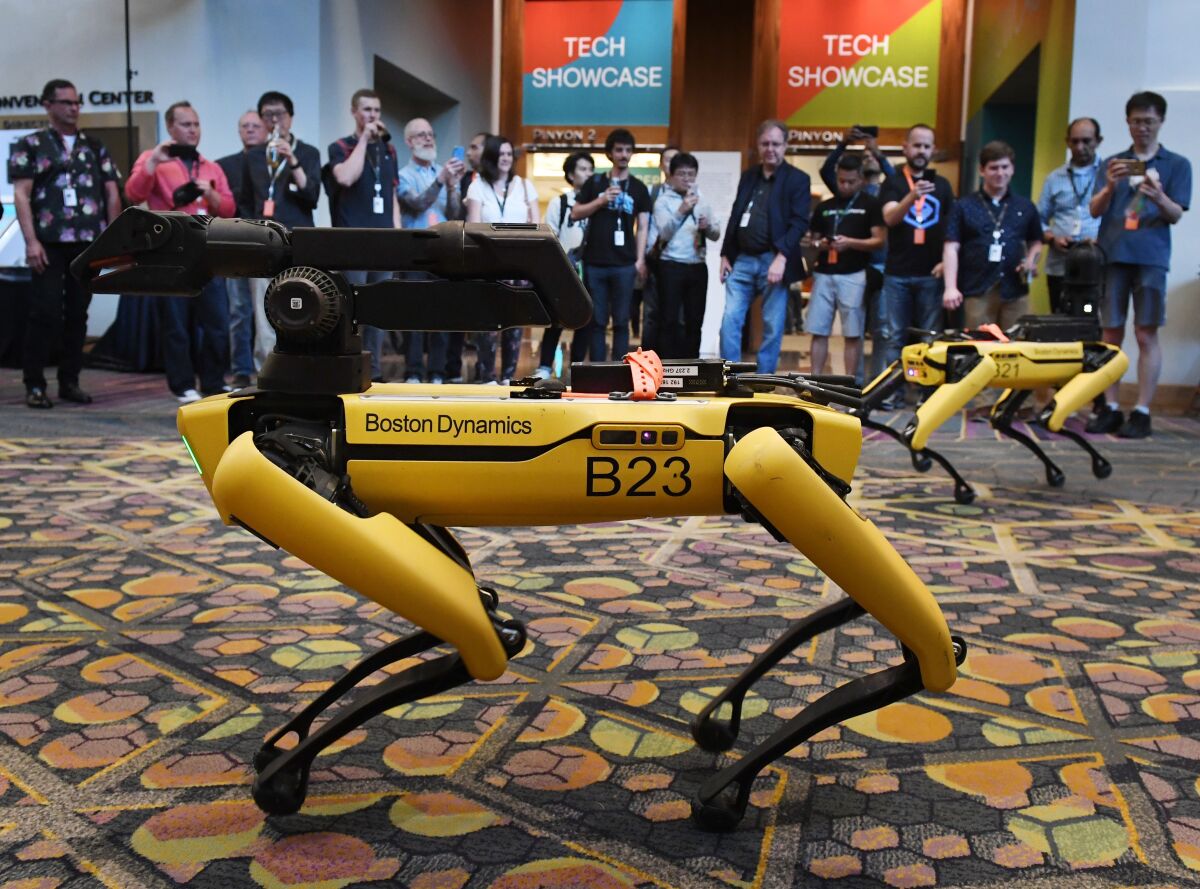 Good morning, and welcome to the Essential California newsletter. It's Wednesday, March 8.
The robot age is upon us. They're already building our cars, flipping our burgers, cleaning our floors, patrolling our parking lots and delivering our junk food. And for law enforcement agencies in California and beyond, robots are joining the force.
Robots have made for some funny news stories and are ripe for satire, but police watchdogs and community advocates are raising concerns about how the tech could be abused by police.
Those concerns were on display Tuesday in Los Angeles, as city leaders weighed whether to accept the donation of a so-called robot dog. During a public comment period, dozens of people spoke out against the LAPD's plan.
The robot, nicknamed Spot, is built by Boston Dynamics and would come as a gift from the Los Angeles Police Foundation (to the tune of roughly $280,000).
Spot's ability to open doors, climb stairs and adapt to difficult terrain represents a considerable step up from the robots currently used by the LAPD. Under department policy, the robo-dog would be used only for incidents involving the LAPD's SWAT team, such as cases with active shooters or explosive devices.
But as my colleague Libor Jany reports, police critics are skeptical of the device — and how the department will use it over time. He writes:
As with other police technologies, they worry about its potential for misuse to harm and spy on Black and brown communities.
There's also concern about the robots being allowed to use force — both lethal and nonlethal — on humans. Similar law enforcement efforts in other California cities have been met with swift community backlash.
City leaders in San Francisco initially approved a plan that would allow the police department to deploy lethally armed robots but walked back that decision amid protests.
Last year, Oakland police discussed putting shotguns on robots but later said they were no longer exploring the idea.
LAPD officials told City Council members Tuesday that the robot would not be equipped with weapon systems or facial recognition software.
But many police critics and social justice advocates don't trust those assurances, warning of a slippery slope that could lead to robots spying on Angelenos, particularly Black and brown residents.
"There's a long history of mission creep with the LAPD that we have seen, and everything we have called out has then suddenly been transformed into a much wider expansion of its deployment," Hamid Khan, a member of the Stop LAPD Spying Coalition, told Libor.
After more than an hour of public comment, City Council members decided to postpone a vote. A decision won't be made for at least 60 days. While the robo-dog donation was approved by the council's Public Safety Committee, some L.A. leaders have spoken out against it.
"We can't allow this dystopian machine in LA," Councilmember Hugo Soto-Martinez tweeted earlier this year ahead of that committee vote, noting a similar effort by New York City police in 2021 that was reversed due to public outcry.
Newer robots are already part of police arsenals across California, including in San Jose, Huntington Park and Santa Maria. That includes tactical bots deployed by SWAT teams and others that function more like roving security cameras, patrolling parks and other public spaces.
One such robot in Huntington Park, literally named RoboCop, was marketed by police as "an extra set of eyes ready to report disruptive activity [and] deter crime." But as NBC News reported in 2019, the machine failed to recognize an actual request for help when a fight broke out at a local park. The robot has its own social media accounts, but those have not been active since mid-2019.
And now, here's what's happening across California.
Note: Some of the sites we link to may limit the number of stories you can access without subscribing.
L.A. STORIES
Times contributor Mark Gozonsky is on a quest to play tennis at every court in Los Angeles. He served up this guide to the best local courts for making new friends. Los Angeles Times
Have you noticed that a growing number of cars in L.A. are going for what you might consider flat, neutral earth tones? My colleague Daniel Miller noticed it too and explored the trend. Some say the paint jobs represent "harmony with nature," Daniel reports, while critics "see in them the expression of drivers' contradictory desires — to stand out while also conforming." Los Angeles Times
Check out "The Times" podcast for essential news and more
These days, waking up to current events can be, well, daunting. If you're seeking a more balanced news diet, "The Times" podcast is for you. Gustavo Arellano, along with a diverse set of reporters from the award-winning L.A. Times newsroom, delivers the most interesting stories from the Los Angeles Times every Monday, Wednesday and Friday. Listen and subscribe wherever you get your podcasts.
POLITICS AND GOVERNMENT
The state of this year's State of the State speech is "not happening." Gov. Gavin Newsom has decided to skip the traditional address to the state Legislature, opting instead to send a letter to lawmakers to meet a constitutional requirement. Newsom has dyslexia and has had trouble reading from teleprompters in scripted speeches. The governor is also slated to take a four-day tour of the state to outline his priorities. Associated Press
Southern California's natural gas utilities want to raise rates to the tune of nearly $5 billion of added revenue through 2027. That's got many of Southern California Gas Co. and San Diego Gas & Electric's ratepayers heated — figuratively — after costs soared this winter. Los Angeles Times
CRIME, COURTS AND POLICING
One man has filed more than 2,000 disability lawsuits in California over roughly 10 years. As questions about the plaintiff's motivations swirl, one particular case could set a precedent for similar litigation in the state, which leads the nation in federal lawsuits over access for people with disabilities. CalMatters
A jury has awarded one of L.A. County District Attorney George Gascón's prosecutors $1.5 million in a retaliation case after she claimed she was reassigned for pushing back against her boss' policies. The court loss is a grim omen for Gascón, given that he faces more than a dozen similar civil claims. Los Angeles Times
HEALTH AND THE ENVIRONMENT
A Black Angeleno was talked into undergoing a surgery she didn't need, according to a lawsuit recently made public when it went to trial. A doctor at Harbor-UCLA Medical Center sued L.A. County for retaliation after blowing the whistle on experimental surgeries that some of his peers performed while they were being paid by the companies that made the devices they implanted in patients. Los Angeles Times
Another round of storms is on tap, with forecasters tracking an atmospheric river system that's expected to move through Northern and Central California beginning Thursday. The warmer system brings risks of flooding as rain accelerates snow melt at low elevations. Southern California will likely also see rain Friday, with potential for flooding. Los Angeles Times
CALIFORNIA CULTURE
A remote beach town in Baja California, Mexico, has ideal winds for kitesurfing, which has attracted a growing number of Californians and others with flexible remote jobs. But some locals are bracing for the effects of gentrification. Los Angeles Times
Free online games
Get our free daily crossword puzzle, sudoku, word search and arcade games in our new game center at latimes.com/games.
AND FINALLY
Today's California landmark is from Chris Ungar of Los Osos: the scenic Point Buchon trail in Montana De Oro State Park.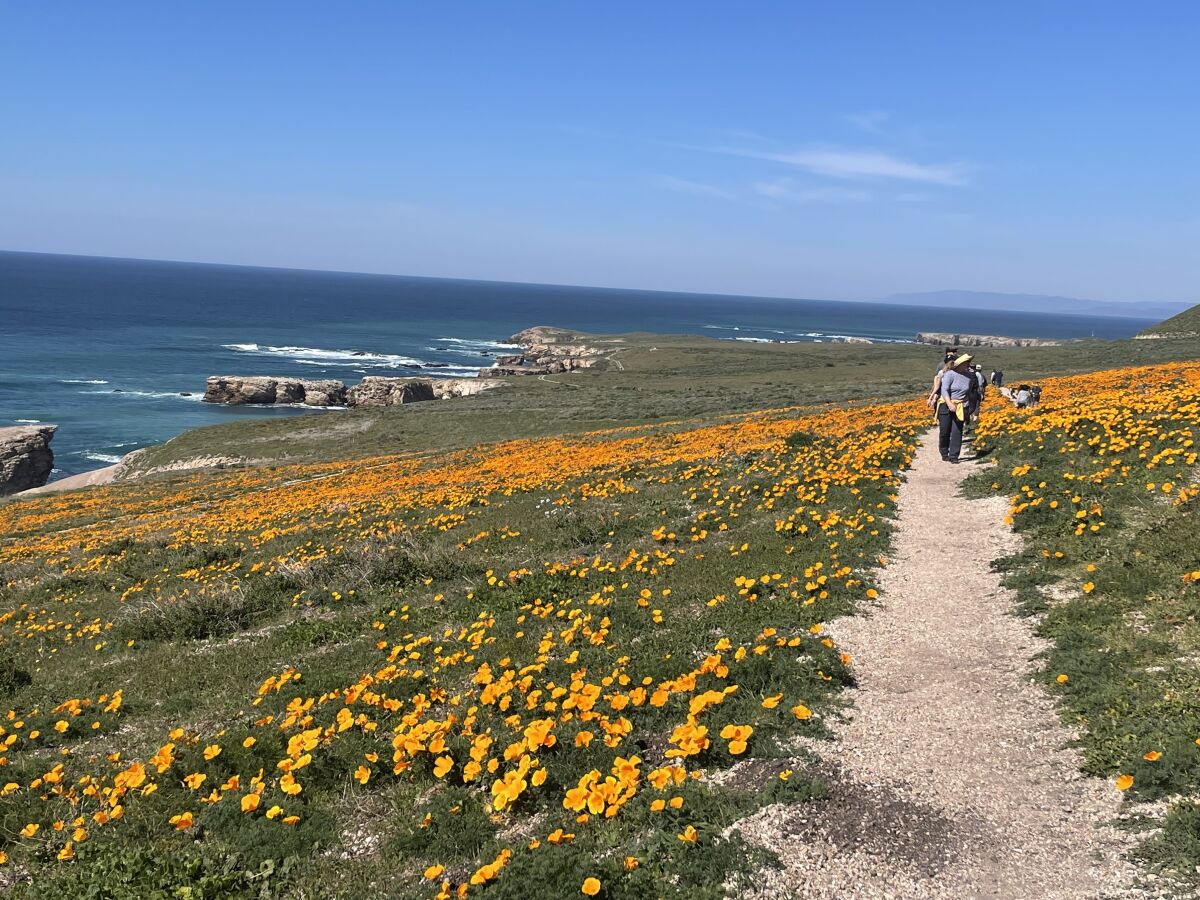 Chris writes:
[The] trail starts at the south end of Montana De Oro State Park and follows the coast south on PG&E land toward the Diablo Canyon power plant. The hike passes Point Buchon, Disney Point (where "Pete's Dragon" was filmed) and Windy Point — which has an almost science-fiction view of the nuclear facility. Right now, the hills are aflame with poppies, otters frolic off shore, migrating whales spout, and the azure Pacific crashes on the shore.
What are California's essential landmarks? Fill out this form to send us your photos of a special spot in California — natural or human-made. Tell us why it's interesting and what makes it a symbol of life in the Golden State. Please be sure to include only photos taken directly by you. Your submission could be featured in a future edition of the newsletter.
Please let us know what we can do to make this newsletter more useful to you. Send comments to essentialcalifornia@latimes.com.

The stories shaping California
Get up to speed with our Essential California newsletter, sent six days a week.
You may occasionally receive promotional content from the Los Angeles Times.