California students sued because they were such poor readers. They just won $53 million to help them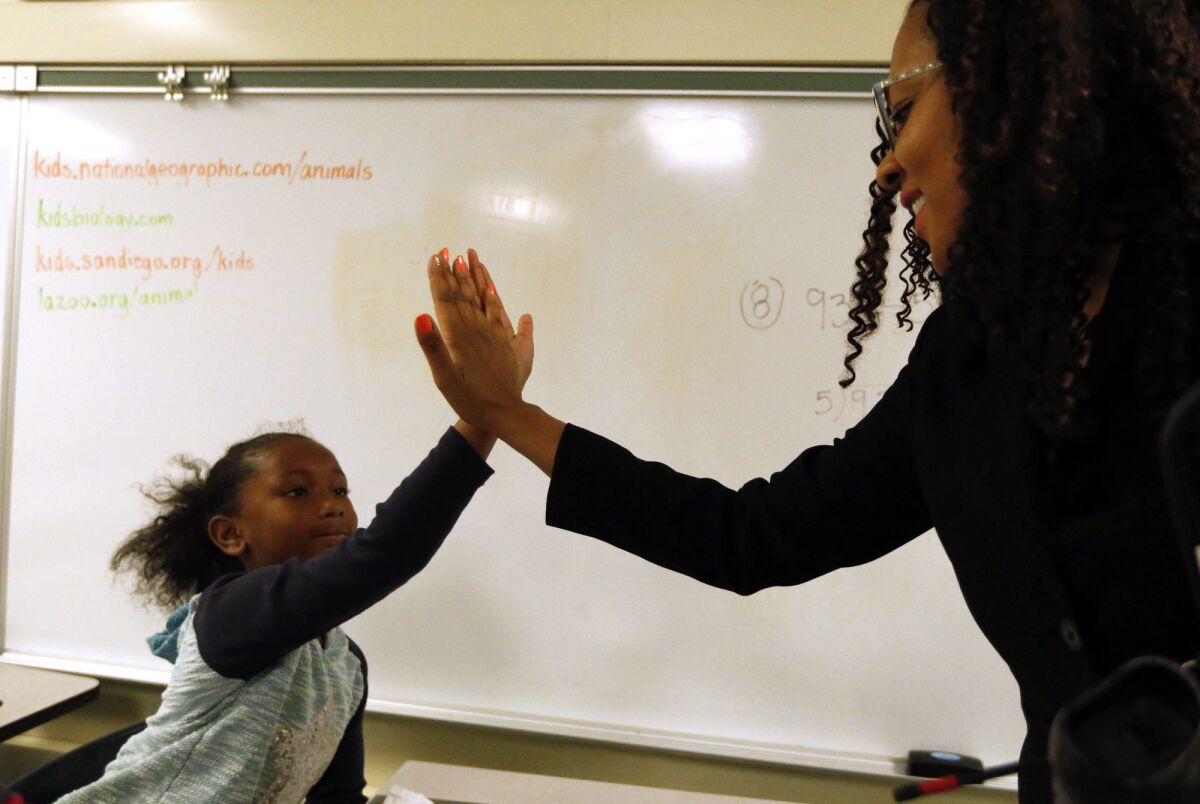 Two years ago, a group of students and their teachers sued the state of California for doing a poor job teaching kids how to read — 53% of California third-graders did not meet state test standards that year, and scores have increased only incrementally since. On Thursday they won $53 million so that the state's lowest-performing schools have the resources to do better.
Under the settlement with the state, most of the funding will be awarded over three years to 75 public elementary schools, including charters, with the poorest third-grade reading scores in California over the last two years. The agreement comes after the novel lawsuit contended that the students' low literacy levels violated California's constitutional mandate to provide all children with equal access to an education, said attorney Mark Rosenbaum at the pro bono law firm Public Counsel.
"We shouldn't have to be filing lawsuits to establish a right to read," Rosenbaum said.
The plaintiffs included current or former students and educators at La Salle Avenue Elementary School in Los Angeles; Van Buren Elementary School in Stockton; and the charter school Children of Promise Preparatory Academy in Inglewood. La Salle and Van Buren will be among the schools that receive funding, Rosenbaum said, but not all the recipient schools have been named.
"We know that literacy is the foundation for all learning, and it's an essential part of participating in democracy. People who can't read and write are often uninformed, are more easily manipulated and less likely to vote," said Pedro Noguera, a professor of education at UCLA. This settlement is "just a step, and I think we shouldn't exaggerate how big a step."
A Times analysis of the 75 lowest-performing schools on the state's English language arts test, based on California's Common Core standards, illustrates the depth of the reading problem. Seven out of 10 third-graders in these schools did not meet the standards, according to state data from 2018 and 2019. The schools have about double the English learners of other elementary schools, and more than 90% of students at those schools qualify for free or reduced-price lunch — a poverty indicator.
The schools with the lowest test scores also tend to enroll higher percentages of homeless students and foster students, Noguera said.
The settlement money to improve learning will exclude hundreds of elementary schools whose students are also struggling to meet reading standards.
In more than 500 of the state's approximately 6,000 elementary schools, the majority of third-grade students scored Level 1 — the lowest — in English tests, according to the Times analysis. About 80% of the schools' population are black and Latino, higher than the state average of 60%.
The scenario is also troubling in the fourth grade, with California students lagging behind the national averages in reading on the 2019 National Assessment of Education Progress, a standardized test taken across the country.
Rosenbaum, who filed the suit along with the law firm Morrison & Foerster, said he hopes the state will expand the targeted funding to more schools without more litigation. But settling for 75 schools now means that students will get help sooner.
The heart of their argument — rooted in the state's constitutional mandate for an equal education for all students — is one that public interest lawyers have successfully used before, though not for reading specifically. In 2004, the American Civil Liberties Union settled for about $1 billion a lawsuit that accused the state of denying poor children adequate textbooks, trained teachers and safe classrooms.
Suing the state is more effective than suing individual districts, Rosenbaum said, because "the relief can be applied to every child in California."
"This is a way to get a lot more far-reaching reforms and I think it's good to remind everybody about the state's obligations to provide that education for all students," said Victor Leung, an attorney with the ACLU of Southern California who specializes in education issues.
Literacy experts including Nell Duke, a University of Michigan education professor, analyzed school records, depositions and assessment results at the schools named in the lawsuit to determine how well they taught reading. They found problems with classroom instruction, discipline and the lack of adequate intervention for struggling students — all of which probably contributed to the low literacy rates, Duke said.
She believes that California will be a model for other states.
"I wouldn't be surprised if other suits in other states follow and I wouldn't be surprised if some states and jurisdictions take this as a cautionary tale" and start directing more aid toward helping their neediest students learn to read, Duke said
"The settlement is a step in the right direction, but only a small step," L.A. schools Supt. Austin Beutner said in a statement. California schools lag behind most states in per-pupil funding and need more to adequately educate students, he said. "There is talent in every seat in every classroom in every one of the 1,386 schools in Los Angeles Unified. But there is not always opportunity."
To receive their grant, each school will design a California Department of Education-approved plan that analyzes why its reading rates are so low and identifies how it will measure progress and spend the money, which can be used for a range of services, including literacy coaches, social-emotional learning, bilingual reading specialists, and training teachers on methods to improve school discipline that can disrupt education. The funding is meant for students in grades K-3, and is contingent on the state Legislature's approval of the governor's block grant. If denied, the case goes back to court.
"California is committed to closing opportunity gaps by directing extra support and resources to school districts and schools that serve students who need extra help," Gov. Gavin Newsom's spokeswoman Vicky Waters said in an email statement. In addition to Newsom's budget proposal to spend $600 million on grants and services for low-performing, high-poverty schools, the literacy settlement "focuses on strengthening early literacy programs, which are critical to a child's later success in school," she said.
The settlement includes up to $50 million in grants for the elementary schools, plus $3 million to support the schools' plans, including a literacy expert to guide them from the California Collaborative for Educational Excellence, a state agency that assists schools and districts in capacity-building.
Such support is important, Noguera said, especially at schools that are already struggling.
"You don't want to just pour money into failing schools that don't have capacity to use it," Noguera said.
Results will vary at schools. Some may see fast growth in state standardized test results, Noguera said, although that kind of improvement typically takes time, he said.
One of the plaintiffs, retired La Salle teacher David Moch, said he is most heartened that the settlement requires schools to garner parent and community feedback on the plans, as well as provisions that allow the funding to be used for creating safer and more welcoming learning environments for children who have experienced trauma. He would look not just at test results to measure improvement, but at parent involvement in the schools, and whether suspensions and referrals to school administrators decrease.
Moch taught for 20 years in South L.A.'s Vermont corridor, an area of high crime rates in the city.
"We had to always teach with the recognition that we have to understand and make accommodations for whatever it is they went through that night or that evening or that morning," Moch said. But when had enough supports in his classroom — 10 students in a specialized literacy program and computers and money for culturally relevant resources—the students thrived.
The stories shaping California
Get up to speed with our Essential California newsletter, sent six days a week.
You may occasionally receive promotional content from the Los Angeles Times.