The boxer stands at the bottom of a staircase leading to the ring.
It's shortly before 9 p.m. and "Welcome to the Jungle" by Guns N' Roses is blasting inside the Novo theater in downtown Los Angeles.
Los Angeles Police Officer Deirdre Fonseca, also known as "Sugar Dre," is the co-headliner in the last match of the night. Her 5-foot, 2-inch frame bounces from one foot to the other as she beats her bright blue gloves together.
Fonseca squares up against Destiny Moreno, a Los Angeles County sheriff's deputy.
Punches fly over three two-minute rounds. Moreno keeps attacking amid cheers and boos from the crowd. But Fonseca is focused.
It's a quality she exhibits both in and outside the ring. At 32, after a stint working gangs, she was recently promoted to the department's expanded Community Safety Partnership program in the San Fernando Gardens public housing project. Fonseca will use her policing skills to help build trust in a community with a historically fractured relationship with the Los Angeles Police Department.
A single mother raising two young daughters, Fonseca made history as the first woman to headline a match for the 150-year-old LAPD boxing team. Her social media fans — she has more than 17,500 Instagram followers — message her about working for the LAPD, boxing and how to balance family and career.
In a department that is still more than 80% male, Fonseca has become a symbol of what women in law enforcement can aspire to.
"She's a leader by just being herself and not being afraid of being among men and doing things that traditionally only men do," said Cmdr. Ruby Flores, a board member of the Los Angeles Women Police Officers and Associates organization, which recently honored Fonseca with a Trailblazer award.
Until January, Fonseca worked in the Foothill Division's gang unit, the only woman on a 23-member team. That job was high-risk, demanding and tough on family life. Schedules were unpredictable; shifts could extend past 12 hours. In addition to field duties, gang cops also have to appear in court to testify as experts.
On a recent morning, Fonseca bounced between corners inside the ring at a boxing gym in San Fernando, jabbing at a woman in a yellow T-shirt.
She'd slept only two hours after working until 6 a.m., going home, getting her daughters, ages 7 and 8, ready for school, taking a quick nap, then coming to the gym.
Beads of sweat dripped down her temple.
She knows she keeps a busy routine, but she boxes to relieve the stress of working the streets and being a single mom.
"I work and I come home and I sleep and I do it all over again," she said.
Jessica Ortiz, a detention officer assigned to the LAPD's jail division, said that she draws motivation from Fonseca, especially on the days when she doesn't feel like going to the gym.
"She's like the Energizer bunny," Ortiz, who is also on the boxing team, said. "She does not stop."
Born and raised in Echo Park before the streets were lined with trendy boutiques and restaurants, Fonseca grew up watching boxers like Oscar De La Hoya, Mike Tyson and Julio Cesar Chavez. Her grandfather, father and half-brother all boxed as amateurs, and her father picked up a handful of professional matches.
Fonseca was used to the attention paid to her half-brother, who'd spend hours in the gym training.
"Nobody really cared about girls fighting," she said. "If you were a girl at a boxing gym you were like, background. No one's really focusing on you."
Deirdre Fonseca trains with fellow LAPD Officer John Negrete at City of Angels Boxing gym last summer.
(Gary Coronado / Los Angeles Times)
Deirdre Fonseca, left, trains as her two daughters eat ice cream.
(Gary Coronado / Los Angeles Times)
Deirdre Fonseca is joined by her daughters, ages 7 and 8, while training.
(Gary Coronado / Los Angeles Times)
Once a civilian dispatcher, Deirdre Fonseca became an LAPD officer, later working a gang-enforcement detail at the Foothill Division.
(Gary Coronado / Los Angeles Times)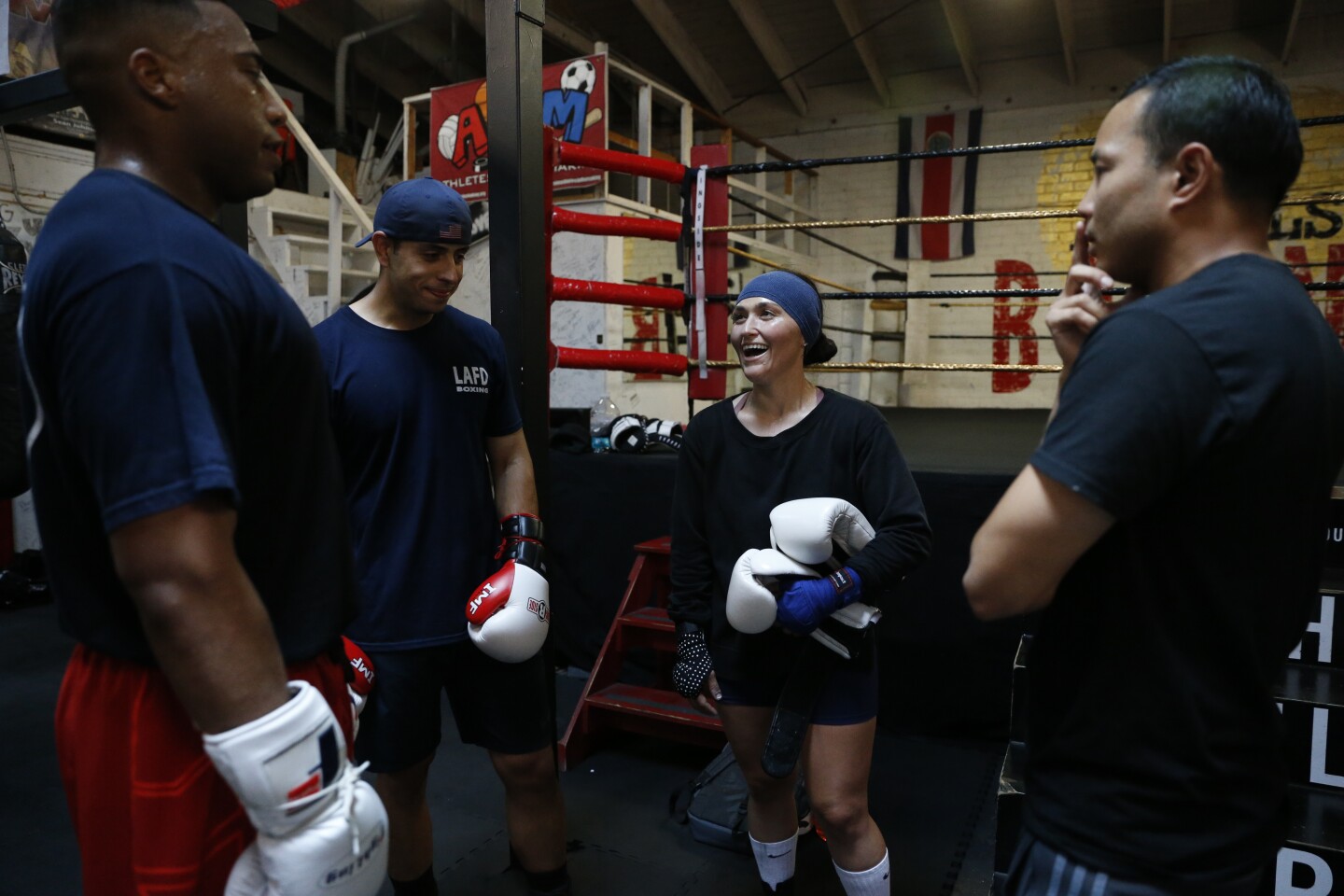 Deirdre Fonseca, center, talks with fellow LAPD officers during a training session at the City of Angels Boxing gym in Los Angeles.
(Gary Coronado / Los Angeles Times)
Making cookies with daughters Violet and Demi at their home in Sunland.
(Gary Coronado / Los Angeles Times)
Deirdre Fonseca with daughters Violet and Demi.
(Gary Coronado / Los Angeles Times)
Deirdre Fonseca and Claire Hankinson, a British police officer, square off after weighing in for their match in Los Angeles.
(Gary Coronado / Los Angeles Times)
Deirdre Fonseca stretches before her match against Claire Hankinson in Montebello in July.
(Gary Coronado / Los Angeles Times)
Deirdre Fonseca gets ready for a match against L.A. County Sheriff's Deputy Destiny Moreno.
(Gary Coronado / Los Angeles Times)
Deirdre Fonseca, right, and Destiny Moreno trade punches at their Nov. 17 match.
(Gary Coronado / Los Angeles Times)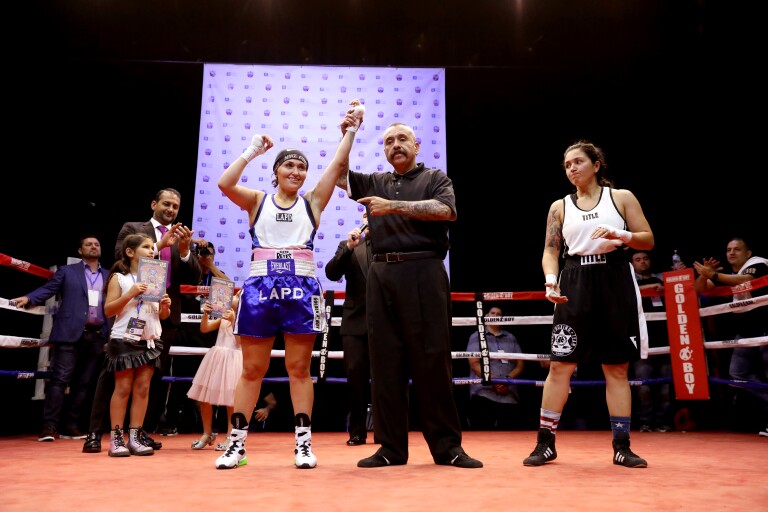 Deirdre Fonseca, left, is declared the winner by unanimous decision over Destiny Moreno.
(Gary Coronado / Los Angeles Times)
Deirdre Fonseca greets fans after her victory.
(Gary Coronado / Los Angeles Times)
Back-to-back pregnancies left Fonseca with extra weight, and she became serious about training for an amateur match. Her first fight, in Central California, was in 2014.
She lost, but "it felt like a win, regardless." She dropped about 60 pounds for the fight.
At the same time, Fonseca was working as a civilian dispatcher for the department. She was exhilarated by the female officers she heard on the radio calls. She wanted in on the action.
Once her youngest daughter conquered potty training, Fonseca signed up for the academy. Some relatives were hesitant. What about her two girls? What if something happened to her?
She felt like she could be a mom and a cop. While she was in the academy she had a competitive advantage: She already knew the police radio codes from working dispatch.
Her first assignment was patrol in the Northeast Division, the streets she grew up on. She rarely had to use GPS when she went out on a call. But she also knew what it was like to grow up where gangs terrorize the streets.
Column One
A showcase for compelling storytelling from the Los Angeles Times
"Firsthand, I've seen how they intimidate the community," Fonseca said. At times, she'd see gangs demand protection money from the food vendors in her Echo Park neighborhood. "Stuff like that would really bother me."
When Fonseca was 19, a group of friends went to a house party in Van Nuys. One of her group, Daniel Santos, who played basketball and soccer, was fatally shot as he was leaving.
The crime became Fonseca's evidence that bad things happen to good people.
"He totally was at the wrong place at the wrong time," Fonseca said.
Those experiences shaped her approach to policing. As a gang officer, she was in direct contact with accused gang members and those who are too afraid to report crime to police.
In the field, Fonseca found a way to establish a rapport with her colleagues and civilians, as well as the hardened men and women suspected of committing crimes.
On a recent evening when she was still on gang patrol, another officer spotted a car that matched that of a suspect believed to be responsible for dozens of burglaries in Sun Valley.
After leading multiple patrol cars on a short pursuit, the suspect stopped at a dead-end street. Officers handcuffed the man and began searching his vehicle.
Fonseca arrived and thumbed through his wallet, which was on the hood of another police cruiser. With his hands cuffed behind his back, he looked down at the ground.
She took inventory of his tattoos, pulling up the hem of his T-shirt.
"You been arrested before?"
"Ummm-hmmm."
Fonseca kept chatting.
"You got kids?" she asked.
"Yup."
"How many?"
The man's face brightened.
"Five girls."
Three of the man's girls were born back-to-back, and Fonseca said she sympathized, as her daughters were born a year apart. He spoke to her about one of his daughters, who was attending college on the East Coast.
As the conversation ended, he told Fonseca she was the "nicest cop" he'd been around.
The exchange highlighted her skills as an empathetic ear and in getting others to open up, a valuable asset for learning the inner workings of gangs and their activities, said her former supervisor, Sgt. Brandon Kiefer.
"They will run their mouth and say anything," he said.
Fonseca said her friendly demeanor comes from her grandmother, who taught her to treat everyone with respect, to greet people on the streets, to "Siempre saludar a la gente."

"In life, you should always just be humble," she said. "You can think you're having a good round, but any second the tables can flip. It's about pushing forward and pushing through it."
At the Novo, 12 matches had preceded Fonseca versus Moreno.
Fonseca's gloves finally corner Moreno into the side guards. The crowd roars.
At the end of the fight the women hug and face the audience as judges debate the match.
"Los Angeles, what a way to end the night. Toe to toe the entire way," the announcer says.
The decision is unanimous. Dre Fonseca takes the win.
As the crowd begins to disperse, Fonseca steps outside the ring. Men and women of all ages call her name. She poses for pictures with everyone who ask until she's one of the last left.
The next night, Fonseca was back on patrol.
---
The stories shaping California
Get up to speed with our Essential California newsletter, sent six days a week.
You may occasionally receive promotional content from the Los Angeles Times.