Body of actress Naya Rivera found in Lake Piru, officials say
A body found in Lake Piru is that of actress Naya Rivera, who disappeared five days ago during a boat outing with her young son, authorities said Monday.
"Based on the location where the body was found, the physical characteristics of the body, the clothing found on the body and the physical condition of the body, as well as the absence of any other persons reported missing in the area, we are confident the body we found is that of Naya Rivera," Ventura County Sheriff Bill Ayub said at an afternoon news conference.
Detectives have found no indication of foul play, or that Rivera's death was a suicide, he said.
The body was being taken to the Ventura County medical examiner's office, where an autopsy will be performed and a positive identification will officially be made using dental records, officials said.
Cast members from the TV show "Glee" and friends of Naya Rivera gathered Monday morning at Lake Piru. The 33-year-old actress rented a pontoon boat Wednesday and had been swimming with her 4-year-old son, who was the last one to see her before she went missing.
(Al Seib / Los Angeles Times)
A Ventura County Sheriff's Search and Rescue dive team located a body Monday morning in Lake Piru in the search for 33-year-old "Glee" actress Naya Rivera.
(Al Seib / Los Angeles Times)
Cast members from the TV show "Glee" and friends held hands and shouted "Say her name: Naya" as they gathered Monday at the Lake Piru boat launch.
(Al Seib / Los Angeles Times)
A pontoon boat rented by actress Naya Rivera is cordoned off with police tape Thursday at the marina at Lake Piru.
(Brian van der Brug / Los Angeles Times)
Searchers in a Ventura County helicopter scanned the shoreline Thursday for missing actress Naya Rivera.
(Brian van der Brug / Los Angeles Times)
The Ventura County Sheriff's Search and Rescue dive team returned to the marina Monday morning after locating a body believed to be Naya Rivera.
(Al Seib / Los Angeles Times)
Boats return with rescuers on Lake Piru as it is learned that a Ventura County Sheriff's dive team located a body.
(Al Seib / Los Angeles Times)
Friends and co-workers of Naya Rivera gathered at the lake Monday.
(Al Seib / Los Angeles Times)
Search teams found the body at about 9:10 a.m. floating in the northeastern portion of the lake, Capt. Eric Buschow of the Ventura County Sheriff's Department said earlier in the day.
The area was searched extensively by dive crews and with sonar equipment over the last several days, he said.
"That particular area, when it was searched by divers, they were literally crawling on hands and knees at the bottom of the lake attached by ropes so they could make their way back out because visibility is so poor," Buschow said. "That gives you kind of an idea of what the conditions were like."
The body probably was submerged for days, concealed by the 15- to 20-foot-high trees and brush that grow on the bed of the lake, before surfacing Monday, he said.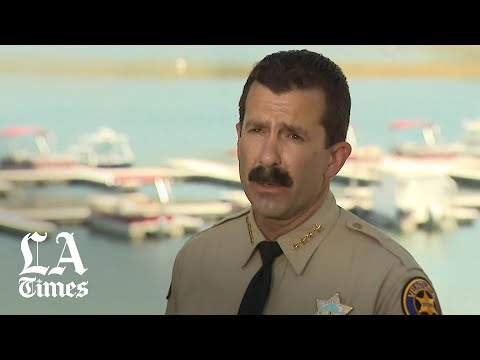 "The body looked as though it had been in the water for several days," Ayub confirmed.
Divers, helicopters, drone aircraft and cadaver dogs have been searching for Rivera since Wednesday afternoon. The 33-year-old actress, who gained fame for her role on "Glee," was reported missing after her 4-year-old son was found asleep in a rental boat adrift on the Ventura County lake by himself. A leasing agent had launched a search for the watercraft because it was overdue for return, officials said.
Authorities later learned that Rivera and her son were swimming together in the lake and that he was able to get back on the boat, but she had not.
"It was during that time that her son described being helped into the boat by Naya, who boosted him onto the deck from behind," Ayub said Monday. "He told investigators that he looked back and saw her disappear under the surface of the water."
Naya Rivera, the actress best known as Santana Lopez on Fox's hit musical TV series "Glee," was found dead Monday after going missing last week on Lake Piru.
The child was wrapped in a towel and wearing a life vest, but it appears Rivera was not, as an adult-sized life vest was found on the boat, authorities said.
It wasn't clear what happened, but officials offered a guess.
"There are a lot of currents on the lake that appear particularly in the afternoon. We believe it was mid-afternoon when she disappeared," Ayub said. "The idea perhaps being that the boat started drifting, it was unanchored. And that she mustered enough energy to get her son back onto the boat, but not enough to save herself."
Rivera had rented the pontoon boat and headed to the northern portion of the lake with her son at about 1 p.m., officials said.
At points during their journey, she exchanged FaceTime video calls with family members, Ayub said. Investigators were able to focus their search on areas the pair had visited by looking at the shoreline in the background of those videos, as well as speaking with the occupants of three other watercraft that were out on the lake that day, he said.
The search operation was significantly scaled back Monday compared with the search that had been previously conducted. Roughly 20 personnel, down from more than 40 in previous days, were patrolling the northern section of the lake as divers continued to search the water.
Over the weekend, crews wrapped up their efforts at using sonar to scan the bottom of the lake, where visibility in the best of conditions is only about two feet, Buschow said. After days of extensive searching, however, they had been unable to locate Rivera's body until Monday.
Rivera's family members were notified of the discovery before news was made public, officials said.
"As you can imagine, it's been an extremely difficult time for her family throughout this whole ordeal," Ayub said. "As fathers, mothers, sons and daughters, our hearts are with them and we share their grief."
Sign up for Essential California for news, features and recommendations from the L.A. Times and beyond in your inbox six days a week.
You may occasionally receive promotional content from the Los Angeles Times.