Transgender woman 'brutally stabbed' in targeted attack at MacArthur Park, police say
A transgender woman was targeted and "brutally stabbed" in MacArthur Park in Los Angeles' Westlake neighborhood on Sunday night after being surrounded by a group of men who suggested hatred for "gays," according to the LAPD.
The 42-year-old woman, whom police did not name, was seated on a park bench about 9:30 p.m. when she was surrounded by four to five men, one of whom said "something to the effect of, 'We don't want gays in the park,'" officials said.
The woman, identified by friends as Daniela Hernandez, was then stabbed and her throat was cut before the group fled, according to police and a statement by the TransLatina Coalition, where Hernandez volunteered.
Though gender identity and sexual orientation are completely different, LGBTQ rights activists say people who show hatred for one or the other often conflate the two.
"We don't know exactly why, but we know it was simply because she's trans," said Bamby Salcedo, president and chief executive of the TransLatina Coalition.
Dozens of people attended a #Justice4Daniela demonstration Monday evening at the park, including James Wen, who serves on the Los Angeles Transgender Advisory Council.
"I'm extraordinarily grateful for our trans leaders who have the courage to rally community and speak up ... to stop the violence," Wen said. "We as a society must do better, and we can only do that when we come together and bring together alliances that are able to listen to each other and work [on] resolutions."
After a rally decrying the attack, demonstrators marched around MacArthur Park, claiming it as a "safe space." West Hollywood Mayor Lindsey Horvath, who also attended the gathering, said she was working on a campaign in her city to "call out the transphobia in our society."
"Declaring the park a safe space is one way to remind people that these spaces must be open to everyone," Horvath said. "If we are in fact concerned about public safety, we have to be concerned about everyone's safety."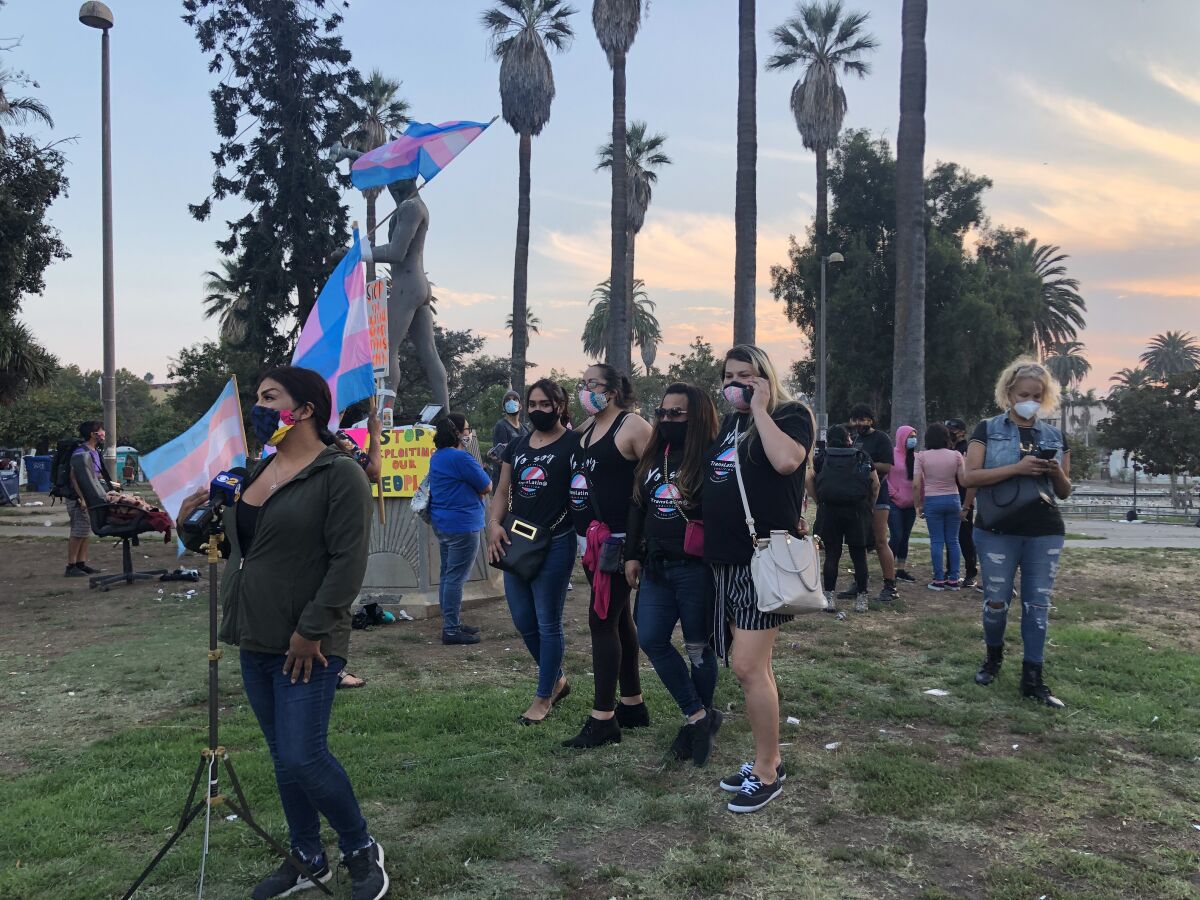 Hernandez is recovering following Sunday's attack, Salcedo said, but it disrupted positive momentum in her life. Hernandez had recently begun a new job as a housekeeper — her first official job since moving to the United States from El Salvador almost three years ago, according to Salcedo. She volunteered with the TransLatina Coalition, serving hot meals to people who drop by the Wilshire Boulevard office.
"She came to this country running away from the violence she was experiencing in El Salvador, only to come to the United States to almost get killed," Salcedo said.
At least 28 transgender people have been killed in the U.S. this year, according to an August statement from the National Center for Transgender Equality, surpassing the total for all of 2019. A report published Tuesday from the left-leaning think tank Center for American Progress said 62% of transgender Americans faced discrimination of some kind in the past year.
Mayela survived rape, kidnapping and assault to reach the U.S. After less than a year, the trans migrant died.
Three transgender women were beaten and robbed in Hollywood in August in an attack police called a hate crime. Two men have been charged in the assault.
"Too often, the only safe spaces for transgender and gender nonconforming people are in trans-led community spaces, and the act of going outside or to the park can come with huge risks," a statement from the TransLatina Coalition said. "This is why we fight for trans liberation, and liberation for transgender people can look as simple as walking outside without risk of harassment, discrimination or violence. It's the everyday acts, that the 'everyday' person does not think twice about, that many of us wish to achieve."
Violence against transgender people of color is especially pronounced. The NCTE's 2016 U.S. Transgender Survey reported that nearly one in 10 Latino respondents said they were physically attacked in the previous year because they were transgender. The numbers tick up for transgender women.
"It doesn't matter your social status," Salcedo said. "If you're visibly a trans woman, especially a trans woman of color ... then those are the layers that add to the violence that you may experience."
In six years, the Trans Lifeline has answered more than 65,000 calls from people seeking support and solace from across the globe.
LAPD Assistant Chief Robert Arcos mentioned the attack during a virtual meeting of the Police Commission on Tuesday morning.
Arcos said the woman was recovering in a local hospital as detectives followed "significant leads" they had gathered in the case.
Arcos said the department hopes to have additional information about the case soon.
The stabbing came after a violent week in L.A. that saw 50 people shot and 13 homicides, Arcos said.
---
The stories shaping California
Get up to speed with our Essential California newsletter, sent six days a week.
You may occasionally receive promotional content from the Los Angeles Times.