L.A. County could get 84,000 COVID-19 vaccine doses by next week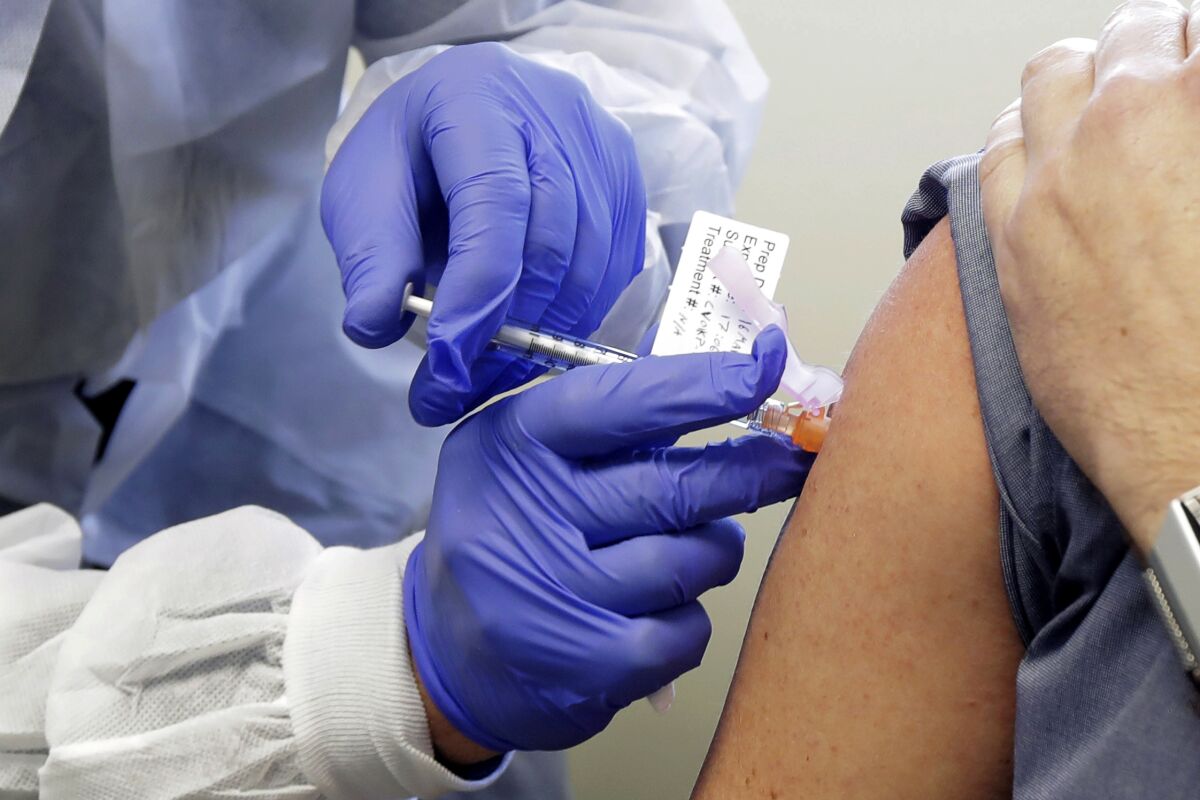 After nine months on a seesaw of lockdowns and reopenings, Los Angeles County will likely get its first allocation of COVID-19 vaccine as early as next week.
The plan will be to rapidly deploy the 84,000 doses to healthcare workers on the front lines of the pandemic.
Public Health Director Barbara Ferrer said at Tuesday's Board of Supervisors meeting that the county could get its second and third allocations of doses later this month, and then weekly allotments starting next year.
Because the supply initially will be limited, the Centers for Disease Control and Prevention's immunization advisory committee and the California Department of Public Health have separately developed guidance that the county will follow to determine who gets the vaccine first, Ferrer said. Along with healthcare workers at acute care hospitals, residents at long-term care facilities, including nursing homes, will likely start getting vaccinated this month.
"Ideally, that will happen through a turnkey process that the federal government has set up with contracts with CVS and with Walgreens to be the administrator for vaccinations at all long-term care facilities," Ferrer said.
If that partnership doesn't gel quickly enough, the county will set aside vaccine and use strike teams to vaccinate residents at long-term care facilities, Ferrer said.
Ferrer said, based off rough estimates, the county needs about 300,000 doses for healthcare workers and 175,000 doses for residents and employees at long-term care facilities to complete the first phase of vaccinations. Those vaccinated would then need a second dose, she said. The federal government has assured the county, Ferrer said, that it will receive those second doses quickly.
"Our hope would be by the end of January we would have received enough vaccine here in the county that we have completed" vaccinating those populations, Ferrer said, "but again the unknown is how quickly allocations will get out into our field."
Essential workers, including teachers, child-care providers, law enforcement officers and firefighters will be among the next to be vaccinated.
The county's Department of Public Health will look to the CDC's guidance in determining the definition of "essential worker," Ferrer said.
"Here is where the definition of essential worker is going to be very important, in terms of, is that going to include like the grocery store clerks, et cetera, who right now still have to go to work?" Ferrer said. "But, for sure, it includes teachers and, for sure, it includes first responders" and correctional facility workers.
Supervisor Sheila Kuehl said at Tuesday's meeting she was concerned about how inmates in county jails would get vaccines. Many inmates are people of color, and when they leave jail, often return to communities of color that have seen high rates of COVID-19 illness and death. Vaccinating them could help with slowing the spread of the virus, Kuehl said. Ferrer did not provide further details about how inmates would get vaccines, other than to say the current focus is on healthcare workers and long-term care residents.
County officials have previously said that healthy adults likely won't receive vaccines until late spring or summer of next year.
Also on Tuesday, health officials stressed that transmissions from Thanksgiving travel and gatherings are starting to show in the COVID-19 numbers, ensuring that L.A. County's daily case reports will remain high.
California reported 34,490 new coronavirus cases Monday, a figure much higher than any previous daily count, according to data compiled by The Times.
So large is the gap between Monday's reported cases and the previous single-day record — set Friday, when 22,369 cases were tallied — that the difference of the two numbers, 12,121, would have ranked among California's highest tabulations before the latest surge.
The numbers may foreshadow a time when daily infection counts equaling the size of a small city become the norm rather than the exception.
Over the last week, California has averaged 22,220 new coronavirus cases per day — a 78% increase from two weeks ago, according to The Times' county-by-county tally of infections.
Both health officials and the county supervisors stressed that it is more important than ever to stay home, wear a mask and practice social distancing.
"There is a little bit of hope with the vaccine right around the corner, but at the same time, we can see our cases skyrocketing, and our residents have never been more at risk of catching this virus," Supervisor Janice Hahn said.
---
The stories shaping California
Get up to speed with our Essential California newsletter, sent six days a week.
You may occasionally receive promotional content from the Los Angeles Times.