Historic movie lot that gave Studio City its name to get $1-billion makeover
Radford Studio Center, a storied movie lot in Studio City that has been home to generations of landmark television shows — including "Gunsmoke" and "Seinfeld" — is set to get a $1-billion upgrade to expand its facilities and bring them further into the digital age.
The owners of the lot formerly known as CBS Studio Center submitted plans to Los Angeles officials Friday to revamp and enlarge the aging studio and broadcasting complex, adding as much as 1 million square feet of new soundstages, production facilities and offices.
Founded by movie comedy legend Mack Sennett in 1928, the lot became known as "Hit City" in the decades after World War II as popular TV shows such as "Leave It to Beaver," "Gilligan's Island," "The Mary Tyler Moore Show," "The Bob Newhart Show" and "Will & Grace" were made there. Current shows include "Big Brother 24" and "Physical."
"It's got this mystique that if you come there you're going to make it," said studio President Mike Klausman, who has worked on the property since he started there as a CBS page in 1971.
The Radford complex was the very studio lot that gave rise to the name Studio City. It's had numerous incarnations, including decades as Republic Studios, home to such screen legends as Roy Rogers, John Wayne and Joan Crawford. Among Republic's popular movies were "The Quiet Man," "Sands of Iwo Jima" and "Johnny Guitar."
The current state of the 55-acre studio is less glamorous than its heritage would suggest, having evolved like an old city where new additions, often built on a tight budget, were layered over and around existing structures.
"There was never really a master plan," Klausman said. "You would never tear down anything, just add on. We had to work around what was there."
Bungalows for writers and stars — often quaint structures from Hollywood's Golden Age on other historic movie lots — are clusters of mobile homes delivered in the 1990s when times were lean, he said. The vast roofs of soundstages used to drain rainwater directly onto the asphalt roads below.
"You almost needed a boat to get from one studio to another," Klausman said. "It was like a river in that place."
The drainage issue has been fixed, and times are no longer lean as the rise of streaming has escalated demand for soundstages and other production facilities and prompted the development of new studios in the Los Angeles region. Radford and other studios are booked year-round.
The surge in video-on-demand streaming has provoked "an insatiable appetite" for media-oriented real estate such as studios and offices.
Though it is outwardly unassuming with its main entrance tucked around a corner from Ventura Boulevard on Radford Avenue, the Radford studio is among the most valuable in the world based on price. It sold in 2021 for $1.85 billion to Hackman Capital Partners, one of the largest providers of entertainment production facilities, and New York real estate investor Square Mile Capital Management.
"The history of hit shows that have been produced at Radford trace the trajectory of culture and entertainment in Los Angeles," said Zach Sokoloff, a senior vice president at Culver City-based Hackman, who plans to complete its makeover.
Its location in an upscale Los Angeles neighborhood near other illustrious movie studios beloved by filmmakers made Radford highly sought after when it hit the market nearly two years ago, said real estate broker Carl Muhlstein of JLL, who represented seller ViacomCBS in the deal. There were multiple bidders for the property, he said.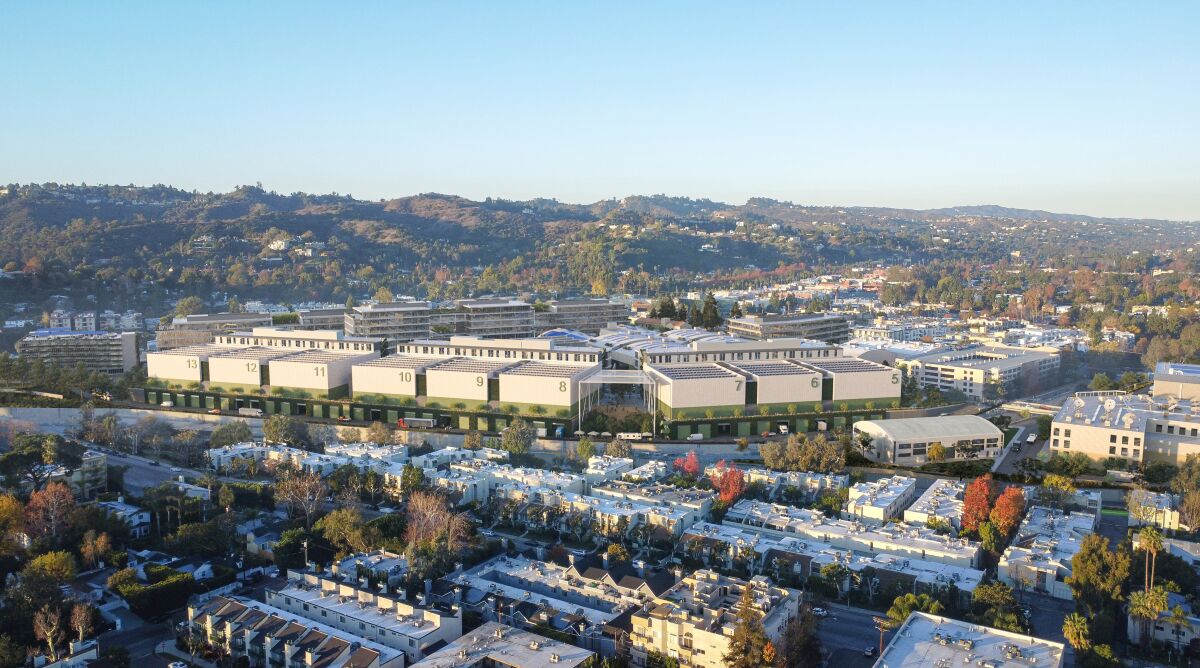 "Between Studio City and Burbank there are four iconic studio lots. Disney, Warner Bros. and Universal haven't changed hands for over 100 years," he said. "Here was an opportunity to buy something that only became surplus with the merger of CBS and Viacom" in 2019.
In addition to the real estate assets, ViacomCBS (which now goes by Paramount Global) turned over its lucrative studio operations business at the former CBS Studio Center, which includes stage rentals, facilities management and production support services on the Radford lot.
ViacomCBS sold another former CBS property, Television City in L.A.'s Fairfax district, to Hackman for $750 million in 2019. Paramount Global controls legendary Paramount Studios in Hollywood.
CBS' two L.A. television stations, KCBS-TV (Channel 2) and KCAL-TV (Channel 9), are housed at the CBS Broadcast Center on the Radford lot, and the local news operation will stay put as part of a long-term lease-back.
CBS, which acquired the property from Republic Pictures in the 1960s, will continue to occupy stages and produce content on the Radford lot. CBS-produced shows there now include "SEAL Team," "Entertainment Tonight," "The Neighborhood" and "The Talk," which is recorded before a live audience.
In its present form, Radford Studio Center offers tenants 18 traditional soundstages and four other stages. The site also has about 210,000 square feet of production office space and its own mill to provide carpentry services and special effects, a commissary and a carwash.
It has a backlot with a "Central Park" and a "New York Street" with 11 building fronts, including four brownstones. It also includes simulated residential neighborhoods with a hodgepodge of houses in different architectural styles, including a facade used as the Cleaver residence in the sitcom "Leave It to Beaver."
Hackman's proposal calls for creating a largely new studio with 2.2 million square feet of buildings, including up to 25 soundstages and 300,000 square feet of production support space such as wardrobe, storage and a mill. There would be 725,000 square feet of offices to support productions and an additional 700,000 square feet of offices available for rent to companies in the entertainment industry.
Historic structures, including the Mack Sennett Building and Stages 9 and 10, would be preserved.
To improve access, an entrance off Ventura Boulevard at Carpenter Avenue would be "resurrected," Sokoloff said. The studio once had an entrance there, but it closed several decades ago.
Also planned is a new bridge over Tujunga Wash at Moorpark Street that would make Radford Avenue a through street. Only vehicles going to the studio could cross the bridge, but it would be open to members of the public on foot or on bicycles. The Los Angeles River Greenway, a 51-mile bike and pedestrian path, is currently interrupted at Radford Studio Center and a new bridge would close that gap.
Hackman owns five studios in the L.A. region, along with facilities in New York, New Orleans, Ireland, Canada, London and Scotland.
The project to expand production at Television City comes as shortages keep the region's existing soundstages booked year-round.
The company plans $1.25 billion worth of improvements to Television City that will add soundstages, production support facilities and offices for rent.
Though the Los Angeles area has the largest number of soundstages of any city in the world, studios are operating near 100% capacity with waiting lists as long as five film productions deep for those spaces, financial advisor Deloitte said in a 2021 report.
"To meet the booming demand, supply would need to more than double in Los Angeles County" in the next few years, Deloitte said. Planned projects for more studio space fall far short of that.
The Radford Studio project would add more than 4,000 workers upon completion, doubling the number of people employed there now, according to a study by the L.A. County Economic Development Corp.

The stories shaping California
Get up to speed with our Essential California newsletter, sent six days a week.
You may occasionally receive promotional content from the Los Angeles Times.