'It's really bad up here.' Stranded residents in San Bernardino Mountains brace for more snow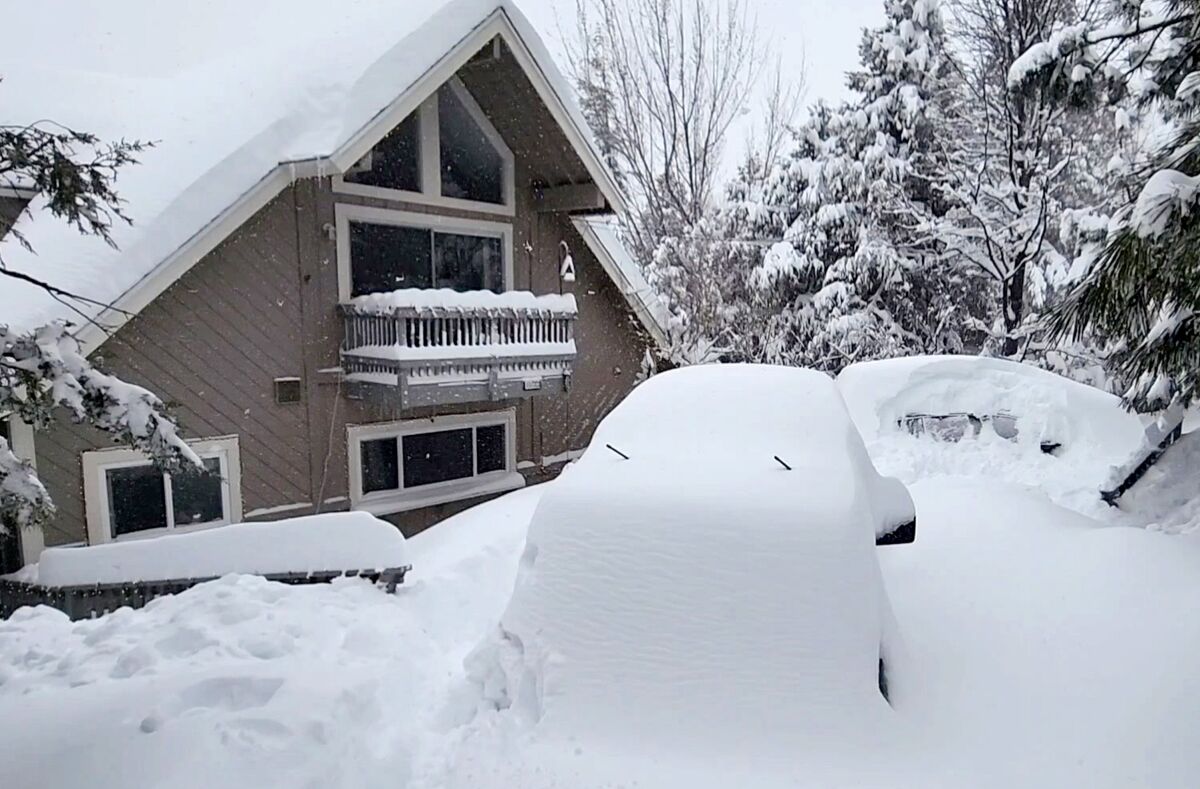 Stranded residents of Lake Arrowhead and surrounding communities in the San Bernardino Mountains that were inundated with snow this weekend were hoping on Tuesday that authorities could clear blocked roads and escort residents up and down the mountains before another storm was set to strike late in the day.
The highways into the area were closed last week when a storm dropped, over several days, more than 5 feet of snow. Some residents of the mountain communities were stranded at the bottom of the mountains while other people who rode out the storms in their homes were snowed in.
Maintenance crews with the California Department of Transportation continued to plow and clear the roads throughout the mountain communities and planned to escort residents up the mountain highways starting Tuesday afternoon.
But residents in Lake Arrowhead said local roads were still piled high with snow, making a quick cleanup unlikely.
"It's really bad up here," said Brooke Cutler, who was staying at a friend's house in Lake Arrowhead. "People are really in trouble and are suffering."
Roads had not been plowed in Cutler's neighborhood. Although she had electricity, food and help to dig out snow-blocked vehicles, she was worried about other people in the area who were older or might have a medical emergency.
More snow was forecast to arrive late Tuesday and into Wednesday, according to the National Weather Service. The storm could bring 2 to 3 feet of additional snow in areas above the 6,500-foot elevation.
The scenery in the mountains is breathtaking, but the region can also be dangerous for people who are not familiar with the snow, said Lake Arrowhead resident Benji Bakshi, who owns a property there that he rents on Airbnb. He offered to waive rebooking fees for incoming guests affected by the storm.
"It's good for vacationers to come experience the magic," Bakshi said. "They just need to be prepared for anything and take the weather seriously."
After incubating for more than 40 days, it seems unlikely that the pair of bald eagle eggs in a nest near Big Bear will hatch.
A local state of emergency was declared by San Bernardino County officials Monday evening, a move to provide additional funding to respond to the winter storms.
Resident Michelle Calkins and her husband, Nate, had been shoveling snow around their Lake Arrowhead property for the last six days. In between shoveling, she checked on her elderly neighbors and trekked to her local market a mile from her home.
Lake Arrowhead, an unincorporated community, relies on the county for services. Calkins said she and the rest of the community hadn't received updates from the county on what type of resources could be coming their way.
"It seems apocalyptic. It seems like we're in a nightmare we can't wake up from," Calkins said. "You really cannot comprehend what we're going through unless you're living through it."
San Bernardino County Supervisor Dawn Rowe said in statement that accompanied the local emergency declaration that county and local officials were working "on a coordinated and comprehensive strategy to bring relief and resources to our residents, while also prioritizing the safety of all." There was no estimate of when the mountain roads would be reopened or when it would be safe to travel the roads again, the statement said.
An emergency shelter was opened in Redlands for displaced residents, and snowplows are working to clear county roads. Secondary roads will be cleared once the primary roads are cleared, according to the statement.
Lake Arrowhead resident Nathalie Granger said she had not heard much from local officials or seen any plows in her neighborhood since last week. Her neighbor who works as a private contractor used his own heavy equipment to clear some of the local streets.
"We can now at least make it to other neighbor's homes by foot a little easier," Granger said. "We are heavily concerned with how large our county is and the lack of funding our specific district receives for emergencies such as this."
In a statement Tuesday to The Times, Rowe commented on concerns among some residents that the county response was not visible on the ground.
"Yesterday, San Bernardino County declared a local state of emergency, which requests additional emergency resources from the state but does not guarantee they will grant our request. Our local agencies, including County Public Works, Caltrans, and California Highway Patrol have been utilizing every available resource and working around-the-clock to clear roads for lifeline access for first responders. Although residents may not see plows outside of their homes, it doesn't mean that crews aren't working 24-7. With more snow on the way, crews will continue working to dig our communities out and we are hopeful the state will send much-needed relief soon."
Meanwhile, officials warned potential visitors that the snow did not present an opportunity for recreation because the roadways were still too dangerous to traverse.
"This is not the time for people to come up and visit the mountain," Caltrans officials posted on Twitter. "We need the community to understand that many agencies are doing their best efforts during a major storm."
Caltrans said it would escort residents of Crestline, Lake Arrowhead and other surrounding communities to travel on Highway 18 and Highway 330. Residents should be prepared if they planned to leave the mountain because they might not be allowed back as the escorts were temporary and could be canceled if there were traffic delays, the agency announced in a social media post.
During a break in the weather, the California Highway Patrol escorted buses up the mountain to retrieve more than 600 students from the Irvine Unified School District who were snowed in at their science camps in Running Springs and Crestline.
The students were scheduled to come home Friday, but road conditions were too dangerous to allow the buses up the mountain roads to retrieve them, district spokesperson Annie Brown said.
The elementary and middle school students were brought down the mountain in two trips Monday, Brown said.
The stories shaping California
Get up to speed with our Essential California newsletter, sent six days a week.
You may occasionally receive promotional content from the Los Angeles Times.