San Bernardino County declares state of emergency as snow traps residents, visitors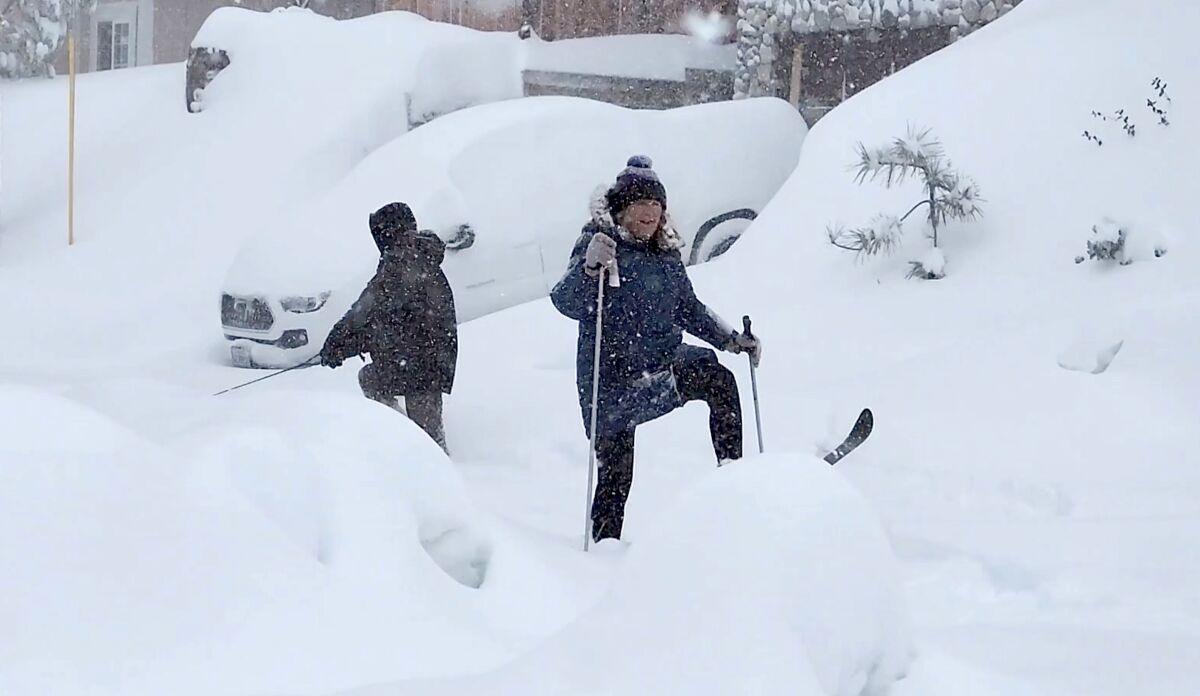 In the wake of an immense storm and with more snow on the way, San Bernardino County officials declared a local emergency Monday to secure state and federal assistance clearing highways and neighborhood streets.
So much snow has hit Lake Arrowhead in the last several days that resident Lisa Griggs couldn't recognize the highway outside her door when she walked to get groceries.
She's one of the lucky ones in the town.
Five feet of snow in five days blanketed the Lake Arrowhead area in the San Bernardino Mountains, according to the National Weather Service. The conditions also trapped people in their homes and vacation rentals and students at science camps, and people were rationing food and other supplies as they waited for more information from local officials.
To make matters worse, the Lake Arrowhead area could see 1 to 2 feet of snow starting Tuesday evening and into Wednesday, said meteorologist Dan Gregoria with the National Weather Service in San Diego.
"I'm not too anxious, but I'm getting anxious for other people," Griggs said of the snowy conditions.
All roads inside the park have been restricted to administrative use only.
Griggs, who lives in the Blue Jay community, said a resident who drove by her home on Monday morning told her he thought that his neighbor was dead. Griggs flagged down a firefighter who was driving by and gave him the address.
"What else can I do at this point?" she said.
Griggs said she was grateful to still have electricity. She worried about older residents or people on vacation who didn't bring enough food.
On Sunday, when there was a break in the snow, Griggs went to get groceries. She made the two-mile round trip on Highway 189 to her local Stater Bros. store on foot.
"You wouldn't believe it was the same highway," Griggs said. "It's [now] a one-lane highway. It's very narrow, and it's not plowed at all. So, people are getting stuck in their [cars]. There are cars just being abandoned because you know nobody can get through."
Scenes from across Southern California, where a powerful winter storm dumped heaps of snow and record-setting rain.
Along with clearing snow from roadways, the emergency declaration was intended to support any other necessary work and services, according to Board of Supervisors Chair Dawn Rowe, who described the declaration as "an important step which will elevate the state's response to this extreme weather event."
State Route 18 heading into Lake Arrowhead has been closed since Friday due to the weather, according to the California Department of Transportation. It was unclear when the highway would reopen.
Routes are only passable for emergency and first responders, Caltrans spokesperson Carolina Rojas said.
"Our maintenance crews are plowing and actively working to clear the roads," Rojas said in a statement. "We are asking folks to avoid travel as much as possible due to the current weather and roadway conditions."
An emergency shelter and resource center for mountain residents who could not get home was established at Redlands East Valley High School in Redlands on Monday, and resources are available daily starting Tuesday from 8 a.m. to 7 p.m.
Hundreds of students from Irvine were stranded on their field trips to science camp in the nearby communities of Crestline and Running Springs over the weekend. The roads to the Pali Institute Outdoor Education Center and the Thousand Pines Camp were inaccessible, Irvine Unified School District spokesperson Annie Brown said.
Around 6 feet of snow covered the roads to the camps where about 600 elementary and middle school students had been staying since Tuesday. The students were due back Friday, but the storm delayed those plans. District officials determined the camps would be safer for the students rather than having them travel on the roads that could ice over.
Parents were notified Monday that buses would be making the trip to the campsites with an escort from the California Highway Patrol.
"Our first priority is getting everyone out of camp while road and weather conditions permit safe travel," Brown said in a statement.
An estimated 46,000 Los Angeles County residences were still without power Sunday night, according to the L.A. Department of Water and Power
Tractor-trailers bringing groceries and other supplies made the trip up Highway 18 over the weekend to Lake Arrowhead and Big Bear Lake with assistance from emergency vehicles, Caltrans said.
The snow line in Lake Arrowhead will stay low, at around 3,500 to 4,000 feet, on Tuesday but could dip even lower to around 2,500 feet toward the tail end of the storm on Wednesday.
"Many people in their lifetime never experienced this type of snowfall," Gregoria said.
Jeanette Davis was trying to make her way home to Lake Arrowhead.
She was stranded in Huntington Beach because the main routes to her home were closed.
In the meantime, Davis was renting out a vacation property she owns in Lake Arrowhead to out-of-town guests. They only planned to stay for two days, Davis said, but it's unclear when the roads will be cleared for them to be able to leave.
A Department of Water and Power worker was injured Saturday in the San Fernando Valley. About 27,600 customers remained without power Monday morning.
Davis knew last week that the forecast called for snow, but she expected the roads to be plowed and cleared by Monday. Neighbors back home told her that her street was still closed and still covered in snow.
"I think the county and the state has dropped the ball on this situation," Davis said.
Lake Arrowhead resident Nathalie Granger was doing what she could to help her neighbors.
The 33-year-old said she had shared baby wipes, milk and dog food. It had been a struggle to drop off the supplies because of the high snow mounds surrounding her home, she said.
She said the snow hadn't been plowed in her neighborhood since last week.
"There is a level of panic ... setting in," Granger said.
Headlights on. Foot off the gas pedal. And if you see a flooded street, turn around. Here are tips for driving safely as California gets drenched.
Although she had electricity, Granger didn't know what to expect with the next storm. She planned to dig out her generator and fuel she had in a camping trailer in case she lost power.
"It sounds silly, but we're going to be rationing our fuel between ourselves and two other neighbors," she said.
On top of all that, she's concerned about the vacationers stranded in Lake Arrowhead with limited resources. She worried that people from other parts of California were going to see the snow and want to visit the area.
"I just want everybody to be safe," she said. "Let's look at this a little bit more responsibly and respectively, as I don't want anything bad to happen to anyone."
Times staff writer Julia Wick contributed to this report.
The stories shaping California
Get up to speed with our Essential California newsletter, sent six days a week.
You may occasionally receive promotional content from the Los Angeles Times.