Big Bear woman run over and killed while helping someone out of snow
A Big Bear woman who was attempting to help someone stuck in the snow during the massive storms last week was struck and killed by a passing vehicle, her family said.
Barbie Hughes was in Polique Canyon in Big Bear on Saturday when she was hit, according to her family, who added in a Facebook post that they did not yet have all the details of the crash.
Big Bear received more than 11 feet of snow during the storms last week, leaving roads closed, residents struggling to dig out of their homes, and a state of emergency in place for San Bernardino County.
After the accident, police arrived and took a still-conscious Hughes — who was able to get into a wheelchair on her own — to the hospital, where doctors realized she had suffered "substantial and severe" injuries, her family said.
Many residents in the San Bernardino Mountains are still stranded in their homes after back-to-back storms as emergency responders struggle through the snow.
Hughes' mother was "there with her while she was awake," her siblings wrote in a Facebook post on Barbie Hughes' page Tuesday. "She was able to hold her hand and tell her how much we love her, so we're grateful for that small piece. Barbie couldn't really talk but was able to say 'I love you momma.'"
Hughes was intubated at the hospital as her pain grew, her family said. She had broken bones that punctured her lung and and her heart, according to the post.
Hughes worked at DIY Big Bear, a home improvement store where she was known as a bright personality and was beloved by customers who stopped in.
"Just a beautiful girl. We called her our Barbie doll," said Renee Cirrone, the general manager of the store where Hughes had worked since 2018. "She was a magnet. ... She loved dogs and was very friendly to all the customers. ... We're going to miss her. It's so tragic."
After recent winter storms dumped up to 15 feet of snow on Yosemite National Park in some areas, it has been closed with no estimated time of reopening.
Cirrone set up a memorial by the cash register and customers and family have stopped by to leave mementos, flowers and messages to an "exceptional" employee.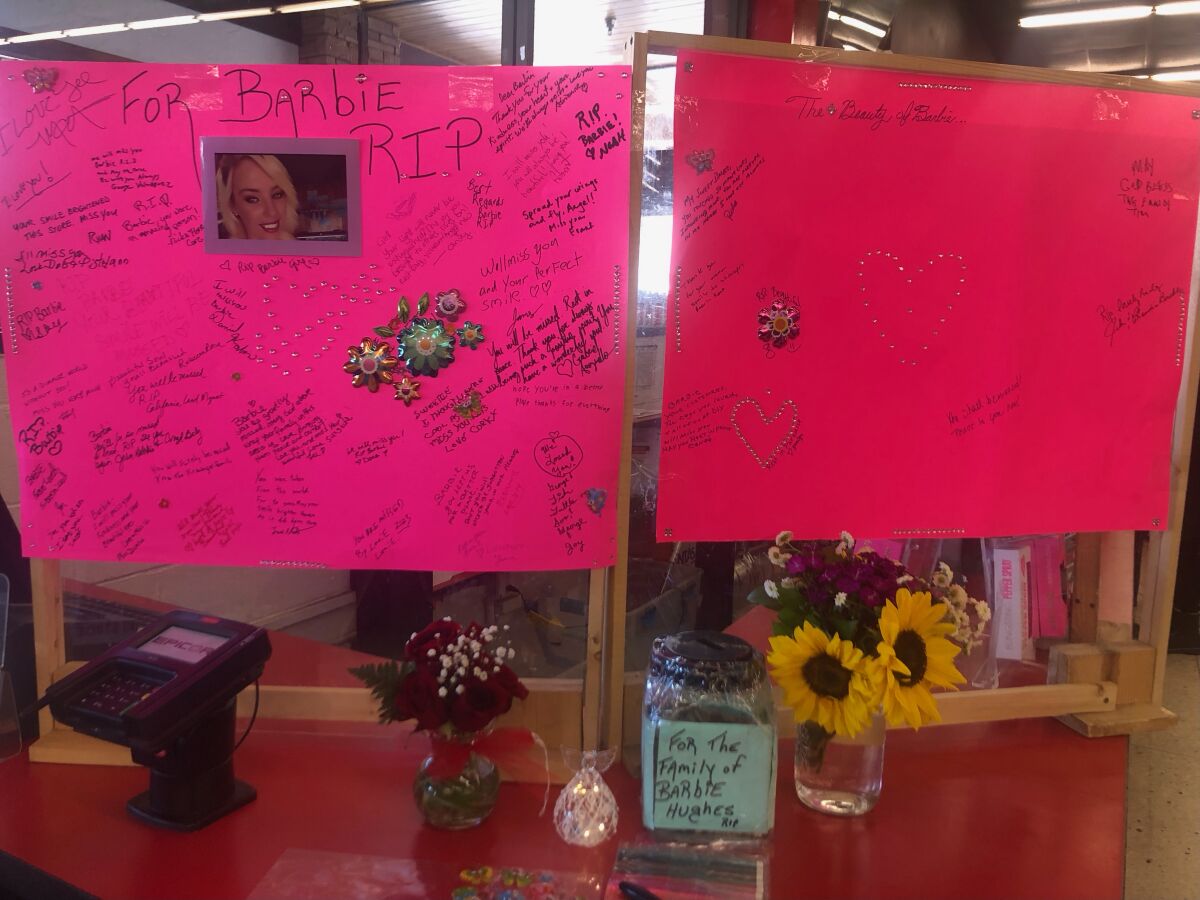 Dozens of shoppers left comments on a Facebook post in a Big Bear group about Hughes' death.
"Barbie was such a ray of sunshine and joy when we shopped at DIY, she loved our little doggies," said one.
"Isn't it amazing how memorable some people are and how impactful they can be just by their kindness and smile. I've spent a lot of time in DIY and she was truly a ray of sunshine. My heart aches for her friends and family," added another.
The San Bernardino County Sheriff's Department did not immediately respond to a request for details on the crash.
The stories shaping California
Get up to speed with our Essential California newsletter, sent six days a week.
You may occasionally receive promotional content from the Los Angeles Times.