Inside shoemaker George Esquivel's Orange County fashion lab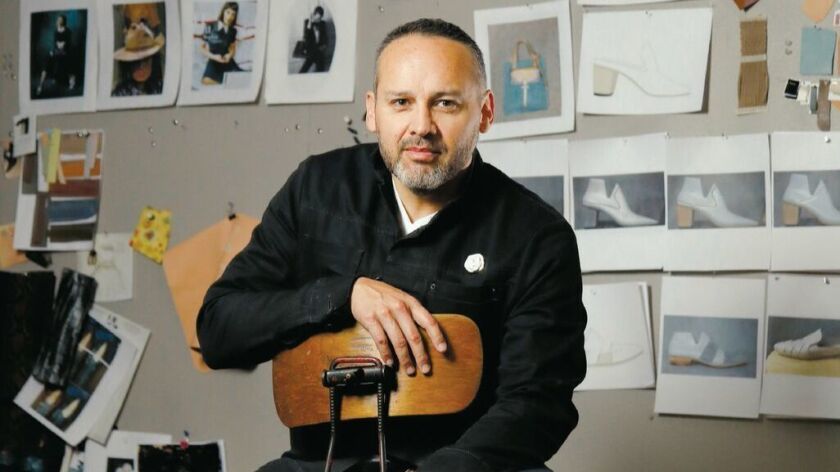 George Esquivel has quietly carved out a name for himself as the premier shoemaker in Los Angeles: His handcrafted shoes command prices starting at $495 for ready-made suede oxfords to upward of $19,000 for bespoke crocodile boots. Each year Esquivel's small team of craftspeople produces 3,000 to 5,000 pairs of footwear for a client list that includes Emma Stone, LeBron James, Laura Dern, Brad Pitt and Bruno Mars and retailers such as Fred Segal and Barneys New York. The 47-year-old designer, who served a two-year stint as creative director for luxury luggage brand Tumi, also has a proclivity for collaboration: His label has teamed up with the likes of Tommy Hilfiger, haute hat maker Nick Fouquet, The Beverly Hills Hotel and The Spare Room, the buzzy gaming lounge inside The Hollywood Roosevelt Hotel, for which he creates high-style bowling shoes.
Esquivel operates out of a nondescript warehouse-style office complex in Buena Park. Yet behind the generic exterior is an atelier that sustains the old-world tradition of artisanal shoemaking, now a rare trade in the United States. Premium leather and exotic skins are sourced from Italy, France and Spain, and each shoe panel is individually hand-cut, skived (a thin shaving of the leather to facilitate smooth folds) and stitched on site; then lining, buckles, zippers or elastic are sewn in. Completed upper panels are scrupulously massaged onto a last ("Too tight and it won't stretch, too loose and it will look sloppy," notes Esquivel) before a welt, soles and heels are built in from the bottom of the shoe. Specialty finishes—hand-burnishing, hand-tooling or personalized patterns, names and dates that can be burned into the leather with a hot pen—add another layer of character. Even the brand's signature shoelaces are stitched by hand. Recycled corrugated cardboard shoe boxes have handles crafted from upcycled leather remnants, while shoe bags are sewn from unique deadstock fabrics.
Bespoke Esquivel designs (starting at $4,500) involve lasts adjusted to exacting foot measurements with multiple prototypes, as well as particular colors, heel heights, toe shapes, finishes, extra padding to accommodate special needs and personalized details. A handmade metal shoe horn, encased in leather and stamped with a monogram, accompanies each order.
The shoemaking process ranges from approximately six hours of manual labor for a women's mule (the simplest style and currently the number-one seller) to up to 30 hours for an elaborately burnished hand-tooled bespoke boot. Burnishing alone can take up to six hours, Esquivel notes, pointing to shelves filled with stacks of binders that contain hundreds of proprietary step-by-step recipes to achieve varied colors and effects.
Seated in his office above the atelier and wearing a pair of richly burnished leather ankle boots stamped with his birth year and the initials of his wife and three children, Esquivel describes his timeless footwear as "very Southern California, very craft." A few years ago, he developed a technique to literally sun tan leather by placing the hides outside under glass. It doesn't get more California than that. Well, besides the fact that he hardly ever makes men's shoes in black. Rather, there are varied shades of brown, burgundy, taupe, navy, green and gray.
As a child, Esquivel says, "my idea of perfection was a white pair of sneakers." Back then, he could not afford a single pair of presentable shoes. As his drug-addicted father moved in and out of jail, Esquivel attended 13 different schools from kindergarten through twelfth grade while living with his parents and four younger siblings in a string of Orange County hotel rooms. "I would borrow my friends' shoes and never give them back," he says. "When you're close to homeless, your clothes don't fit right, so everyone makes fun of you. You can fake pants and a T-shirt, but you can't fake shoes. I envied the kids who had real Vans and Nikes. I walked a dog and mowed the lawn at a house across the street from one of the hotels to save nineteen dollars and bought my first pair of Converse Chuck Taylors. But my dad always had good shoes. He would take us to stores to cause a diversion so he could steal really nice clothes and shoes. He was a con man."
At age 19, Esquivel kicked his father out of the house and began to hustle up odd jobs to provide for the family. On the side, he discovered an escape in the 90s punk-rock music scene and dressed the part in vintage clothing and shoes. During a weekend adventure in Baja, Esquivel happened upon a custom shoe shop and handed the owner a sketch he'd made of his dream shoes: rockabilly-inspired spectators with pointed toes and decorative diamond cut-outs alongside the lacing. A few months later, he picked up the finished pair and, fueled by compliments, his footwear fixation began. Driving a delivery truck for a chain of linen stores, Esquivel began to stop at shoe-repair shops in search of a local shoemaker, but the quality was never up to his standards. Until one day in 1995, when retired shoemaker Emigdio Canales followed Esquivel to the parking lot after overhearing him demanding his money back and promised to make him the perfect pair of shoes. It turned out that Canales had once crafted leather boots for Evel Knievel.
Soon the pair went into business, charging $225 to $400 for vintage-inspired cap-toe wingtips and oxfords in a variety of colors. Esquivel handed out cards and wrote down orders in composition notebooks. "People would ask to come to the studio, and I'd say, 'I don't have a studio, I only have a distribution center.' That was my garage. The factory was Emigdio's garage. All the shoes, made of scrap leather, would dry naturally out in the grass. We operated like a general store in the Midwest."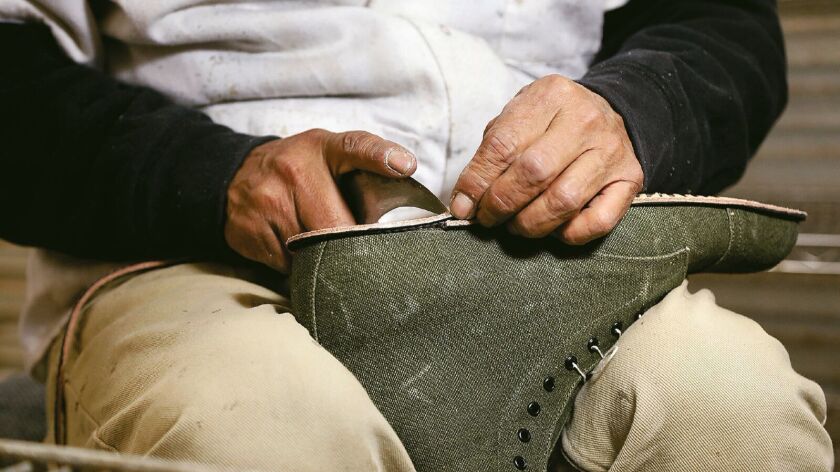 Two-and-a-half years and roughly 2,500 pairs of shoes and $750,000 later, Canales walked away from the business. But Esquivel pressed on, continuing to learn technique and craft from other master cobblers such as Oscar Navarro of Capri Shoes in Fullerton, who introduced him to refined leather suppliers and gave him his first machines and tools. Fifteen years ago, Esquivel opened his Buena Park atelier.
"What I didn't realize early on was that leather is painted to look perfect," says Esquivel of his childhood obsession with white sneakers. "I used to drive my shoemakers away because I would say, 'It's not good enough.' I didn't realize what perfection was until one guy said, 'Look, a beautiful shoe is not meant to be perfect. We are not perfect, so why would you expect that of a shoe?' There is perfection in the flaws and in the way that we distress and burnish a shoe; each shoe and shoelace is different and unique just like we are. Every shoe-box handle and shoe bag is a different color because I want them to be special. You go to other cities and everybody looks the same, but people come to Southern California to be individuals. And that's what my brand is about."
Every Esquivel collection has a theme. "For spring I was listening to a lot of Cuban music and the Buena Vista Social Club, because the theme is all about a couple getting shipwrecked on a desert island and the effects of that on their shoes," says Esquivel. "There is leather suntanned with our trademark unisex floral pattern, gold that looks bronzy rather than bright, distressed hardware, and canvas tote bags with white-washed alligator trim and frayed edges. It's beautiful and sandy. I haven't fully developed fall 2018 yet, but I plan to use velvets and leather that looks like velvet in monotones of deep bordeaux and navy. It's about texture."
Tote bags, zip pouches and cross-body bags (as well as wallets and card holders) have long been part of Esquivel's private bespoke business, but the brand is now widening distribution of utilitarian totes and pouches. Last November Esquivel designed a less labor-intensive limited-edition canvas Esquivel X Tote with leather handles to benefit Buena Park-based nonprofit Giving Children Hope (givingchildrenhope.org); each $149 purchase provided a local family living in poverty with food every weekend for a year. The initial fundraising goal was $5,000, yet over $50,000 worth of totes were sold. "When your focus is to do something good, good always comes back, whether it's tomorrow or next year or in ten years," says Esquivel, whose ongoing partnership with the charity brings his personal story full circle. "To me, the X signifies a multiplier of food, of hope, of love."
---