Rustic modernism in Montecito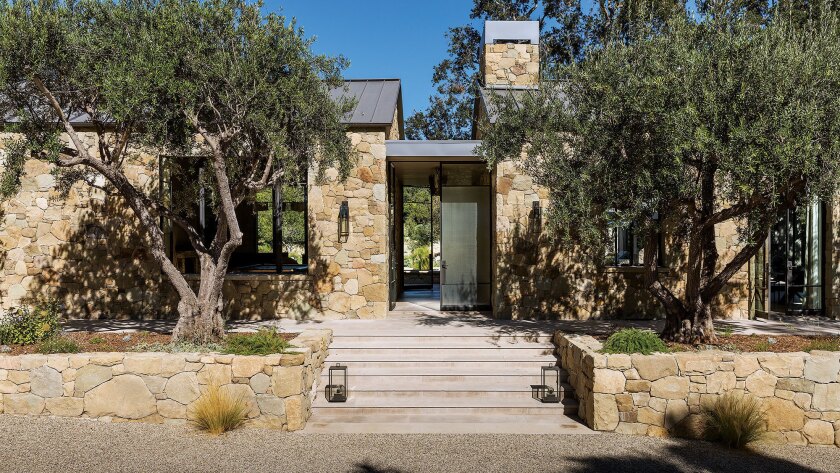 William Hefner and Kazuko Hoshino were not in a rush to perfect the Montecito retreat they bought in 2008. At the time, Hoshino was pregnant with the couple's son, Koji, and even though their architecture and interior design practice continued to thrive, they were nonetheless reluctant to dedicate more time and resources to the one-acre property near Santa Barbara during a recession.
Once they got started with the project in earnest, Hefner—a California native who is known for his skilled stylistic versatility—and Hoshino—who is originally from Japan and is Studio William Hefner's interior design principal—didn't strive for immediate results. "We changed our minds a lot," Hefner says of the process. They also opened a Montecito office in 2015. (The firm has been based in a midcentury building located on Wilshire Boulevard's Miracle Mile near LACMA since 1989.)
The parcel in the Romero Canyon pocket of Montecito contained a 900-square-foot shack dating from the 1930s and a stable that had been converted into a guest house. This setup quickly presented specific challenges and opportunities. "We started by thinking we'd just remodel this little house and add on something," Hefner notes. "But in the end, it was important to do something that we would really appreciate."
First there was the matter of overgrown trees and neglected vegetation. Working around the protected mature oak trees, "we started to clean up the yard, and then all of a sudden we saw this mountain," Hoshino says. So they scrapped the already-approved plan and shifted the orientation in order to capture the newly revealed mountain view. Pushing the arrangement of three low-slung buildings outward on the lot, they also maximized a central yard and pool area and designed a perimeter path they call "Koji's highway" for their son.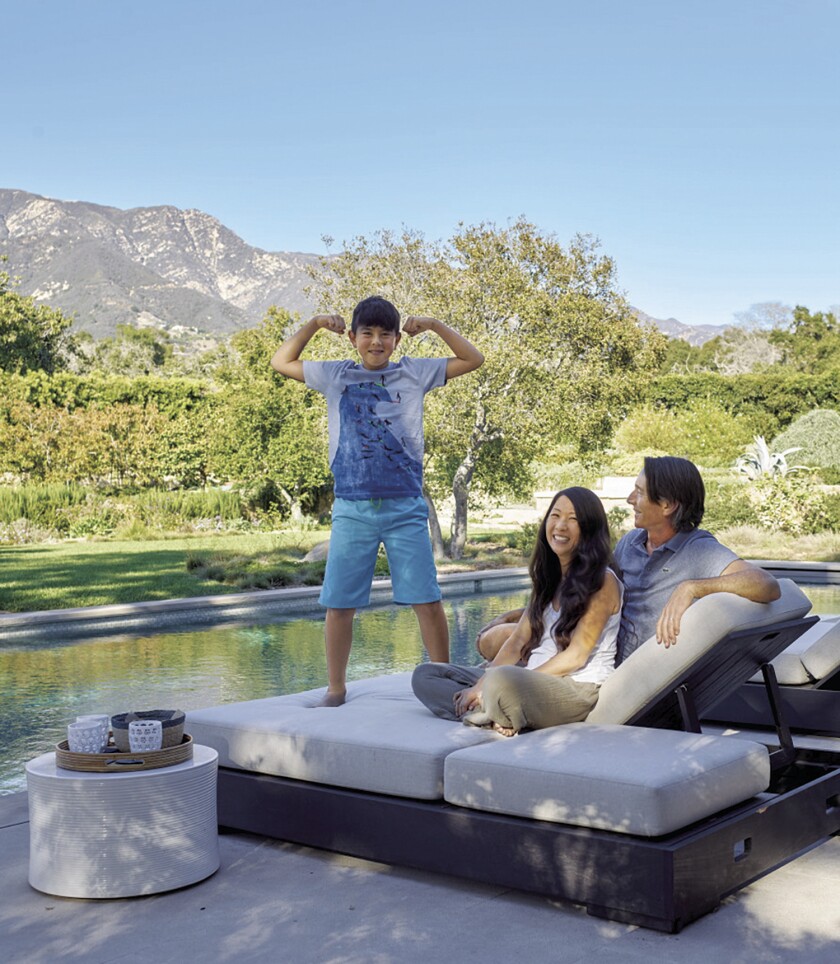 Excavating the massive boulders and rocks on the site was another formidable task that in the end deeply informed the architecture and design. "We built in a way to use as much stone as possible, because we had it," Hefner says. The material became an advantage for features ranging from gravity retaining walls to facades and interior surfaces. "Light plays beautifully on the walls throughout the day. And it does really feel like it's been there a long time." Hoshino compares it to limestone facades in Paris. "It's our version of using the stone material. It's really warm."
When they finally began the three-year construction process in 2013, "we felt like we had it right," Hefner says. The result is a refined vacation home closely tied to its landscape, with nods to California vernacular and ranch culture and a seamless single-level indoor-outdoor program that Cliff May would approve of.
Hefner cites "the fantasy of a cool hunting lodge," and the property does have that kind of vibe. The overall feel of the structures that in total are approximately 6,000 square-feet is a major shift from Studio Hefner's other highly detailed projects, notably the 60,000-square-foot Chateau des Fleurs in Bel Air. With contemporary materials such as metal roofs and expansive steel window and door frames, the home is also built to withstand fires. (It was spared damage from the Thomas fire—which came frighteningly close—and its aftermath.)
Hefner and Hoshino eventually wanted three distinct yet closely related buildings for their getaway. There's the L-shaped main house, which contains an open-plan great room, with the kitchen, dining and living areas sharing the light-filled space. A series of breezeways connects the main spaces, which also include a game room. The pool house actually serves as the guest quarters and comfortably sleeps a family (the cozy bunk room, with elements from Santa Barbara favorite Raoul Textiles and Garde's new Summerland outpost, is a childhood dream space). "More often than not we stay in the pool house, because it kind of makes us feel like we're on vacation," Hefner observes. The smaller stone building houses a gym.
"We're up in the mountains and the colors are so pretty, so we just tried to make everything very natural," Hefner says of the materials and surface treatments, such as wide-plank bleached-oak flooring and unlacquered brass and leather. Structures with stone exteriors have integral-color plaster walls inside, and where there's cedar wood outside, it's incorporated inside, too.
Hefner notes that this project "was an opportunity to be a little bit rustic," an approach that led him and Hoshino to install five wood-burning fireplaces throughout the property. Indoor and outdoor surfaces reflect a consistent, edited palette. Hefner and Hoshino chose Indiana limestone for both exterior and interior use; it is rougher outside and transitions to smoother textures indoors. Hefner explains how they "took chances" in smaller spaces; the powder room, for instance, has a green-marble floating vanity, a Franco Campo mirror found at ma+39, and a Formakami paper pendant lamp that compose an earthy yet edgy vignette.
Hoshino sourced other vintage modern lighting and furnishings online and from auctions, such as a trio of Vilhelm Lauritzen-designed Christiansborg B&G ring glass and brass chandeliers in the great room and Artemide Delta globe sconces by Sergio Mazza in the kitchen. Soft, welcoming furnishings in the space include the Gianfranco Frattini for Cassina Sesann armchairs upholstered with off-white Rosemary Hallgarten alpaca boucle placed opposite a deep-seated blue-linen custom sofa. Other pieces, like a row of restored Arthur Umanoff stools at the kitchen counter and set of midcentury vintage "T" dining chairs designed by William Katavolos, Douglas Kelley and Ross Littell, are comfortable but have a tighter profile. Beds and most upholstered items are custom.
Clutter has been fiercely minimized. Hefner and Hoshino didn't want any bookshelves in Montecito, claiming they have enough packed bookcases and piles of books at the office and in their primary Hancock Park house.
To gradually transform the immediate landscape, the couple brought in four mature olive trees from Bakersfield to stand at the entrance to the main house. They left formidable older yucca plants in place and planted new oaks, and Hoshino opted for blush-colored rose bushes from which she has the raw materials to make the simple, impactful floral arrangements she loves. Instead of creating a distinct rose garden that would have been a mismatch with the general landscaping sensibility, however, rose bushes are "slotted into the plantings in a natural way," Hefner notes. Other components include lush fruit trees with a potager, or kitchen garden, near the orchard. Outdoor seating is plentiful, with custom furniture and pieces from Diva and Russell Woodard's Sculptura collection.
"It's not as complex a life here," Hefner says about being able to leave the day-to-day realities of work and family routines back in L.A. "That's what makes it relaxing." The Montecito home is also an example of the couple's tastes and ideas syncing perfectly in a stunning setting. "We have this unspoken rule that unless we both are happy about it, we don't seem to move forward," Hoshino says. "If we both agree, we do it," Hefner adds. To which she responds, "This house was really like that."
---